A day in the life of a library technician
By Administrator | 25 May 2015
As part of Library and Information Week (25-31 May), and to mark National Library Technicians' Day on 26 May, this post outlines a typical day in my life as a library technician at SLQ.
I begin my work day by checking the roster for unexpected alterations. Each week's roster is available the week before, but there are often last minute changes, so it is important that I know where I have to be at what time. I am part of a team of five library technicians, who work with librarians and administration officers in a section called Visitor Experience.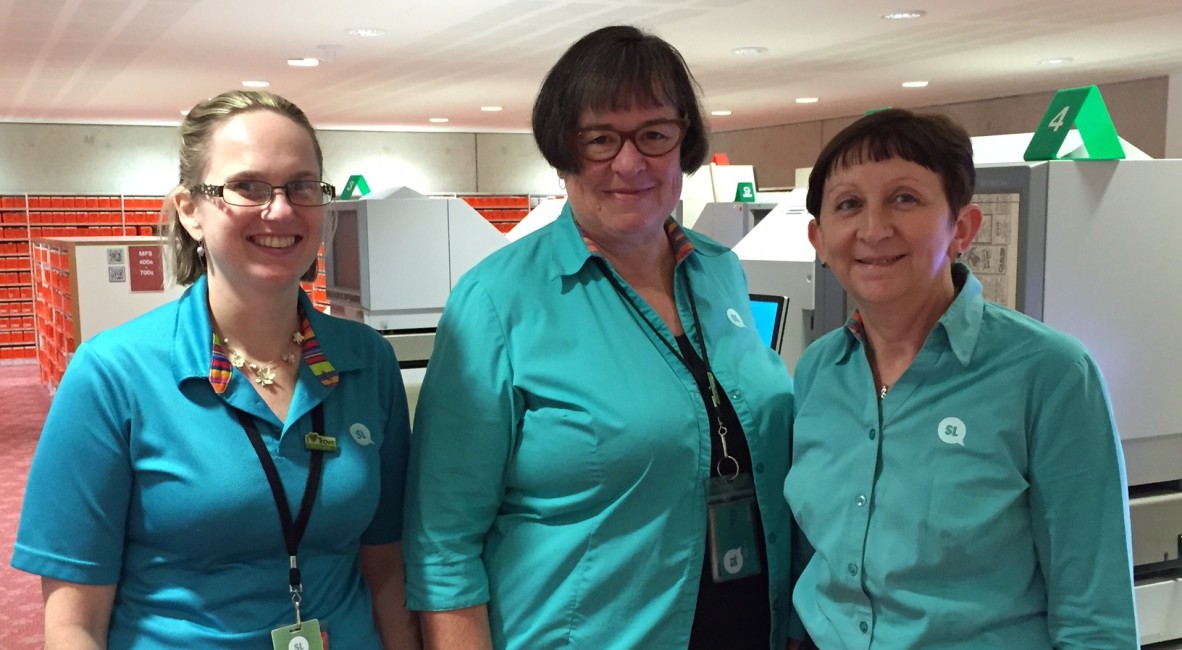 Three of SLQ's library technicians.
Three of SLQ's library technicians.
My first shift on Tuesday is desk prep in the micrographics area. Desk prep takes place in every library in the land, and involves preparing the library for opening time. In my case, I have to ensure that all the microfiche and microfilm equipment and computers are clean and functioning. On a good day, everything works. On other days, I may have to replace a blown bulb in a fiche reader, or phone ICT to log a computer problem.
I have half an hour to spare before my first "front of house" desk shift, so I have time to quickly complete a research query. This one is to find a funeral notice in the Townsville Bulletin, for someone who lives interstate and doesn't have access to this newspaper in her own State Library.
The next two hours are spent at the micrographics desk, and today I am assisting family history researchers, local historians and students looking for primary source material. Researchers come in many forms – everything from the "regulars", who are very experienced and familiar with SLQ resources and require little assistance, to the "beginners", who are new to research and using library resources. After allocating microfilm readers/printers to some of our regulars, I assist a beginner by discussing how to start their research and how to keep records. We have information guides that show how to start family history searching, and on the types of resources that we hold. SLQ holds current daily newspapers from around Queensland and interstate, with older ones on microfilm, and these are used frequently. Today I assist a person who wants a copy of the front page of the Toowoomba Chronicle for a 60th birthday present.
My lunch break today is a rare treat – for Library Technicians' Day I have planned to meet with other library techs and take our lunches to sit in the sun on the benches on the Kurilpa Bridge.
Much as I would like to spend the afternoon sitting watching the river and enjoying my colleagues' company, I hurry back to my next roster spot – an hour in the Infozone.
Infozone is found on the first floor of SLQ and is the first port of call for many of our visitors. There are no book collections in Infozone, but banks of public access computers, display spaces and entrances to The Corner (our space for under-8s) and kuril dhagun (SLQ's indigenous area). Queries here involve directing people to other spaces on the first level, across SLQ and sometimes around Brisbane and beyond. Public access computers are used by locals and visitors alike, and my knowledge of exhibitions and events around the precinct is called on frequently.
Again, an hour between shifts sees me in a meeting about my next blog article. Meetings can take some coordination, but I have access to my colleagues' calendars and we double check appointments against the main roster. I also spend some time working on another research query. This one is also for a newspaper article, but the client wasn't sure of the exact date. Fortunately I have been supplied with the reverse side of the article, so am able to use a newspaper database to establish when the listed events occurred, and am able to narrow the dates to within three days of searching.
My final roster spot for today is phones, which includes responding to instant messages. Questions asked can include everything from information about SLQ events and library holdings to answering crossword clues. Today seems comparatively easy. I am asked about the SLQ student fieldwork placement program and about guidelines for distances between shelves in a public library. Both of these can be answered by directing the caller to sections on the SLQ website. More complex queries are entered into the Ask Us query database and some of these are re-allocated to me.
Happy National Library Technicians' Day!
Katy Roberts
Library Technician
Visitor Experience
Comments
Your email address will not be published.
We welcome relevant, respectful comments.