David KINCHELA #Q0304
By Marg Powel & Des Crump | 11 December 2017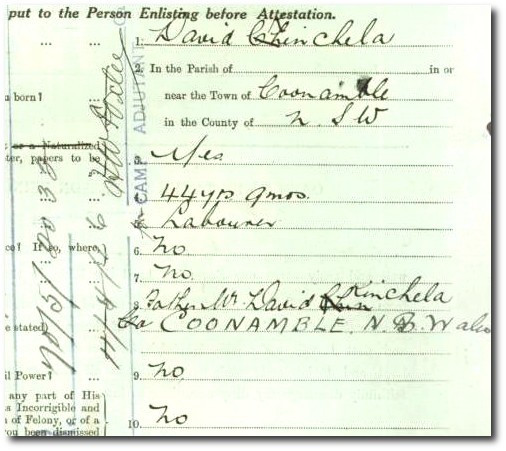 Extract from service record for David Kinchela (National Archives of Australia)
Indigenous Australian, David Kinchela, No 11 Depot Battalion
David KINCHELA was born in 1872 at Coonamble, NSW to David Kinchela and Catherine Moore. He volunteered to serve with the first AIF in February 1916 in Warwick, where he had been working as a labourer.
One of 10 children, he named his father as his next of kin when he enlisted, but he had passed away at Coonabarabran in 1915, his mother also in 1904.
Kinchella, at age 44 and 9 months was just on the edge of the enlistment requirements. He was allotted to No 11 Depot Battalion and assigned to Frasers Hill Camp, Enoggera just outside Brisbane.
During his time at camp he was charged with being Absent With Out Leave for more than a week, and charged with drunkenness twice, after which the Officer in Charge requested that he be discharged.
Papers were forwarded to Camp Headquarters and he was discharge on the basis that he was 'not likely to become an efficient soldier'.
Read more ...
The information in this blog post has been researched by State Library staff and volunteers, it is based on available information at this time. If you have more information that you would like to share or further research uncovers new findings, this post will be updated.
Comments
Your email address will not be published.
We welcome relevant, respectful comments.