Databases made simple
By Fiona Dixon | 3 February 2016
There's no need to feel daunted by databases.
A database is a collection of information that is organised to make it easy to search, access and update.
State Library subscribes to hundreds of databases covering many different categories, including art, architecture, history, business, health, law, music, news, politics, science and sport. Some reference and encyclopaedic databases cover multiple subjects. All of our databases can be accessed when you're onsite at State Library, and many are also accessible offsite to State Library members.
Image: https://pixabay.com. CC0 Public Domain.
Image: https://pixabay.com. CC0 Public Domain.
Why should I use a database?
Many of the databases contain material that is not available anywhere else in One Search. We have selected the databases for their content and reliability, so you can be sure that you're searching material that is both useful and trustworthy. The databases contain citations and full-text articles from journals, newspapers and conference papers, as well as ebooks and audio visual content.
If I'm looking for a particular journal article or title, how do I know which database to search?
Many journal titles and articles that are in our online databases can also be found using our One Search catalogue, so it's best to check on One Search first. If you find the title in One Search, you can click on the online link there, which will take you straight to the article in the database.
How do I begin a database search?
ProQuest Central
If you know the name of a database that you want to search, you can go straight to it by going to the alphabetical listing and selecting that database. For example, if you want to search in Oxford Art Online, you will find it listed under O.
If you do not know a particular database to search, or cannot remember the exact name, you can choose a subject category (with or without a sub-category) from the drop down list, then click Go. This will give you a list of all the databases in your chosen subject area.
You can also search for databases by name, publisher, keywords and type. Type gives you choices such as image databases, encyclopedias, ebooks and newspaper databases.
These search refinements can be combined so, for example, you can search for image databases in the subject of Art + architecture. Then click on Go.
To see a description of the database, click on the Show info link.
To go to a chosen database, simply click on the database name.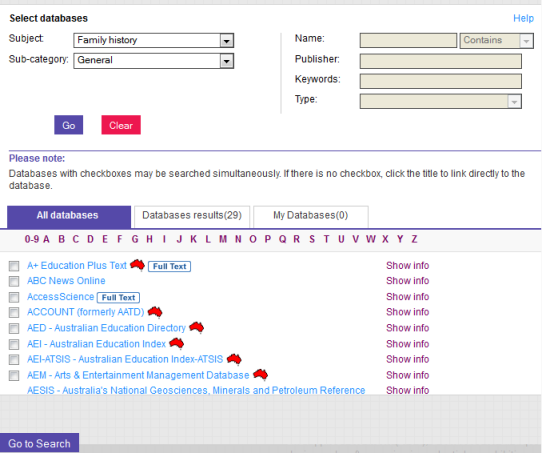 Can I search more than one database at a time?
Yes. You can choose to search a number of databases simultaneously.
When you see a list of databases under your chosen subject category, you can click the checkbox to the left of a database name to include it in your search. If a database does not have a checkbox available, it does not have the simultaneous search capability. For best results, we suggest you limit your search to ten databases at a time. When you have selected a number of databases you'd like to search, click Go to search. This will take you back to the One Search page, where you can enter your keywords to search your currently selected databases.
Searching databases simultaneously. Image from SLQ's One Search.
Searching databases simultaneously. Image from SLQ's One Search.
Can I create my own database set?
Yes. You can create your own personal database sets that will be available for you to use whenever you log in.
To save your database set:
Log in
From the All databases tab or Databases results tab use the checkboxes to select the databases you want to include in your set
Click the My Databases tab and click Add to set
You can then name your set
Click Go to Search to return to One Search and search your personal set
Saving a personal database set. Image from SLQ's One Search.
Image from SLQ's One Search.
Where can I go for more help?
For more tips about searching and using our One Search catalogue, see our One Search help page or our FAQs.
You can also Ask us on the phone (call 07 3840 7810 from Monday to Friday 9am-5pm), by instant message or by online enquiry.
Our librarians are also very happy to help you with your search when you visit us in person.
Ask us: /services/ask-us
Join us: /services/membership
Visit us: /visit-us
Comments
Your email address will not be published.
We welcome relevant, respectful comments.