Daniel Charles HODGES #1666
By Marg Powell | 30 April 2018
Pearling luggers in the harbour at Thursday Island, Queensland. (State Library of Queensland collection)
Torres Strait Islander, Daniel Charles HODGES, 47th Infantry Battalion
Daniel (Charles) HODGES, a pearl fisherman, volunteered to serve with the first AIF in Townsville, in February 1916. He was born on Haggerston Island in 1896 to Charles Hodges and Dinah Walton, a Torres Strait Island woman from Puruma (Coconut Island).
Hodges arrived in Egypt in May 1916 and joined the newly formed 47th Infantry Battalion as they made their way to France via Marseilles in June that year. The 47th Battalion was quickly placed in the frontlines near the Western Front and were heavily involved in the Battle of Pozieres and it was here that Private Hodges was severely wounded in action on the last day of August 1916.
Hodges was evacuated first to the Casualty Clearance Station and then to the 13th General Hospital in Boulogne. Charles had been wounded in both hands and left ankle. He was evacuated to the Lewisham Military Hospital in England 10 days later, where it was decided it would be necessary to amputate his shattered leg, from below the knee. Hodges was moved to No.2 Australian Auxiliary Hospital, Southall, an Australian hospital for limbless soldiers, where Queenslander Dr Harold Lethbridge was the registrar.
Hodges was repatriated home to Australia in May 1917 and medically discharged; he returned to his family on Thursday Island, and his life as a pearl fisherman.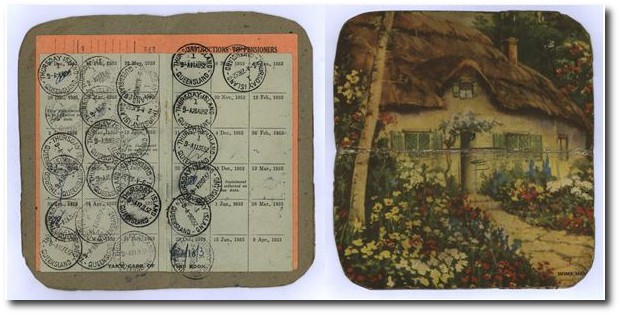 Pension card, which has been pasted onto an illustrated note book, Repatriation File, Daniel Hodges.
In 1918 Charles Hodges married Etta Lockett from Badu Island, they had 8 children including: Alexandra Anzac, Marjory Mary, Robert Charles, Ethel Lily, Isabel Jane, Dorothy Diana, Charlotte and 1 other.
In September 1952, Charles Hodges was found in his favourite place, sitting up in his boat, having died of a heart attack; he is buried in the Thursday Island Cemetery.
Read more ...
The information in this blog post has been researched by State Library staff and volunteers, it is based on available information at this time. If you have more information that you would like to share or further research uncovers new findings, this post will be updated.
Comments
Your email address will not be published.
We welcome relevant, respectful comments.