The "Daintree Blockade" wins a 2017 Queensland Literary Award
By Administrator | 6 October 2017
Congratulations to Bill Wilkie, long-serving staff member of Mossman Library, who this week was awarded the Queensland Premier's Award for a work of State Significance for his outstanding debut work The Daintree Blockade: The Battle for Australia's Tropical Rainforests.
Bill spent eight years on the book which involved more than four years of research, over 80 interviews with central protagonists, letters, and first-hand accounts. It exposes the campaign to stop bulldozing of the road through the Cape Tribulation National Park in the early 1980s, considered as one of the most significant environmental protests in Queensland's history.
Detailed and exquisitely-illustrated, the book vividly communicates the mood of the protesters and how strongly they did not want this development to proceed. Bill's research methodically provides all sides of the dispute.
Please join us in congratulating Bill.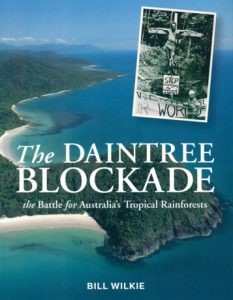 The Daintree blockade: the battle for Australia's tropical rainforests by Bill Wilkie, Mossman, Queensland Four Mile Books, 2017.
Comments
Your email address will not be published.
We welcome relevant, respectful comments.