Cyril Brett, 25th Battalion
By Marg Powell, Specialist Library Technician, Metadata Services | 27 July 2015
Sergeant Robert Cyril Palmer Brett, 25th Infantry Battalion, A Company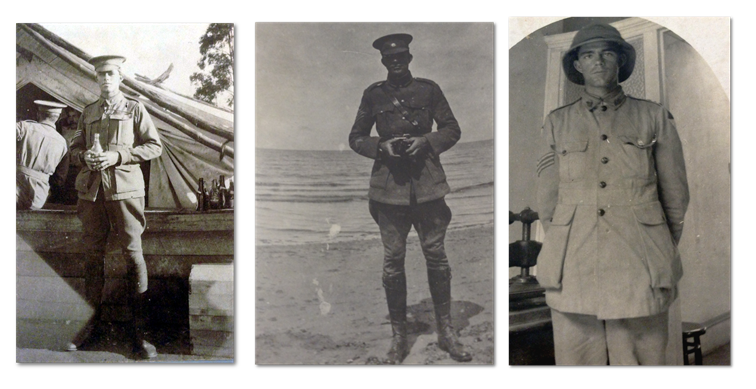 Cyril Brett was born on Beaufort Station - Alpha, Central Queensland to a pioneering family who were known for never being afraid to try anything. This epitomises Cyril's story, before. during and after his service in the First World War. His father Arthur Brett managed Beaufort Station for many years for his uncle Sir Arthur Hunter Palmer, before having to walk away from the property after the 1902 drought.
As a young man in 1914 Cyril describes his life as a mechanic and driver in Longreach, when motor cars were a novelty outside capital cities. He offered his services to ferry customers to appointments, events and to meet them at the Railway station.
His considerable collection at the State Library of Queensland includes photographs, albums, diaries and log-books, which reveal his life as a Motor-car Driver, Mechanic, Infantryman, Station Manager and Aircraft Pilot.
Brett diaries for 1915, 1916 & 1917
Basil & Cyril, Cairo 1915
Early days training and in Cairo
Early days training and in Cairo
Sergeant Brett arrived in Gallipoli in October 1915, after recovering from measles in Cairo; here he remained until the troops were evacuated to the island of Lemnos on 17th December. By March the next year, Brett was serving in the trenches of the Somme.
Significantly wounded in the arm and shoulder in July, he was evacuated to England for treatment, and then returned home, no longer fit for active service with the AIF.
Initially he took up a position managing Lammermoor station in the Hughenden district, before re-enlisting in 1918 where he was employed in the Area Office in Brisbane, Townsville, and later Warwick.
Brett with an early vehicle, 1920s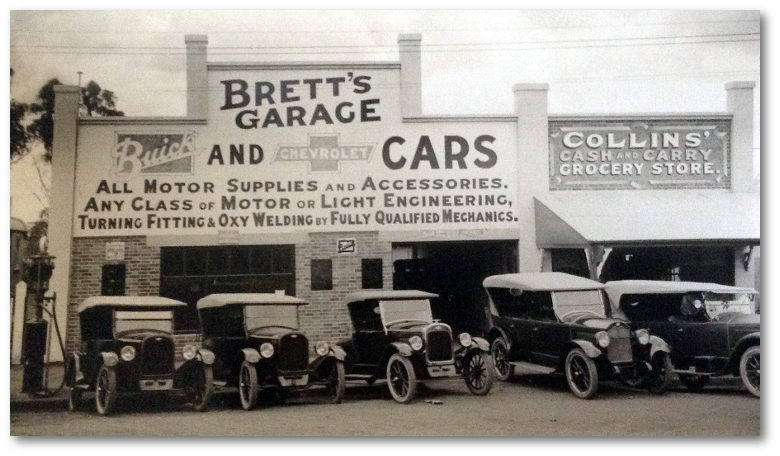 Brett's Garage, Warwick
Lieutenant Basil Brett, Divisional Artillery Column, returned home after distinguished service at Gallipoli and in France. He married Dorothea Brabazon of Elderslie Station, Winton and continued the family tradition of station management at Walgra, Binyeah, Ashton, Mt Sturgeon, Cubby, Dagworth and Oorindi Park, until his death in 1959.
Lieutenant Leslie Brett, 2nd Light Horse Regiment, served at Gallipoli and the Middle East, returned to Australia in 1917, suffering ill-health. He joined his brother Cyril at the garage in Warwick, but never fully recovered from his experience in the 1914-1918 war.
Cyril Brett married Edna Sams in 1920, they had four children, Robert, Heather, Pamela and Anne. However all through his diaries he talks about learning to fly or joining the flying corps, and when his garage business began to fail, he sought alternative employment as an aircraft mechanic and studied to be a pilot.
His passion for flying took him up and down the east coast of Australia and New Guinea with a number of passenger and transport companies that he worked for in the 1930s including QANTAS.
Cyril Brett, attending to a QANTAS aircraft 1920s
Cyril Brett, attending to a QANTAS aircraft 1920s
With the advent of the Second World War, Brett was unable continue flying due to his failing eyesight; undaunted he served with the Volunteer Defence Corps, at Nambour, Chermside and Southport. His diary for 1945-1946 sees him again turning his hand to the land, managing Mount Lonsdale Station, near Mitchell western Queensland.
Cyril Brett worked hard and tried his hand at almost everything, his collection of papers is a marvellous legacy, for all of us and his descendants.
Further Reading:
Marg Powell
QANZAC 100 Content Technician
State Library of Queensland
Comments
Your email address will not be published.
We welcome relevant, respectful comments.