Coomera Lads
By Marg Powell, Specialist Library Technician, Metadata Services | 19 January 2017
Children of the Beattie family Coomera, c1900
Back row: George, Annie and Allie
Front row: Mary, Eddie and Carrie
Image: Local Studies Library, Gold Coast City Library
Early on Ed was hospitalised at Frazers Camp with a chest cold, and in May was admitted to the Rosemount Military hopsital with measles; but the two lads were fit to embark together in September on the troop ship 'Seang Choon ' for England.
Their ship remained in Capetown for two weeks due to illness on board, and when it arrived at Portsmouth, Ed was again hospitalised and George describes him as a 'holy terror', all the while wanting to join his mates in camp.
Deemed well enough, Ed joined his unit briefly in the training camp at Tidworth before being admitted to the Military Hospital at Suton Veny, 3 days before Christmas 1916, with Influenza.
At almost the same time George and others of his unit were put into the isolation ward of the same hospital for 14 days, due to an outbreak of mumps, spending Xmas & New Year bemoaning the fact.
Sadly Ed did not improve and succumbed to double pneumonia on New Year 's Day 1917.
Private Edwin Beattie, age 22 was buried with full Military Honours in the Military Cemetery at St Mary's Codford, Wiltshire. The Rector at St Mary's was approached by George to erect a memorial headstone on the grave, soon afterwards.
In early June the 47th was preparing for the Battle of Messines, an assault on the Messines-Wytschaete Ridge. Two days into the operation George was evacuated sick with Trench Fever. Four weeks later he rejoined his unit in Belgium and writes home …
"A few of us are camped in the loft of a Frenchie house … we are in a fruit district and had a bonzer feed of plums."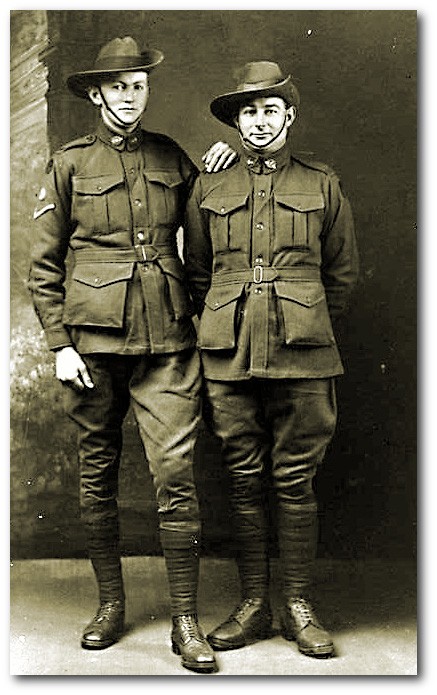 First Battle of Dernancourt
George was with his comrades of No. 10 Platoon, C Company, 28 March 1918 when he was killed with a bullet to his head. Shortly after, a shell exploded and buried him where he fell. Several days later German troops took the same trench. Several of his mates recorded seeing him fall, regretting that they were not able to retrieve his body.
Private George Beattie
The family received many letters of condolence, several from members of his Battalion. Lance Corporal John Lewis wrote
"I am writing to you, because we was mates ever since we land in France, he told me to write to you if anything happened to him … I miss him more than any body, I am quite lost without him, all the boys use to think a lot of George. Many a night time me and him spent together in the trenches, we always used to argue about farming."
*Lance Corporal Peachey
Further Reading
Marg Powell
Comments
Your email address will not be published.
We welcome relevant, respectful comments.