Colourful Dicky Dewson
By Marg Powell, Specialist Library Technician, Metadata Services | 24 May 2015
Captain Richard William Dewson, DCM, MC
Richard William Dewson, saw much of the world during almost 20 years service with the British and Australian Infantry Corps. Between 1899 and 1918 he had been deployed to: South Africa, Egypt, Gallipoli and France.
Having enlisted at the age of 18 with the 2nd Battalion, Royal Warwickshire Regiment in 1899, his service records reveal quite a colourful time.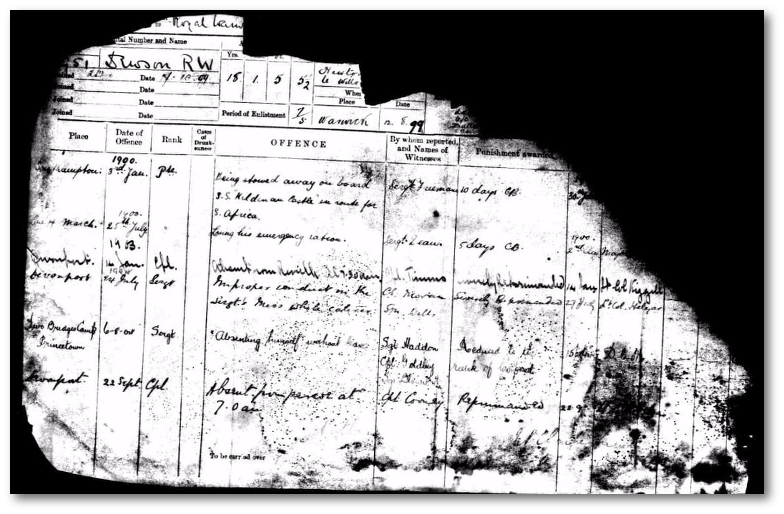 Kildonan Castle
en route to South Africa, he had been keen to do his bit in the Boer War but was not yet the legal age of 19 to serve overseas.
Between 1900 and 1904 he was variously promoted and demoted from Private to Corporal, to Sergeant for his good work and misdemeanours, as well as being awarded the Distinguished Conduct Medal during his service in the South African Campaigns.
Richard Dewson is pictured here, outside a dugout, Gallipoli 1915. Note the bandaged knee - courtesy of the long-range Turkish gun nicknamed by the Anzacs as 'Beachy Bill'.

Richard Dewson is pictured here, outside a dugout, Gallipoli 1915. Note the bandaged knee - courtesy of the long-range Turkish gun nicknamed by the Anzacs as 'Beachy Bill'.
By 1913 he was living in Perth and when war was declared in 1914, Richard Dewson was a serving officer of the Australian Army Services Corps in Tasmania. Unable to enlist from Tasmania as quotas quickly filled, he travelled to Sydney where he was then sworn in to serve with the 22nd Australian Services Corps, Third Division Train.
Taking a dip, with mates on Anzac Beach, Gallipoli 1915, Dewson is pictured far right.
2nd Light Horse Field Ambulance
He received further treatment in Hobart General Hospital when he arrived, and by February 1916 was on his way back to join his unit by now in France.
By June 1917 Richard Dewson had shown his true-colours - his experience and strength of years of military service - saw him recommended and awarded the Military Cross. Seriously wounded with a gun shot wound to his chest, neck and arm, he was invalided to England for treatment, before rejoining his unit in France.
"From PLOEGSTEERT WOOD on the night of 8th/9th June 1917, only a few hours after our advance he personally took a convoy of 90 mule loads of ammunition to SCHNITZEL and BETHLEEM FARMS. This work was done by night and over most difficult country. Whilst on the MESSINES road the convoy was shelled with gas shells. The River was impassable and a crossing was made by grouping animals, thus providing spare men for making a crossing. After crossing numerous difficulties were encountered, viz:- trenches, wire and other obstacles. During the latter part of the journey a searchlight detected the presence of the convoy and enemy shelling commenced, but in spite of all difficulties, the ammunition was delivered to its destination. This Officer showed great initiative and bravery throughout, and was a splendid example to his men, he has shown marked ability during the recent operations. It was mainly through his efforts that the Pack Transport has reached its present stage of efficiency." AWM
27th May 1918
While researching Captain Dewson's Australian war service, we came across several letters at the National Archives of Australia, from his son William J M Dewson, in NSW requesting information about his father's medals and effects. The Records Office advised that the items were forwarded by the High Commissioner's Office, London directly to his widow, Margaret Dewson who was at that time residing in England.
Later information shows that his medals and other artefacts from his war service were sold at auction in 2006 in London.
Included was a Wrist watch, engraved 'To Lieut. Dicky Dewson from Instructional Staff Claremont 1916'
It is hoped that by publishing this brief story, Captain Richard Dewson will in some way be reunited with his family, who are the ones who deserve to share the story of his strength and courage.
Captain Dewson, DSO, MC will be remembered by the Australian War Memorial's initiative by projecting his name onto the exterior of the Hall of Memory on these days:
Fri 26 June, 2015 at 2:38 am
Sat 8 August, 2015 at 2:37 am
Sat 26 September, 2015 at 7:39 pm
Tue 24 November, 2015 at 9:14 pm
Fri 22 January, 2016 at 11:18 pm
Mon 21 March, 2016 at 4:29 am
Mon 9 May, 2016 at 1:47 am
Mon 20 June, 2016 at 8:23 pm
Dewson, R W
OM78-70 David Gifford Croll Papers
Marg Powell
QANZAC 100 Content Technician
State Library of Queensland
Comments
Your email address will not be published.
We welcome relevant, respectful comments.