Clement Lovel Dearden - Queensland's Oldest Digger?
By JOL Admin | 1 November 2016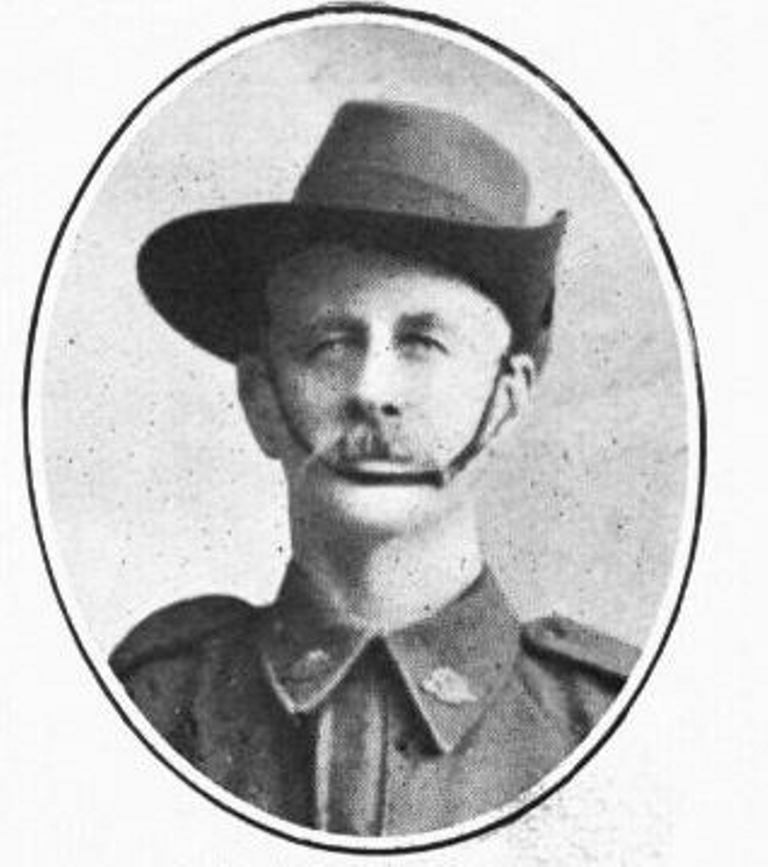 Clement Lovel Dearden. Source: Wildman, Owen, Queenslanders Who Fought in the Great War, Brisbane: Besley and Pike, 1919, p.81. Call No. RBQ 923.5943.
During World War I it was not only under-aged soldiers who lied about their age, but also older men desperate to do their bit for the Empire.
The QANZAC team recently received an email from Meredith Dearden who recounted the amazing story of her husband's grandfather, Clement Lovel Dearden, who enlisted in the A.I.F. during World War I, at the age of 60, well over the maximum enlistment age of 45. Three of his sons were already serving at the front.
Clement Lovel Dearden was born in Sheffield, Yorkshire, England, in 1856. From the passenger lists held by the Queensland State Archives we know that he emigrated to Queensland in 1882 arriving in Maryborough on the ship Silver Eagle on the 7th June. Also on board was Lizzie John, aged 23, with her two sisters, Martha and Sarah. Clement and Lizzie married a few days after arrival on the 19th June. Clement worked in the sugar industry in Bundaberg as well as pursuing pastoral pursuits in Central Queensland, before settling in Townsville in 1886. Clement and Lizzie raised a family of seven sons and one daughter.
Clement first attempted to enlist in Brisbane, at Frasers Hill Camp, on the 31st March 1916 giving his age as 42 years and 11 months. While training in Brisbane his true age was discovered and he was discharged as "unfit for duty, not due to misconduct". Not to be deterred he went back home to Townsville, dyed his hair, and tried again on the 13th April 1916. This time he was successful. Clement gave his age as 44 years and stated that he was married with one child. He was assigned to the 20th Reinforcement, 26th Battalion, embarking from Sydney on the ship Hororata on the 13th June 1917. Unfortunately Clement contracted influenza during the voyage and it was during this illness, which was very severe, that things started to unravel. From his service records, held by the National Archives of Australia, we know that the doctor on the ship wrote the following report:
Age 65 and looks older. Should never have been enlisted. He says the recruiting sergeant at Tully, Queensland, put his age down as 44 and ten months without being told the real age. Subject and cause - bronchitis. Required to be admitted to hospital immediately on arriving in England.
Another document states: He looks old. He seems broken in health.
Upon arrival in England Clement was sent to the Fargo Military Hospital on the Salisbury Plain, near Rollestone, where he received treatment for bronchitis and debility. He embarked for Australia on the ship Berrima in October 1917 and was discharged from military duty in February 1918. His great adventure was over. He died on the 1st May 1932 in Townsville, aged 76.
Three of his sons, Ernest, Verden, and Clement Lovel Jnr., all enlisted in 1915 and all served with the 9th Battalion. All three were decorated for bravery and, fortunately, all three returned to Australia.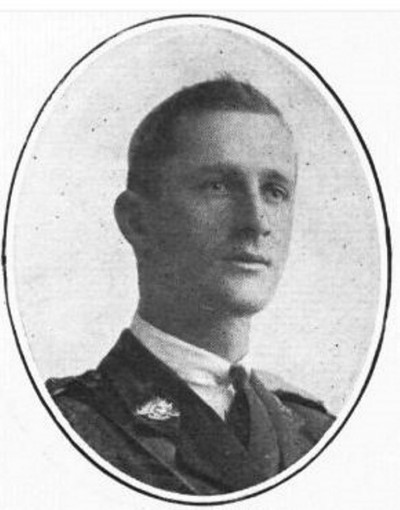 Lieutenant Ernest Dearden. Source: Queenslanders Who Fought in the Great War, p.81.
Lieutenant Ernest Dearden (no. 4182) enlisted on 30 August 1915 at the age of 23. He served on the Western Front and was awarded both the Military Medal and the Military Cross. The Military Medal was awarded to him for an action near Le Barque, France, on the 25th February 1917.
Corporal Dearden went back and gathered together some men who had become slightly disorganised by the enemy's artillery fire, and brought them up to the front line, by a track which was not under fire. Later he showed excellent spirit, and proved of great assistance in tending the wounded.
In 1918 he was awarded the Military Cross for his actions at Belgian Wood, near Ypres, Belgium, on the morning of the 27th March, in which he suffered a gunshot wound to his right ankle. The citation reads:
For conspicuous gallantry and devotion to duty. When on patrol with six men he engaged a hostile party of forty, killing at least two and taking a wounded officer prisoner, dispersing the remainder. On putting his prisoner under guard he took his patrol out again, but was wounded. In spite of this he engaged a similar party of the enemy and dispersed it, and when, on retiring, one of his party was found to be missing, went back, and finding him dead, brought the body in, thereby preventing the enemy from obtaining an identification.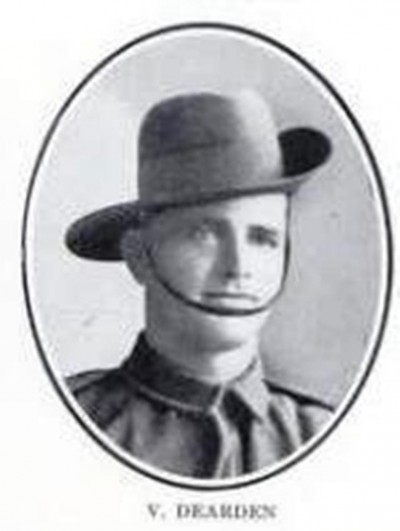 Verden Dearden. Source: Queenslanders Who Fought in the Great War, p. 81.
Lance Corporal Verden Dearden (no. 4609) enlisted in October 1915, aged 29, and served on the Western Front. He was wounded in action on two occasions and received the Distinguished Conduct Medal for conspicuous gallantry and devotion to duty for actions on the 6/7th May 1917 at Bullecourt, France. The citation reads:
He led his bombing section with great dash and initiative. After heavy fighting he captured the position, inflicting severe loss on the enemy. Throughout the day he set a splendid example to his men. His coolness throughout the day in the captured position under heavy fire was splendid, and his control of men and courage during the action assisted greatly in retaining and consolidating the position.
Verden was wounded in action twice, suffering a gunshot wound to the hand and face on the 29th July 1916, and on the 20th September 1917 suffering a compound fracture and severe shrapnel wound to the thigh. He was also hospitalised in early 1917 with valvular heart disease.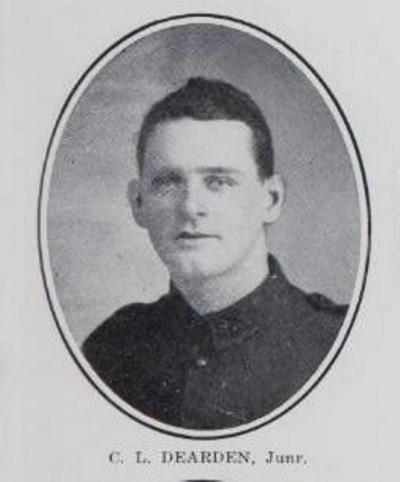 Clement Lovel Dearden Jnr. Source: Queenslanders Who Fought in the Great War, p.81.
Private Clement Lovel Dearden Jnr. (No. 2127) enlisted in April 1915 at the age of 18 and served in Gallipoli and the Western Front. He was awarded the Military Medal for bravery in the field in an action on the 24th and 25th February 1917 near Le Barque, France. According to the records:
He continually carried despatches through heavy barrage during the advance and brought valuable information. With another soldier, he was the sole connection between the front line and the control post when the telephones became disconnected through shell fire.
Clement was wounded in action on the 30th May 1918 when he suffered severe shell wounds to both legs. After recuperating in England he was invalided back to Australia in September 1918.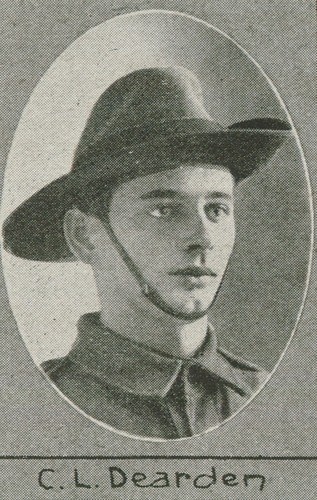 Clement Lovel Dearden Jnr. Source: "Queenslander", 22 May 1915, p.23. John Oxley Library Record No. 880139.
Clement's daughter in law, Meredith, writes that he was both physically and mentally affected by the war and never told his family about his wartime experiences. Meredith writes: With the same grit and determination his father displayed, he eventually got out of his wheelchair and became a fireman in the railway. he always limped and was in pain for the rest of his life. I didn't meet him until he was in his late 60s and can still see him rubbing his knees and grimacing in pain while teaching the grandkids how to play cards. He had chooks and a vegie garden in the back and kept us all in fresh vegies and eggs until his late 70s.
We are very grateful to Meredith for sharing this wonderful family story of World War I with us and for highlighting the service and bravery of the Dearden family during the war.
Lynn Meyers, QANZAC100 Content Curator
Comments
Your email address will not be published.
We welcome relevant, respectful comments.