Christmas and the Magic of Toys from our Childhood
By Administrator | 5 December 2017
What do our early toys say about our social environment? As the Christmas season approaches, it grants us the opportunity to reflect on the toys that were special to us as children – the excitement of the visit of Father Christmas or Santa Claus added joy and expectation as Christmas drew near. Do you have a favourite toy kept from childhood?
Photograph by Christina Ealing-Godbold
Photograph by Christina Ealing-Godbold
At State Library of Queensland, we have a range of books, journals and photographs of old toys. Clients who enjoy collecting teddies, dolls, tin toys, board games and even toy koalas often ask us to help them with information about loved and collected toys.
Whilst the definition of the word "toy" suggests that it is an item for children to play with, The Western Champion newspaper of Barcaldine Queensland reported in 1887 that toys derived from the word "Toyen" meaning something of little value or significance. However, the journalist suggested that "on the contrary, we should say it was an article of great value whether looked with regard to its power of educating and amusing or as an article of commerce." (Western Champion, 15 November 1887, p.2 of Supplement) We would all most surely agree that our favourite childhood toys are significant in our memory.
What were some of these favourite toys? Teddies and dolls seem to have been a part of everyone's childhood. Australia has manufactured home grown teddies and dolls, but English, European and American brands were imported as well. Joy Toys in Melbourne (1923) were the first significant producers of Teddies in Australia but other brands were Lindee (1940's -1976), Jakas Melbourne (1954- 1970's), Barton Waugh, Sydney (1950's -1960's), Bruno Bears and, Berlix and Emil. Morello specialized in making Koala Bears. Toy Koala Bears were so popular that an entire shop just dedicated to selling Koala Bear toys was established in Sydney in the 1950's. In Western Queensland, the town of Tambo has become famous for its Teddy Bear manufacture in more recent times. When dating a teddy, many factors are important - body shape, length of limbs, muzzle shape and size, humps and other distinguishing features, materials used for the eyes, pads, fur and stuffing and whether there is a growler or music box to give the bear a voice. "Pepe", illustrated below, although worn in places, is complete (eyes, arms, legs and ears all in place) and has an attractive teddy face, making him a good surviving example of a 1950's Australian Teddy.
"Pepe", a Colin Bear purchased in Sydney in 1956. Photograph by Christina Ealing-Godbold.
"Pepe", a Colin Bear purchased in Sydney in 1956. Photograph by Christina Ealing-Godbold.
Bride Dolls were the passion of little girls in the 1950's and 1960's. Complete with white dress and veil, such dolls came in every size and were treasured possessions. Dolls that walked and talked were also prize possessions – and came at some expense, especially the large child-size dolls. Many girls were given a baby sized doll when there was an arrival of a new baby brother or sister in the household. Dolls from other cultural backgrounds enriched children's lives, especially after World War Two. Black dolls with large gold earrings were a particular favourite in the 1950's and 1960's.
The Telegraph (Brisbane) 29 November, 1937.
The Telegraph (Brisbane) 29 November, 1937.
Tin toys were a favourite of twentieth century Australia, especially tin vehicles of every size – some small like matchbox toys and others big enough to ride in. Pull along toys were also popular in the 1930's – stuffed animals mounted on boards with wheels which the child could pull along as if the animal was following them – dogs, horses, cats, elephants, donkeys – all kinds of animals. As the 20th century progressed, movement in toys became more important, making the toy appear more realistic.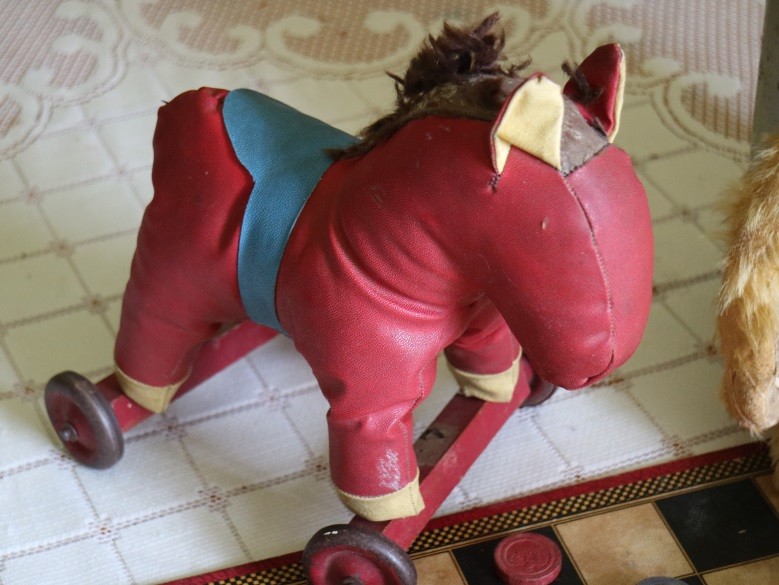 Pull along horse on metal wheels, purchased in Maitland NSW in 1933.Photograph by Christina Ealing-Godbold
Pull along horse on metal wheels, purchased in Maitland NSW in 1933.
Photograph by Christina Ealing-Godbold
Many children had at least one toy made by parents – a knitted or rag doll, a doll house made by father, a go-cart constructed from left over packing cases and wheels, and wooden trains and planes made by Dad were treasured. The Ladies Home Journal and The Women's Weekly included patterns for home-made toys. In the depths of the depression in 1932, parents were assured that these homemade toys would be valued more than those bought in the store.
Some toys have fallen out of popularity for broader social reasons. In 1949, it was announced that American Toy Makers were not making war toys. Golliwogs, Black Mama dolls and Noddy went out of fashion for reasons of political correctness. The furore about Noddy has continued since the 1970's and Barbie dolls have come under fire for stereotyping the female form. However, Enid Blyton's stories and characters and other children's characters such as Pooh Bear have continued to have a great following today. The Australian classic tale, The Magic Pudding is another example of a lasting Christmas favourite. My own Christmas stocking always included an Enid Blyton book when I was a child.
Board games were popular for centuries, giving opportunities for family leisure in the holiday time period. Snakes and Ladders, Draughts (also called Checkers), Ludo, Monopoly, Scrabble and card games were perennial favourites. Families stored them in a central drawer to be accessed by all on rainy days and holidays. They were an interactive pursuit, involving the whole family, often competing in teams around the kitchen table.
Vintage Draughts Board. Photograph by Christina Ealing-Godbold
Vintage Draughts Board. Photograph by Christina Ealing-Godbold
The major stores created Toylands and Christmas Wonderlands to attract young patrons and their parents. Decorated windows told the Christmas Story and Father Christmas was the man to see. Finneys, McWhirters, and T.C.Beirne's stores in Brisbane attracted Christmas crowds. Like now, the major stores also advertised in the newspapers their Christmas sales such as Fleischmann's, the Home of Father Christmas, published in The Queensland Times (14 December 1929), indicates the favourite items on sale including – Noah's Arc with Animals, China Supper sets, Toy Trikes, play tents and Hornsby Trains. Train sets came in every kind of material – tin, wood, and later plastic. Some were powered by batteries, others by electricity and some by elbow grease – pushing the train along yourself.
There were toy 'crazes' too, where more than a million items were sold – Cabbage Patch Dolls, Furbies and "Tickle me Elmo" were some of the toy crazes but so was a plastic bubble top car which sold in enormous numbers in 1946. After World War 1, it was reported that the quality of toys improved enormously, and celluloid dolls as well as mechanical and moving toys of all kinds were the most popular items. In the Brisbane Courier it was reported that at a Christmas Party for soldiers children held at the Brisbane Exhibition Grounds in December 1918, all children were given a gift upon arrival – either a book, a Christmas stocking stuffed with goodies or a mechanical toy.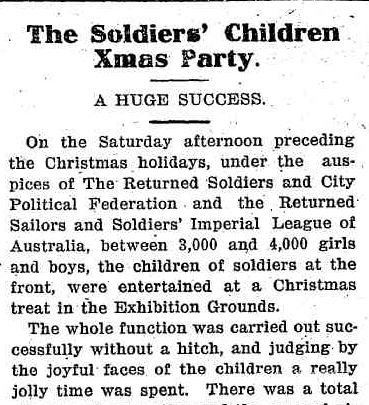 The Leader (Brisbane) 3 Jan 1919.
The Leader (Brisbane) 3 Jan 1919.
Guides to Vintage and Antique Toys are popular with collectors. Research into the making of the toy and its serial numbers, values and rarity are documented in works such as Antique Encyclopaedias and Antique Collector magazines. Yet with all of these toys, the enjoyment was in the story that the child created for themselves as they engaged in play – pretending that the doll was being tended by its mother, pretending that the train was coming into the station to pick up passengers, pretending! Toys of yesteryear are a way to retain our cultural memory of childhood and enrich our adult lives.
Christina Ealing-Godbold
Information Services
State Library of Queensland
Comments
Your email address will not be published.
We welcome relevant, respectful comments.