A Cherbourg Man in Vietnam: Claude Malone's Digital Story and Oral History
By India Dixon, Queensland Memory | 17 February 2022
Cultural Care statement (disclaimer)
Users are advised that this Aboriginal and/or Torres Strait Islander material may contain culturally sensitive imagery and descriptions which may not normally be used in certain public or community contexts. Annotation and terminology which reflects the creator's attitude or that of the era in which the item was created may be considered inappropriate today. This material may also contain images, voices or names of deceased persons.
Australia's decade-long involvement in the Vietnam War remains a significant cultural touchstone for those who lived through it. For some, the anti-war sentiment was the shaping of a generation; for others, it was a tragic final note to a stressful and traumatic service experience. The Vietnam War intersected with another landmark event for Aboriginal and Torres Strait Islanders in Australia: the 1967 referendum in which the Australian public changed the Constitution to include Aboriginal people as part of the Australian population.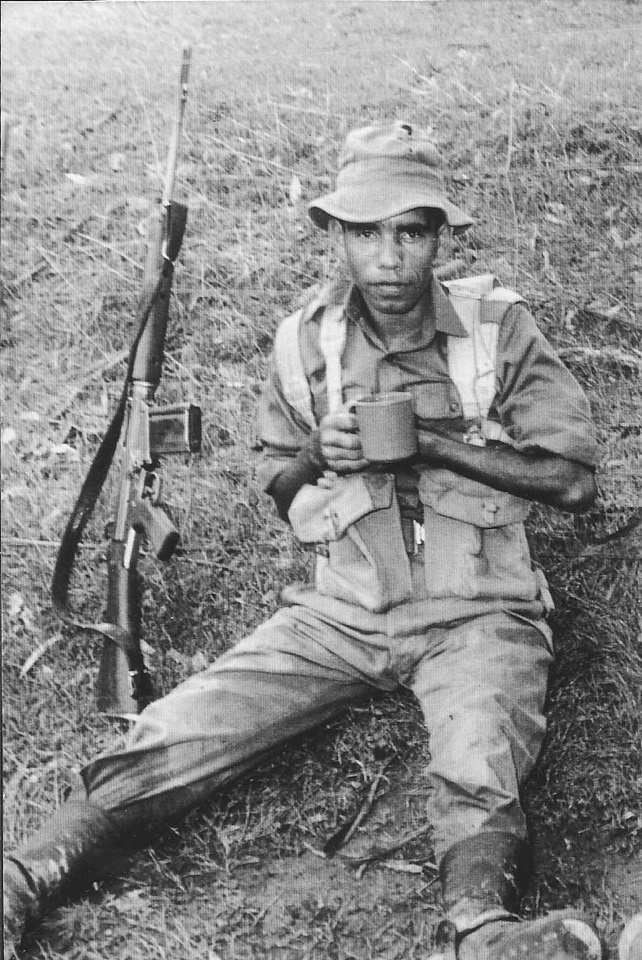 Claude Malone resting while on patrol, Vietnam War (courtesy Ration Shed Archive)
State Library of Queensland has recently interviewed three Aboriginal Vietnam War veterans to capture their oral histories. Through their first-hand experiences, we are able to gain unique perspectives and anecdotes that shape our perception of this turbulent time.
Claude Malone was born and raised in Cherbourg, Queensland. He volunteered for the military when he left school as he believed it was the only way to make a living and avoid being victim to stolen wages policies. These racist policies were perpetrated against Aboriginal and Torres Strait Islander people by government bodies for almost a century, and involved the withholding and unfair control of personal and community wages by a non-indigenous group or individual.
"
"One of the reasons I joined the Army is to get out of Cherbourg because I was underpaid there. They call it Stolen Wages and it was one of the reasons that I left there, because when I left high school, I was working for pittance, you know. About 30 dollars a fortnight, or something, and I had to pay board to my parents and that. So, I joined the Army to get more money and to help them out too, my parents out."
Claude Malone (digital story)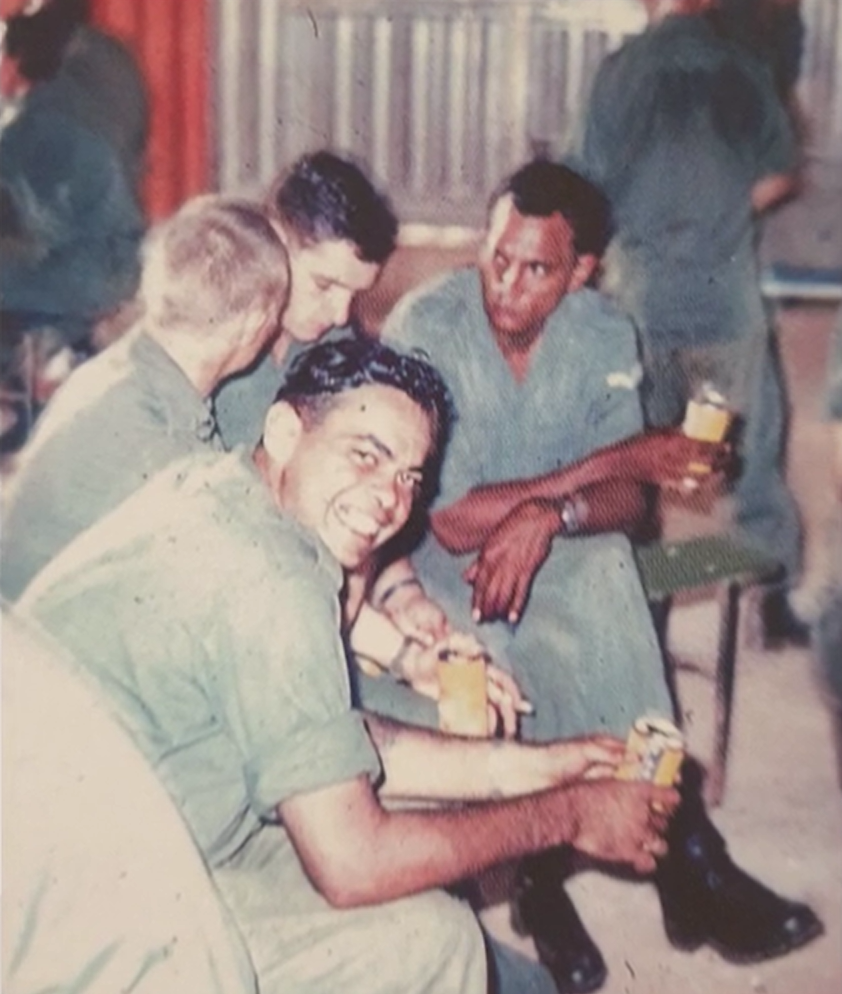 Over 300 Aboriginal and Torres Strait Islander people served over the course of the Vietnam War (reproduced from digital story).
Though originally told by recruiting officers that he was unlikely to see service in Vietnam, Claude finished his core training and was called into an office where he was told he had been selected for overseas duty. He was one of an approximated 300-500 Aboriginal and Torres Strait Islander servicemen to undertake deployment in Vietnam throughout the duration of the conflict. As a member of the Royal Australian Engineers Unit, Claude was exposed to a number of dangerous frontline duties.
Claude talks significantly on the subject of the Vietcong tunnels, and the unique difficulties of the Vietnam War from a tactical perspective.
"
"They used to call us Tunnel Rats, bunker systems underneath, I used to do that, go down. They stopped that then because, you know, what's the use, we used to just blow the entrances or the exits, it was too dangerous… Only sent you down with a 45, they were big bunker systems, a hospital underneath, housing where the battalions slept and all that, they were pretty, you know, cluey in Viet Cong, the Vietnamese, they had everything underneath underground and this was our job to find them. And I didn't like that… In the dark and you had a torch and a 45. That's like a pea shooter."
Claude Malone (digital story)
The return home for Claude was difficult. Already suffering from the pressures and trauma of his experiences in Vietnam, he recalls how his flight into Brisbane Airport was greeted by anti-war protestors hurling insults at returning veterans. He found it difficult to speak about his experiences with family in the years following.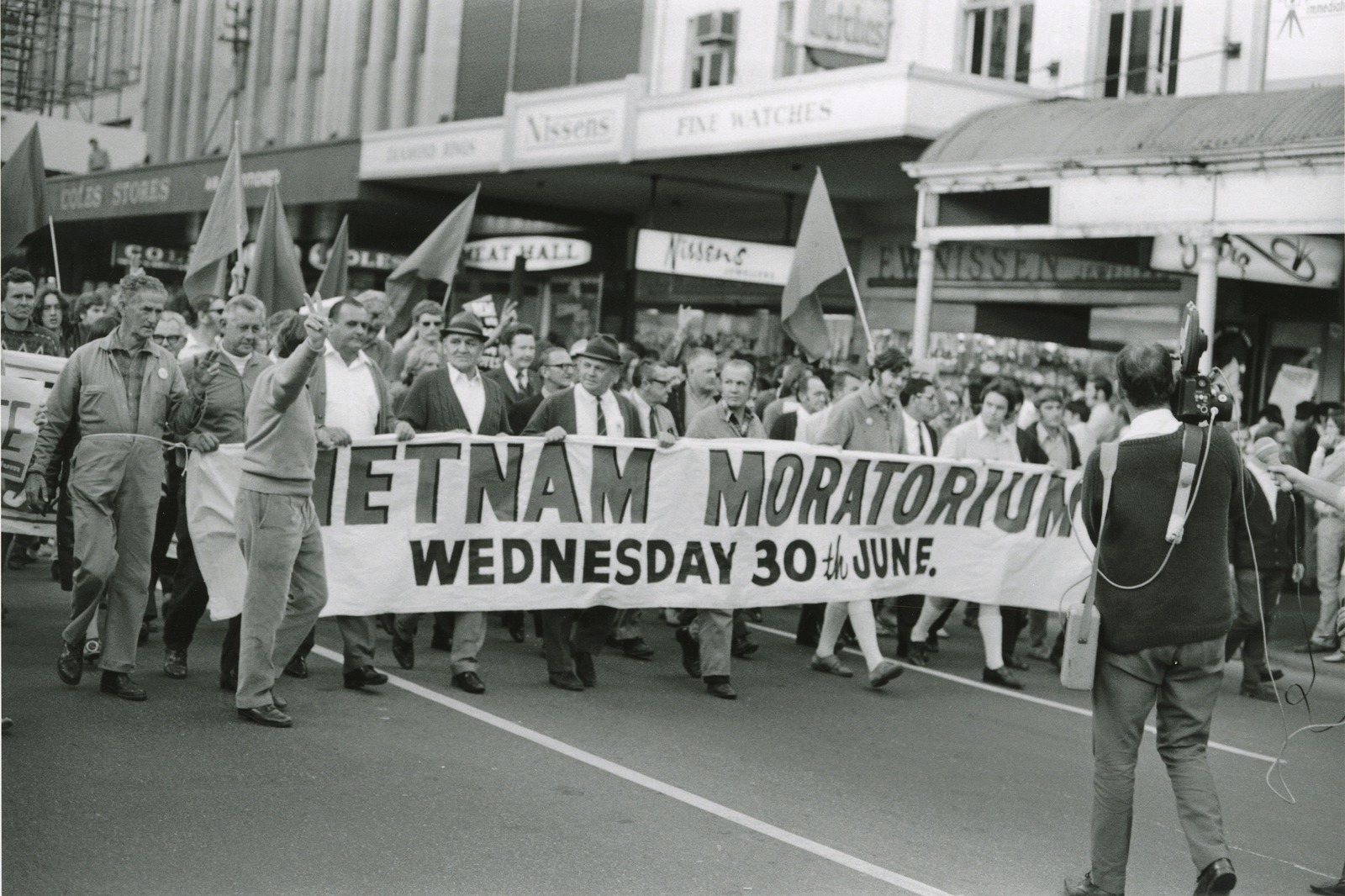 Second Vietnam moratorium protest march in Brisbane, Queensland, 1970, 30875 Glen O'Malley Photographs, John Oxley Library, State Library of Queensland. Record number 21268060610002061
Claude was significantly impacted by his service, both mentally and physically. The exposure to Agent Orange in the Vietnam jungles had resulted in debilitating degradation of his joints and painful, chronic arthritis that has limited the mobility of his hands.
Watch Claude's full digital story below.
Comments
Your email address will not be published.
We welcome relevant, respectful comments.