Charlie's Wars - Charlie Fletcher 1895-1941
By Marg Powell, Specialist Library Technician, Metadata Services | 11 June 2020
Charlie Fletcher, born in 1895 to Eliza Legg, was raised by his grandparents Albert Fletcher and Lena Ivory, a Wakka Wakka woman. They spent most of their time living and working at Farleigh, a small town north-west of Mackay - named after the original selection, which had grown around sugar-cane plantations and the Farleigh crushing mill.
At age 21, Charlie volunteered to serve during the First World War in July 1916, and was assigned to the 5th Reinforcements for the 12th Machine Gun Company, first training at Enoggera Barracks in Brisbane, then at the Machine Gun Depot, in Seymour, north of Melbourne.
By September Charlie was bound for England where he spent the winter of 1916/1917 in camp, before proceeding to France, and was appointed a Driver for his unit, operating and manoeuvring the heavy machine-gun equipment.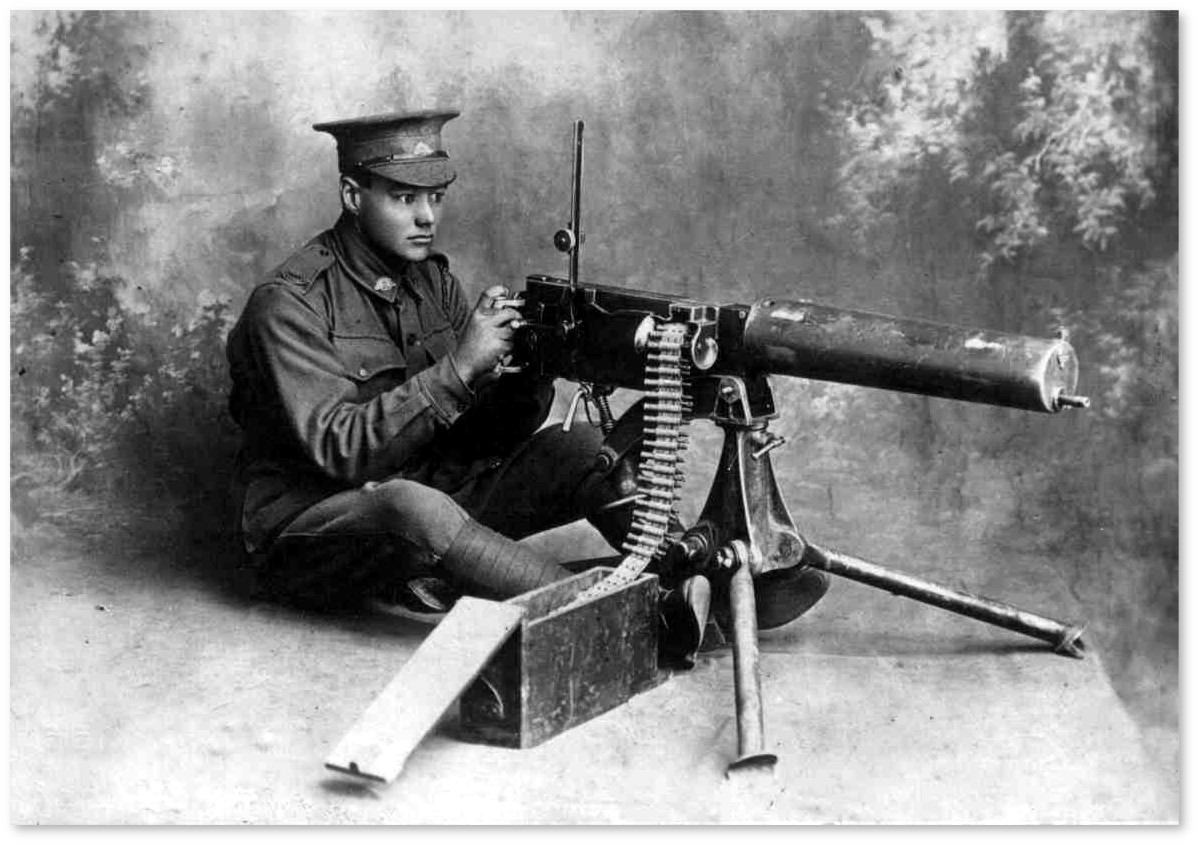 Gunner Charles Fletcher, 12th Australian Machine Gun Company, 1916. (Image courtesy Fletcher family)
In October 1917 Charlie was appointed Lance Corporal while the Company was operating in the front lines near Zonnebeke, a rank he relinquished in September 1918 after being hospitalised. When Charlie was discharged several months later, the war had ended. He embarked for Australia where he returned to his life in Farleigh - and where sadly his beloved grandmother Lena died just a few months later of the 'Spanish flu' we know now as influenza.
Charles Fletcher's name is recorded on the Farleigh Mill Honour Boardopen_in_new, Mackay Sugar Farleigh Mill, Farleigh.
In 1927 Charlie married Milly Edmonds, the descendent of a Ngarigo woman. Settling in Mackay they had four children, William 'George', Dorothy May, Albert Charles and Hazel Chrishop. Just prior to the declaration of the Second World War, Charlie and Milly separated, and in 1940 Charlie once again put himself forward to serve for his country.
Understating his birth date by 10 years Charlie enlisted in June 1940 and was assigned to the 2/12th Infantry Battalion, age 45.
Private Charles Fletcher, 2/12th Infantry Battalion, Egypt, 1941. (Image courtesy Australian War Memorial)
Charlie left Australia on Boxing Day 1940 and arrived in Alexandria a month later. After several weeks training and coming to strength at the staging camp, located at Beit Jirga, Palestine, Charlie accompanied the battalion to Tobruk, where they participated in its defence. Tragically in May 1941 Charlie was severely wounded, and although admitted to hospital, died of his wounds three months later.
QX8249 Charles Fletcher, 1940; Obituary published after Charlie's death, Daily Mercury, Mackay
Charlie Fletcher was laid to rest at the Alexandria (Hadra) War Memorial Cemetery, the inscription on his headstone reads "His duty nobly done. We will remember him".
Charlie is certainly not forgotten, his son George remembers him as someone who loved to see a storm coming through - loved the army life - and never missed an Anzac Day - taking his son George with him on at least one occasion.
The Fletcher family retain a number of items that relate to Charlie's service including several photographic postcards, recording special times in Charlie's life - including brandishing a large black snake found outside the Commonwealth war cemetery in Palestine.
Private Charles Fletcher, 2/12th Infantry Battalion, handling a black snake outside the British War Cemetery, Egypt, 1941. (Image courtesy Fletcher family)
In commemoration of his service, Charles Joseph Fletcher's name will be projected onto the exterior of the Hall of Memory, of the Australian War Memorial on: Tuesday 2 June 2020 at 7:56pm and Monday 27 July 2020 at 12:55am.
Many thanks to the Fletcher family who have assisted us in researching Charlie's story and supplying photographs from their treasured family archive.
Read more ...
The information in this blog post has been researched by State Library staff and volunteers, it is based on available information at this time. If you have more information that you would like to share or further research uncovers new findings, this post will be updated.
Comments
Your email address will not be published.
We welcome relevant, respectful comments.