Catherine Kingsford Smith Diaries
By JOL Admin | 4 June 2020
A recent donation to the John Oxley Library is the diaries of Catherine Kingsford Smithopen_in_new, the mother of the famous Australian aviator, Sir Charles Kingsford Smith. The diaries cover the period 1896 to 1938, spanning the entire period of Charles Kingsford Smith's life, from his birth in Brisbane in 1897 to his tragic death in 1935 when his plane plunged into the sea somewhere off the coast of Burma.
Catherine Mary Kingsford was born in Brisbane in 1857 being the daughter of Richard Ash Kingsford and Sarah Southerden. Her father served as mayor of Brisbane (1876) and Cairns (1885-1886), as well as representing South Brisbane in the Queensland Parliament. In 1878 Catherine married banker, William Charles Smith, and after a stint in Cairns the family settled in the Brisbane suburb of Hamilton in a large house on what was later to be named Kingsford Smith Drive in honour of their seventh and last child.
The 42 small diaries document the day to day life of the family in Catherine's plain no-nonsense way and provide a full and accurate chronology for the events surrounding the extraordinary career of Sir Charles Kingsford Smith, known as "Chilla" to his family. They were used extensively by researcher Ian Mackersey in his 1998 publication "Smithy: the life of Sir Charles Kingsford Smithopen_in_new".
Catherine Kingsford Smith Diary for 1897. (John Oxley Library collection)
Charles Edward was the couple's seventh and youngest child. Catherine was forty at the time of his birth and possibly anticipated the event with some trepidation as there was a 10-year gap between Charles and his nearest sibling, Leofric. Thankfully all went well as documented in Catherine's diary entries: 8 February 1897 "Feeling very poorly. Kept Leof [Leofric] at home in case of emergency. Taken ill at night. Mrs. [?] came to sit with me. Will [husband] went for doctor and nurse". 9 February "Baby born at about half past 5 or quarter to 6 a.m." After about a week resting in bed she was up and about managing her large and active family.
Pages from the diary of Catherine Kingsford Smith, February 1897. (John Oxley Library collection)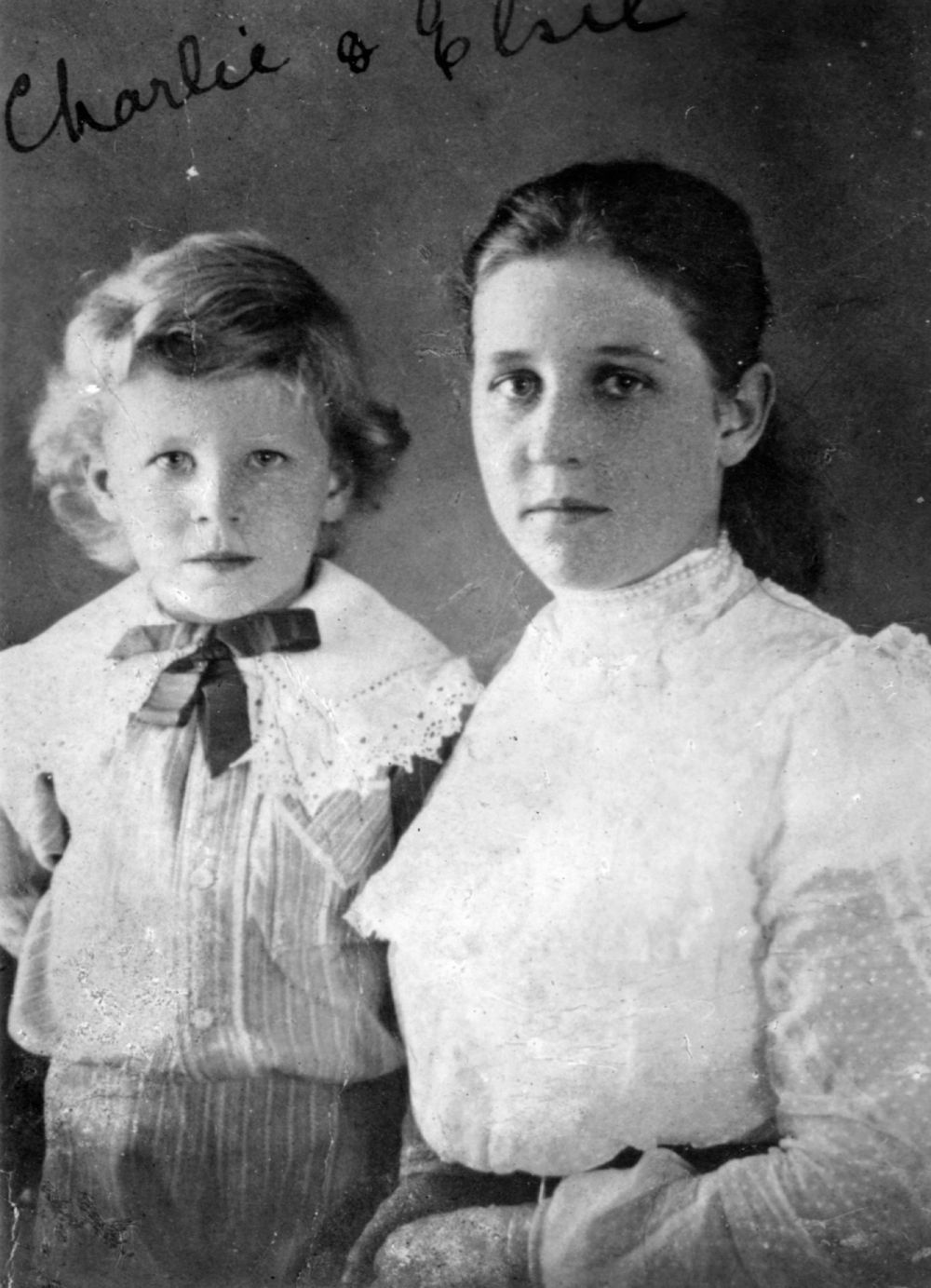 Charles Kingsford Smith with his sister Elsie, Brisbane, ca. 1901. (John Oxley Library collection)
The diary entries recount the family's move to Canada in 1903 where William worked in real estate. It was here that they assumed the surname Kingsford Smith, as according to a descendant, they lived in a street where there were several other families with the name of Smith which was confusing for postal deliveries. In 1907 they returned to Australia and settled in Sydney. Interesting diary entries document Charles' enlistment in the army during WWI; his transfer to the Australian Flying Corps in 1916; his service in England with the Royal Flying Corps where he was awarded the Military Medal for bravery; his many achievements in aviation (he was the first to fly across Australia, the Pacific and the Tasman) and his mysterious and tragic disappearance over the Bay of Bengal in 1935 while flying from England to Australia with J.T. Pethybridge aiming to achieve one more record-breaking flight.
Sir Charles Kingsford Smith in flying gear, Eagle Farm, Brisbane, 1928. (John Oxley Library collection)
Catherine's diary entries in November 1935 recount the sad tale of Smithy's last fatal flight: Thursday 7th November "Chilla left on Tuesday for long flight to Australia". Friday 8th November "Chilla and Tommy Pethybridge lost somewhere over or near Bay of Bengal. Many phone calls all day". Saturday 9th November "Photographers and reporters came at 11am and took Charles Arthur's photo. No news of boys. Planes out searching". Charles Arthur was the only child of Sir Charles Kingsford Smith. As November dragged into December with no sign of the plane or the fliers all hope was eventually lost.
Sir Charles Kingsford Smith and his mother Catherine Kingsford Smith with the aeroplane Rouseabout at Mascot, New South Wales, 1928. (National Library of Australia collection)
Catherine lived for another three years after this great loss, dying at the age of 81. Her ashes were scattered from an aeroplane over the Pacific Ocean, as had been the ashes of her husband who had died in 1930. The plane was piloted by her grandson, Jack Kingsford Smith, with his father, Eric, as passenger. In an interview to mark her 80th birthday the previous year the gallant old lady had declared "Flying is the finest vocation in the world for men!"
These precious diariesopen_in_new, which had been lovingly preserved by the daughters of Charles Kingsford Smith's brother, Leofric, were donated to the library in late 2019 thus preserving a first-hand account of the remarkable Kingsford Smith family and Australia's greatest aviator.
Lynn Meyers - Specialist Librarian, State Library of Queensland
Further reading
Comments
Your email address will not be published.
We welcome relevant, respectful comments.