Cairns Australian South Sea Island 150th Commemoration Celebrations
By JOL Admin | 4 July 2013
Guest Blogger: South Sea Islander Blackbirding Community Descendants of Cairns and District
The South Sea Islander Blackbirding Community Descendants of Cairns and District have been working collaboratively together from November 2012 in preparation for the 150th South Sea Island Commemoration Celebrations 2013. The descendants who live in and around Cairns are proud and honoured to be one of many South Sea Islander communities in Queensland to be hosting celebrations for the 150th Commemoration marking this momentous occasion in Australian South Sea Islander history.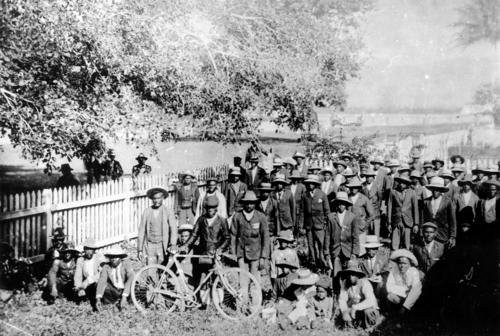 South Sea Islander men, women, and children under a tree in Cairns, 1906. John Oxley Library Neg No 30243
Over 62,000 Melanesians were balckbirded from islands around the Pacific Ocean and brought to Australia as indentured labour. Many of those enslaved islanders now have descendants living right along the eastern sea board of Queensland with many living in the Cairns and District region. Meetings within Cairns is often families reuniting once again and sharing ideas, experiences, stories and laughs over a cup of tea and food, typical of the Melanesian way. Cairns committee meetings commenced in November 2012 with only 4 involved at the time and have since grown with 42 members proud to share the love and support for each other about our business, the Melanesian way.
Cairns South Sea Islander Blackbirding Community Descendants, Cairns 2013. Photo Courtesy of Cairns South Sea Islander Descendants Community.
The committee has now extended representation from descendants through social media and growing at a rapid pace since the beginning 2013. North Queensland Australian South Sea Islanders have found family and answers to unknown questions of what happened to their families since the committee has formed with the assistance of Sonia Minniecon. The committee are looking forward to the celebrations over a 3 month period which family from around the country will be attending.
Cairns Australian South Sea Islander Community program for 2013 to mark the 150th Anniversary of South Sea Islanders in Queensland.
Cairns Regional Council along with local organisations has supported events for the 150th year Cairns Commemoration commencing from the 12 June 2013. Please see Cairns Regional Council website for more information. Come join the Cairns Australian South Sea Islander Community and help mark this important 150th anniversary. For more information please contact Melicha Woodcock on melicha.woodcock@gmail.com or go to the South Sea Islander Blackbirding Community Descendants of Cairns and District facebook page.
Comments
Your email address will not be published.
We welcome relevant, respectful comments.