Bundaberg War Memorial
By JOL Admin | 28 March 2014
The main Bundaberg War Memorial is situated at the intersection of Bourbong and Barolin Streets, which is the original site where the memorial was erected. The memorial comprises a tall, red granite column rising from a large granite and trachyte pedestal and is topped by a marble, iconic capital with a life-size statue of an Australian soldier. The statue of the Australian soldier stands with its head bowed and is shown carrying a backpack, with the total height of the memorial being just over eleven and a half metres. The pedestal bears the name of one local soldier who served in the Boer War as well as the names of 277 local enlistees who served in World War One. Commemorative plaques have been added honouring those who served in later conflicts. The monument is surrounded by concrete kerbing.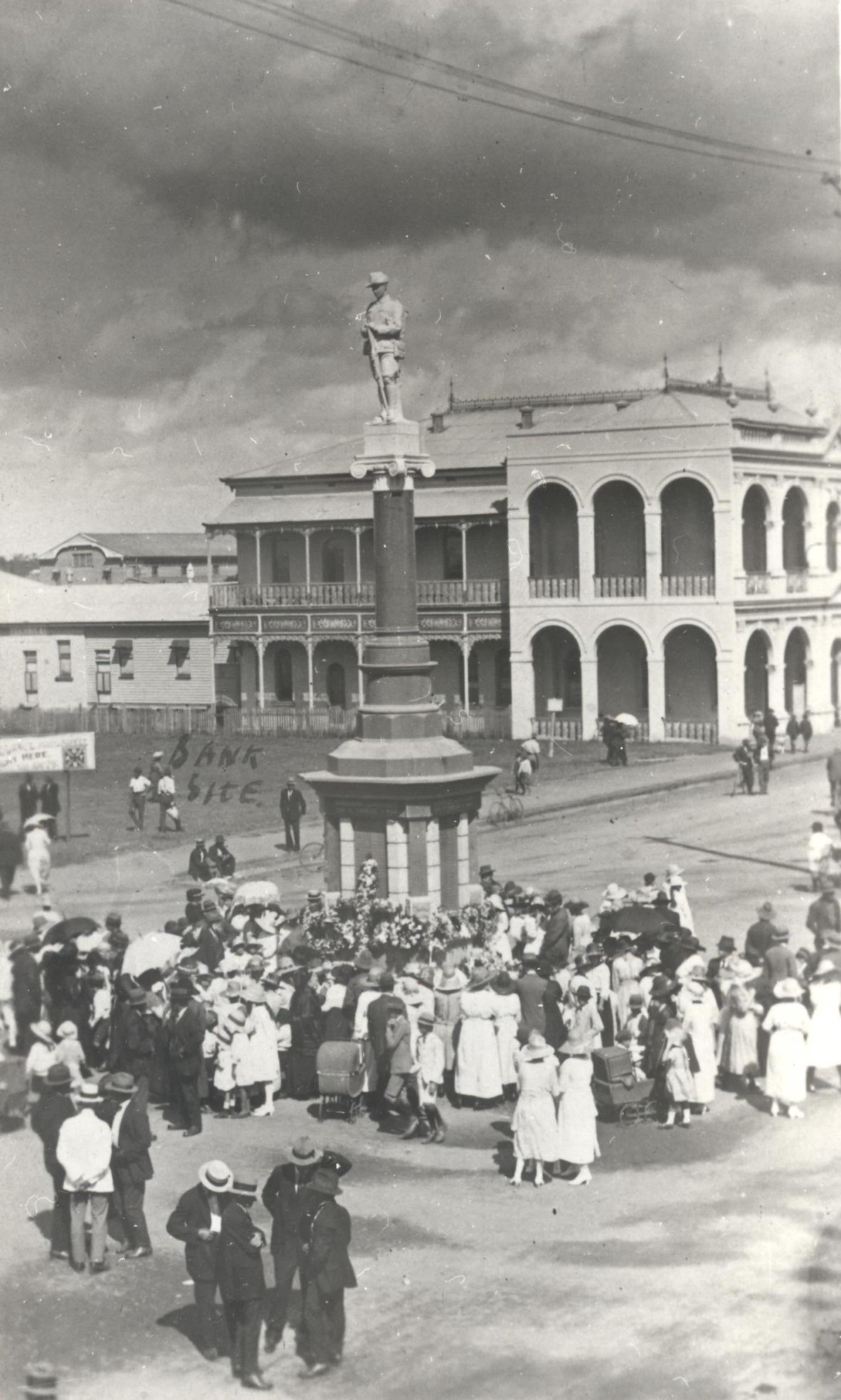 The impetus for a war memorial in Bundaberg began at the end of World War One, with the relevant local committees investigating suitable ways of honouring those who had served. The Fallen Soldiers' Memorial Committee, for instance, had originally planned to erect a Soldiers' Memorial Hall, but subsequently had difficulty in raising the substantial funds required. As a consequence, it was decided to erect a memorial statue as an alternative.
The memorial was designed by Bundaberg architect F.H. Faircloth and the masonry contractors were Anselm, Odling & Co. of Sydney. The actual statue, said to have been carved from a single block of marble, was commissioned and imported from Italy. The foundation stone was laid on 15 May 1920 by General Sir William Birdwood and was officially unveiled on ANZAC Day 1921, without the statue of the soldier, which had not yet arrived from Italy. Later in the year, the memorial was again unveiled, in its complete form. The total cost of construction is believed to have been around £1,900, with the statue said to have been the finest of its kind in Australia.
The above image shows the memorial in 1921, in its complete form, probably on the occasion of its second official unveiling.
In recognition of the importance of the Bundaberg War Memorial, it has been included in the Queensland Heritage Register.
Brian Randall, Queensland Places Coordinator, State Library of Queensland.
Comments
Your email address will not be published.
We welcome relevant, respectful comments.