Browsing our collection
By Administrator | 15 August 2016
Want to see what we have on a subject? Like the serendipity of browsing the shelves? Can't get to the library, or want to take a peek at what's in our storage?
New features in One Search now allow you to browse our hardcopy collection without leaving the comfort of your chair.
Browsing
You can browse by:
Subject
Author
Title
Call number (Dewey Decimal classification system number)
For example, if you are looking for redecorating inspiration:
Select "By subject" from the drop down menu
Enter "interior design" into the search box
Click on Browse
Select the subject heading that best matches what you want from any of the blue links below. (The numbers on the left hand side are the number of items held by the library for that subject)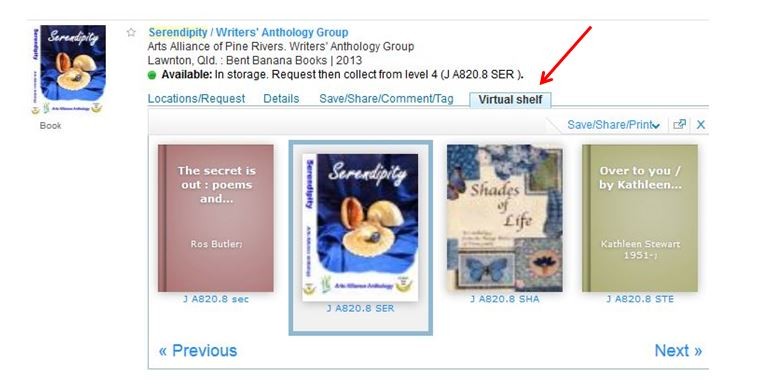 Found a book you like, and want to see what else we have on the shelf? Now you can use the Virtual shelf tab to visit the shelf from your computer. Click on Previous and Next to see what is shelved on either side of your book. Books at State Library of Queensland are arranged using the Dewey Decimal classification system, which places items in the same subject area together on the shelf.
Browse and Virtual shelf only work with State Library of Queensland collections, and do not include material indexed in electronic resources.
Found something you want to read?
Visit the Library
All State Library of Queensland items can be read in our reading rooms in the library at South Bank, Brisbane.
Items marked with "Open Access" can be found on the shelf in their respective reading room, and can be accessed immediately.
Open access items on Levels 2 and 3 can also be requested, and will be delivered to the hold shelf on Level 3 at 10am on the next business day (Monday-Friday).
Items marked as "Available: In storage" are only available by request, and will be delivered to their respective hold shelves on Level 3 or 4 of the library. Delivery times apply.
Requested items will be held for three days.
You can request items by clicking on the Locations/Request tab of the One Search record and following the prompts. You will need to log in to our catalogue with your State Library of Queensland username and password. Not a member? Join here.
If you are a Queensland resident, you also have the option of borrowing a book and taking it home with you. See what you can borrow from State Library of Queensland here.
Can't make it to the library?
Queensland residents can request items available for loan to be sent to their local public library. Fees may apply.
Log in to One Search with your SLQ membership and find the title you want, then:
Select the Locations/Request tab
Select Request
Select your Pickup Location as "My Public Library"
Enter your nearest Queensland public library in the comments field
Select Request to submit
/visit-us
Join us: /services/membership/how-to-join
Ask us: /services/ask-us
Alexandra Miller, Librarian
Comments
Your email address will not be published.
We welcome relevant, respectful comments.