Brothers Fraser
By Marg Powell, Specialist Library Technician, Metadata Services | 27 March 2017
Letters, photographs and memorial cards commemorate the lives of brothers William and John Fraser, who were raised in Cooloolabin, near Yandina.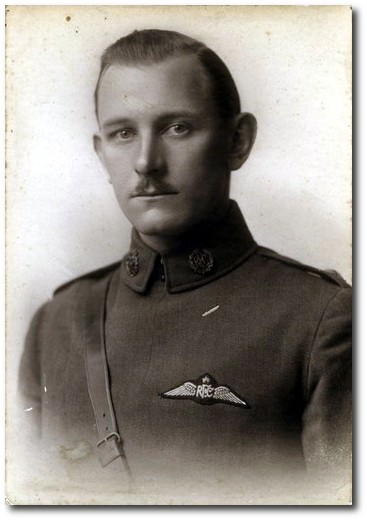 Letter from William Fraser to friends Mary and Jamima Gray, M836/7
The use of air borne craft in war was new during the First World War, men not only trained to fly but to repair their machines. William's squadron flew both reconnaissance and bombing missions during the Battle of the Somme in 1916.
Sadly William and his crew were shot down behind German lines during operations in the Battle of the Ancre Heights, in Gommecourt, France. William died of wounds he received sustained in the crash, 25 October 1916.
Private Jack Fraser, 52nd Infantry Battalion
52nd Infantry Battalion
Jack left Rifle Range Camp, Enoggera for Europe in October 1917. He contracted measles whilst on board ship but recovered to join the 52nd Battalion in England for training before embarking for France.
Jack was hospitalized in May 1918 after gas poisoning and when he returned to duty he was transferred to reinforce the depleted 49th Infantry Battalion in the Somme Valley. Two moths later Jack was killed in action near Bray on 12 August 1918.
Jack's comrades reported that he died instantly after being hit by a shell in the front lines. Their statements can be read on the digitised Red Cross Missing and Wounded files at the Australian War Memorial.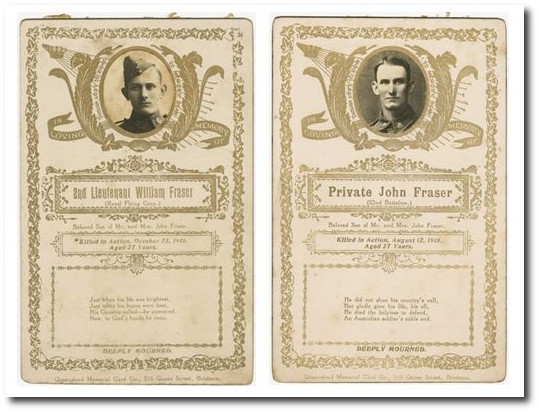 John Fraser is buried at Cote 80 French National Cemetery, Etinehem, France. His headstone is inscribed "In memory of a loving son".
Further Reading:
Marg Powell
Comments
Your email address will not be published.
We welcome relevant, respectful comments.