Brisbane Exhibition 1915
By JOL Admin | 11 August 2015
As the fireworks of the 2015 Brisbane Exhibition light up the August sky, it is interesting to consider what people may have seen at the Exhibition 100 years ago in 1915, when Queensland was in the grip of a serious drought and the entire country was at war. Across the world in eastern Europe, Queensland's young men were dying on the slopes of the Gallipoli Peninsula. The August offensive had failed, and Turkish reinforcements had now arrived in strength at Suvla. The tragic Light Horse charge at The Nek characterised a traumatic month for the Allies with the loss of so many young lives. As casualty lists grew, the Queensland public became increasingly aware of the true nature of the campaign.
In mid-August, the annual Brisbane Exhibition was held with its usual flair. The Queenslander pictorial supplement of 21st August 1915 contained several pages of Exhibition images, and depicted a variety of activities, and demonstrated that despite the hardships of extended dry weather and conflict in Europe, Queensland primary industries continued to develop, rural communities continued to flourish, and the 'Show' went on.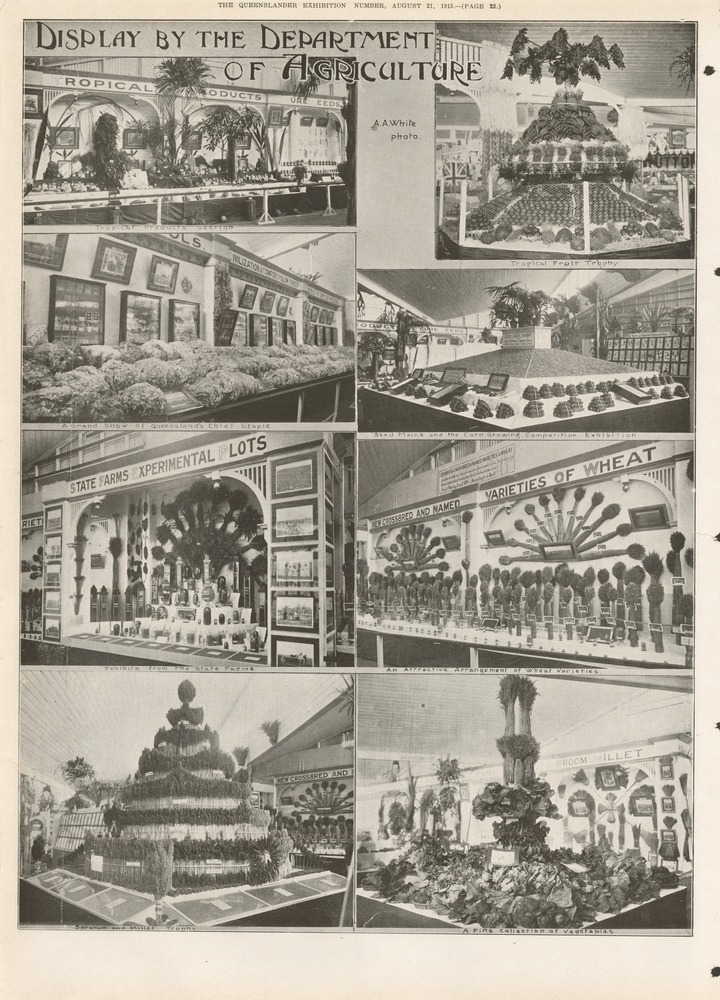 Many of the activities which formed an integral part of the Brisbane Exhibition in 1915 have remained relatively unchanged over the decades, and are still important elements of the 'Show' or the 'Ekka' as we know it today. The images from The Queenslander depicted wood chopping, bareback riding, show jumping, produce and product displays and rural district exhibits.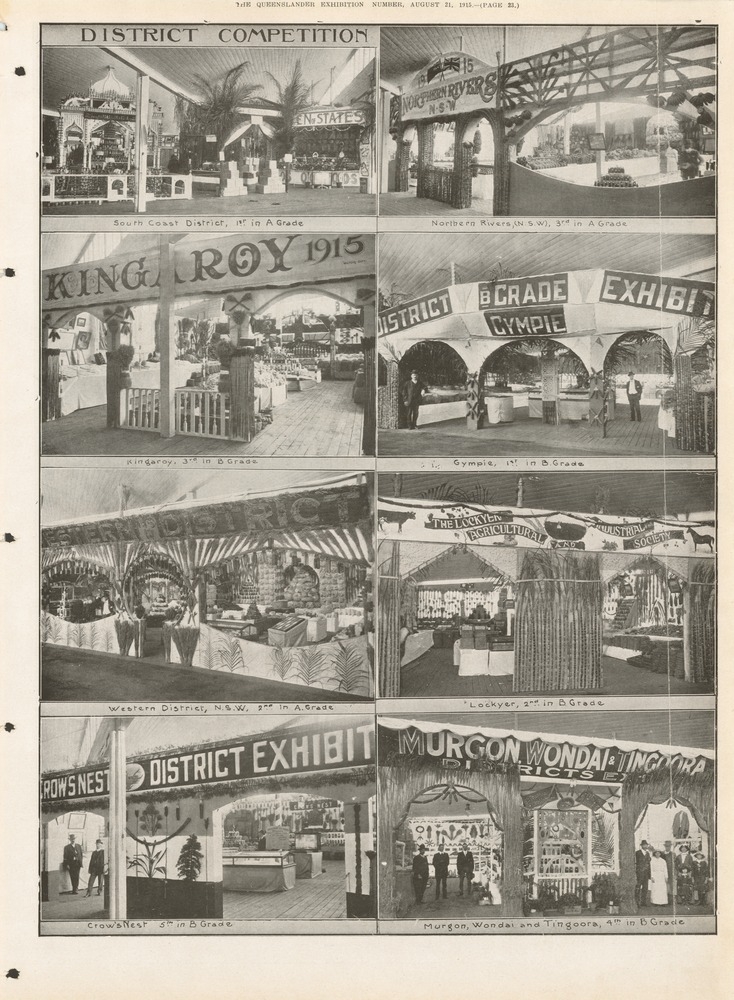 In addition, there are images showing the judging of livestock, judging of jams, preserves and baked goods, the dog show and of course the parade in the main Ring.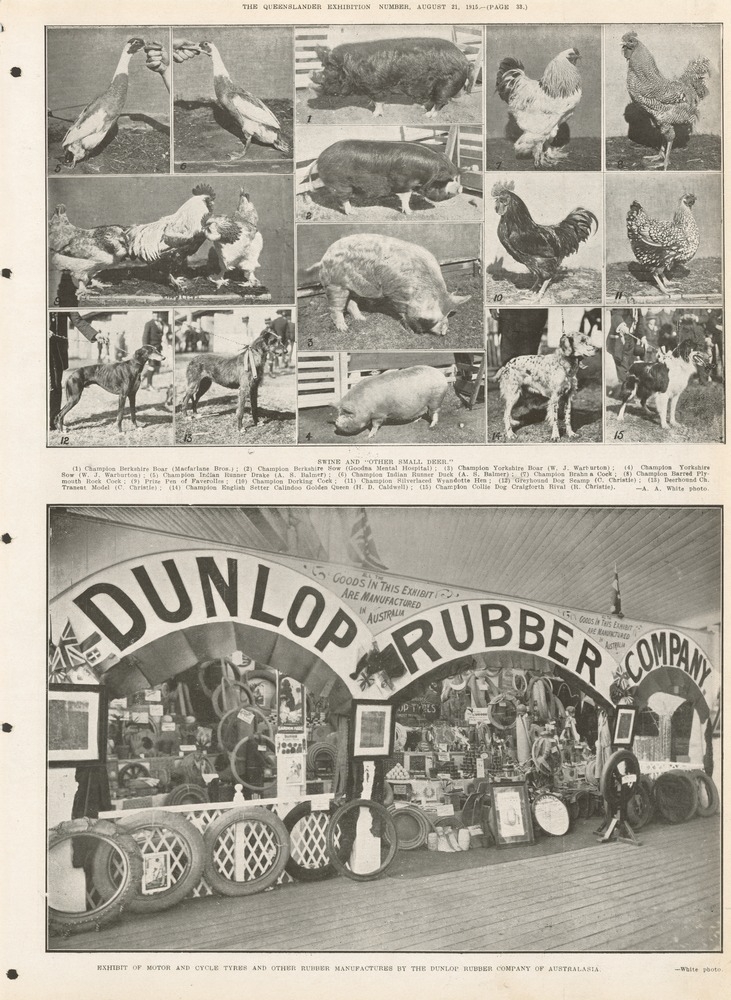 Only a couple of images provide an indication that Australia was at war. The Governor Sir Hamilton Goold-Adams GCMG CB and Lady Goold-Adams officially opened the Exhibition, and were presented with an enthusiastically received Guard of Honour composed of men of the Expeditionary Force from Enoggera Camp. The Queensland Branch of the Australian Red Cross Society erected an extensive display in the Pavilion, and the Kangaroo Point Branch of the Red Cross Society set up a complete field hospital on the grounds, to provide the Queensland public with a concept of what the fighting forces overseas might encounter.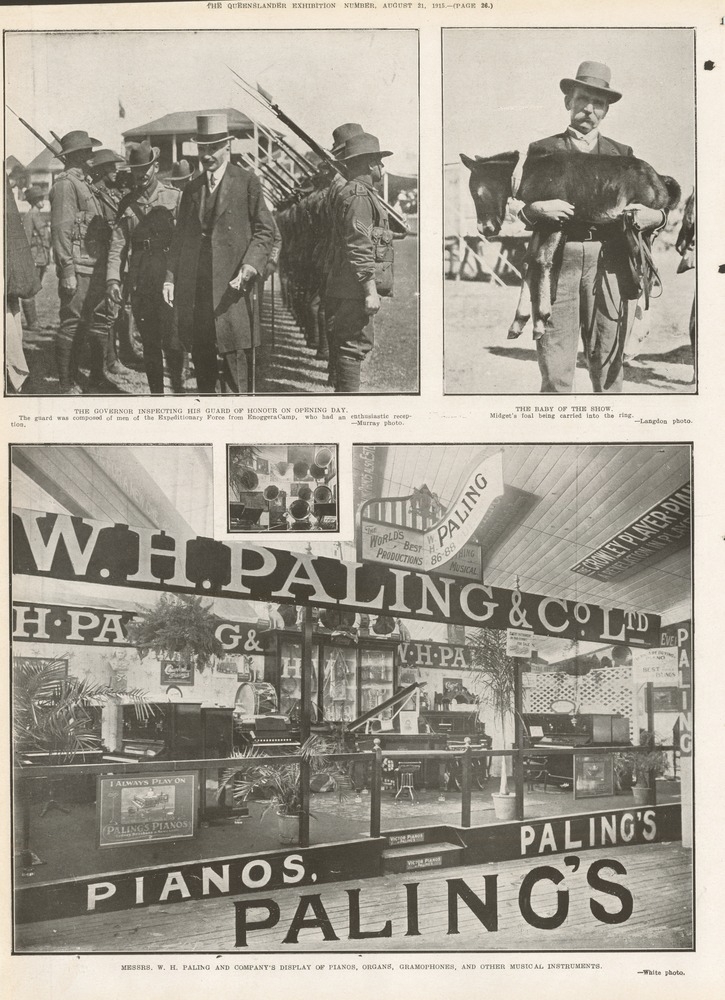 One of the most spectacular aspects of the Exhibition was the Children's Patriotic Demonstrationopen_in_new held in the main Ring of the Exhibition Grounds. Around 5,000 girls and boys from the State schools in the metropolitan area performed drill formations, and donned colourful costumes to represent different Allied countries.
Robyn Hamilton - QANZAC100 Content Curator, State Library of Queensland
Comments
Your email address will not be published.
We welcome relevant, respectful comments.