Brainstorm now - grants coming soon!
By Administrator | 21 February 2017
State Library's strategic grants for this year will be announced soon - are you ready? If not, some of the attendees at the Strengthening Your Community professional development workshop in Emerald earlier this month may have some ideas you might be interested in.
Workshop participants were asked to explore a number of diverse grant applications in a playful, experimental space. They soon realised that there were very few limits to aligning any potential library projects to available funding sources!
In one example, two library staff had ideas to engage young men in confidence building activities, however, they only had a grant opportunity which was aimed at promoting women in STEM to achieve those aims. In this scenario, they imagined potential projects which might involve developing a program whereby women share their experiences with various robotic or mechanical careers or tools, or perhaps inviting women to host hands-on workshops in STEM-related skills.
Hot topics for creative grants ideas included robotics and technology, artistic and creative programs, and community celebrations. Here's some more of the ideas:



Activities to increase creative development to align with a significant local anniversary


Create an inviting outdoor space for programming


Artist-in-residence program; Songwriter-in-residence program


Living artworks, and a space to conduct workshops


A program to develop leadership skills in young people


A community bus so everyone can access the library


Hands-on play space for all ages


Training in recording oral histories


Kids area make-over – sensory activities, cubby house, technology and more


Community robotics challenges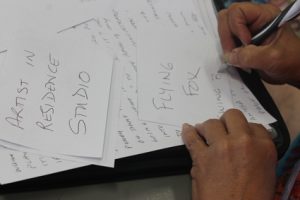 And, if you can find nothing of interest there, how about world peace? One participant suggested pooling the funding so we can all live in harmony and kindness. Now, there's an idea for Harmony Day!
Keep an eye on this blog for a grants announcement coming soon.
Comments
Your email address will not be published.
We welcome relevant, respectful comments.