black&write! announces winners of the 2012 kuril dhagun Indigenous Writing Fellowships
By Administrator | 25 July 2012
It has been an exciting time for the black&write! program. We are delighted to formally announce the winners of the 2012 kuril dhaugn Indigenous Writing Fellowships.
Teagan Chilcott for her Young Adult novel Rise of the Fallen and Jillian Boyd (writer) and Tori-Jay Mordey (illustrator) for their children's book Bakir and Bi.
Teagan was born and lives in Brisbane and is a descendant of the Kamilaroi people from Northern New South Wales and the Wakka Wakka people from Queensland. In her final year of school Teagan began working on Rise of the Fallen. The idea for the novel came in a dream, and she wrote the final chapter of the novel before writing the beginning.
Jillian Boyd is an author, poet and songwriter. She is a Torres Strait Islander who is passionate about her people, culture and shaping our future leaders, our children and youth. Jillian strongly believes in employing the gifts we have within ourselves to make a difference and create a better world within our sphere of influence.
While undertaking a Creative Writing Course for Torres Strait Islanders, facilitated by Steven Oliver at SLQ, Jillian was inspired by to a picture drawn by the late Uncle Ephraim Bani from a story about a man called Amipuru from Wagadagam, from the Margaret Lawrie Collection held at State Library. It was a picture of a giant pelican carrying a man across the ocean. Unfamiliar with the original story, Jillian wrote the children's story, 'Bakir and Bi'.
Tori-Jay Mordey was born on Thursday Island in the Torres Strait and is the youngest of five children. Her mother's family background is from Murray Island which is in the Eastern Island group in the Torres Strait and Badu in the Western Islands. She lived on Thursday Island,Cairns, Weipa before moving toHerveyBayin 1999, and is currently in Year 12 at Urangan State High School inHerveyBay.
Tori-Jay grew up with a strong cultural influence from the Torres Strait; Her mum does drawing, painting sculpture and makes dhari (Torres Straithheaddress), Kulap/Gorr and Pulga/Marap (traditional dancing instruments). She comes from a family with a rich history of indigenous artists including Grandad Segar Passi, her grandad's brother.
She has always loved art. She won the junior art award for her school art exhibition in 2010 and won the senior art award in 2011.
Tori-Jay plans to continue her art after school and will be applying for Uni next year.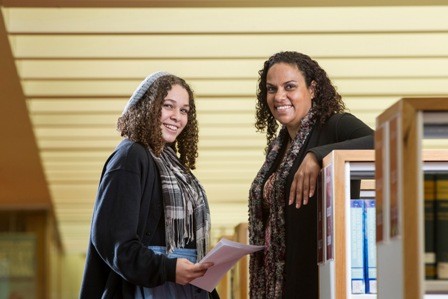 Teagan, Jillian and Tori-Jay are now working with the program's Indigenous Editors,Ellen van Neerven-Currie andLinda McBride-Yuke to develop their manuscripts ready for publication in 2013 by Magabala Books.
For more information on black&write! see: /whats-on/awards/blackwrite
Comments
Your email address will not be published.
We welcome relevant, respectful comments.