Black Diggers by Tom Wright: Queensland Theatre Company production
By JOL Admin | 8 February 2016
Scene from the Queensland Theatre Company production of Black Diggers
Scene from the Queensland Theatre Company production of Black Diggers
In 2015, State Library acquired a filmed simulcast performance of the Queensland Theatre Company production of Tom Wright's Black Diggers. Directed by Wesley Enoch, this production toured Australia after a successful run in Brisbane, and this simulcast was made on 8 October 2014.
Cast of Black Diggers
Through a series of interweaving vignettes, Black Diggers reveals the largely untold story of Indigenous service in the First World War. A cast of male actors tells a compelling story of honour and sacrifice, and summarises the contribution of hundreds of dispossessed Indigenous soldiers who heard the call to arms and enlisted to fight at Gallipoli, in Egypt and Palestine, and on the battlefields of Europe. The play draws on interviews with families of Indigenous soldiers, conversations with veterans, historians and academics, and painstaking research into the lives and deaths of over one thousand Indigenous servicemen.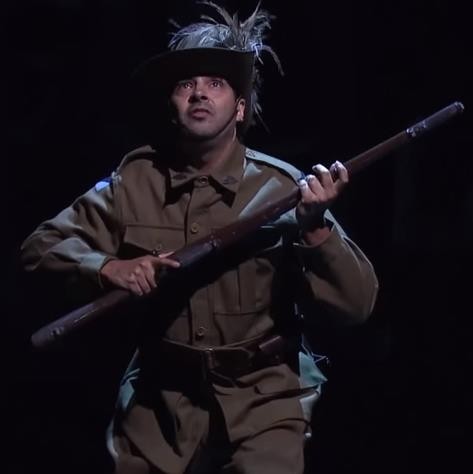 Scene from Black Diggers
29850 Black Diggers 2014 can be found in our One Search catalogue. Along with the simulcast performance, State Library also acquired an unpublished script by Tom Wright, and printed promotional material including a programme, handbill and poster.
A song in Black Diggers
Comments
Your email address will not be published.
We welcome relevant, respectful comments.