The Barker Brothers
By Marg Powell, Specialist Library Technician, Metadata Services | 20 October 2015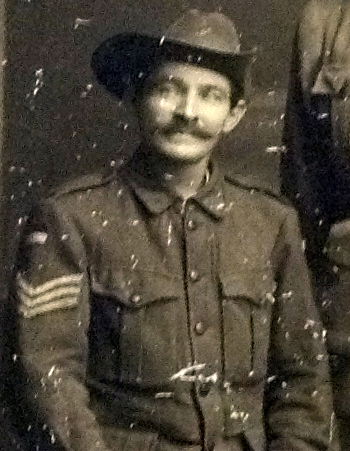 Sergeant John Charles Barker
When he left Australia he was initially assigned to the 9th Infantry Battalion, 11th Reinforcements, then transferred to the 49th. He was later assigned to Headquarters Police, the Mounted Military Police, then the Anzac Police Corps, whilst serving in France.
John Barker contracted pleurisy and was invalided first to England, and then Australia, where he returned in March 1917.
Captain Eli Barker
Employed as a teacher, when he enlisted in the AIF in 1916 he was aged 36. He was promoted to Captain whilst Officer in Charge of the Darwin Guard, and later was appointed to the Office of Alien Registration, in relation to all ships calling at the port of Darwin.
Compulsory registration began in 1916 with the introduction of the Regulations which required all non-British residents living in or entering Australia to register with customs officials or the local police.
Trooper Richard William Barker
He was assigned to the 11th Light Horse Regiment reinforcements and embarked from Sydney in June 1918. They trained first in Egypt then served with the unit in Damascus and Syria.
Richard was invalided to hospital in Cairo suffering with Malaria and returned to Australia in January 1919. After he returned to health, he turned his hand to carpentry before settling in Stanthorpe.
Captain James Frederick Barker
He served as Transport Officer on two voyages; firstly on the transport ship HMAT Commonwealth which left Brisbane, 28 March 1916, returning from Egypt on the Armadale in May 1916. His second voyage was on the Miltiades in August 1916 returning to Australia on the Ballarat in January 1917.
James Barker continued his association with the armed services until 1931 when he resigned command of the 5th Light Horse Regiment. He was awarded the Colonial Auxiliary Forces long service medal and as further recognition of his services, he had conferred upon him the rank of Lieutenant-Colonel.
Many thanks to QANZAC 100 Volunteer Judy Gilloway for revealing the stories of the Barker Brothers.
Further reading:
Marg Powell
QANZAC 100 Content Technician
State Library of Queensland
Comments
Your email address will not be published.
We welcome relevant, respectful comments.