Back to Joskeleigh...100 years since school began...
By JOL Admin | 24 October 2013
Guest blogger: Jodi Newton, Joskeleigh Community Association
Did you attend Joskeleigh State School some time in your life? Maybe you might know someone who attended the school.
This Saturday 26th October 2013, The Joskeleigh Community Association and the Joskeleigh South Sea Islander Community Development Association invite past students and teachers, friends and family, to attend the 100 year anniversary since the classes started in a provisional school in the first church in Joskeleigh.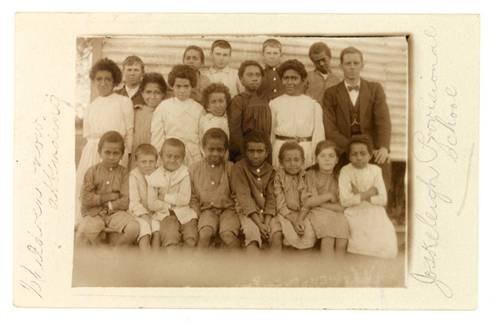 Children and teacher from Joskeleigh Provisional School, c 1915
Be ready at 10am at the old Joskeleigh School, for a visit to the site of the old church. Elders will share their memories of stories told by their parents and grandparents about attending school. Sadly, respected elder Gerald Parter known to many as Uncle Benny, recently passed away. We've all enjoyed listening to him recount his memories of school and the old people. He will be missed but his memory will live on.
This event builds on a hive of activity from the Joskeleigh Community this year. These activities include the exhibition, Joskeleigh: Homeward bound , now on show at the Joskeleigh Museum and the Joskeleigh Memorial Walk held on 17th August 2013.
Joskeleigh South Sea Islander Museum Opening, 2008
Come back to Joskeleigh for this special anniversary. Bring your walking shoes and join in some of the fun activities planned for the day.
For more information please contact Doris Leo, Joskeleigh Community Association on (07) 4934 4854 or look at the Joskeleigh Community Association facebook page.
Comments
Your email address will not be published.
We welcome relevant, respectful comments.