The Augmented Reality Sandpit Brings Topography and Weather Maps into the Present
By Administrator | 10 October 2017
Robyn Mitchell, SLQ Volunteer
Technology has been a big part of my life since about 1970 when my husband was involved in the early adoption of digitising Process Control in a Sugar Mill. I bought our first computer in the early 1980's - an Apple 2C which enabled our children to type fluently by about grade 4. I've always embraced technology - from 1st Generation iPods through to the iPad Pro I use now. Since about the year 2000 I've enjoyed making movies on powerful Apple Mac computers.
Volunteering in the Digital Futures Lab has been an enjoyable experience for me and has been my first encounter with Virtual Reality (VR) and Augmented Reality, too. It is a delight to see both young and old enjoying themselves with fun and educational VR installations, as well being fascinated by one of my favourites, the unique and colourful Augmented Reality Sandpit.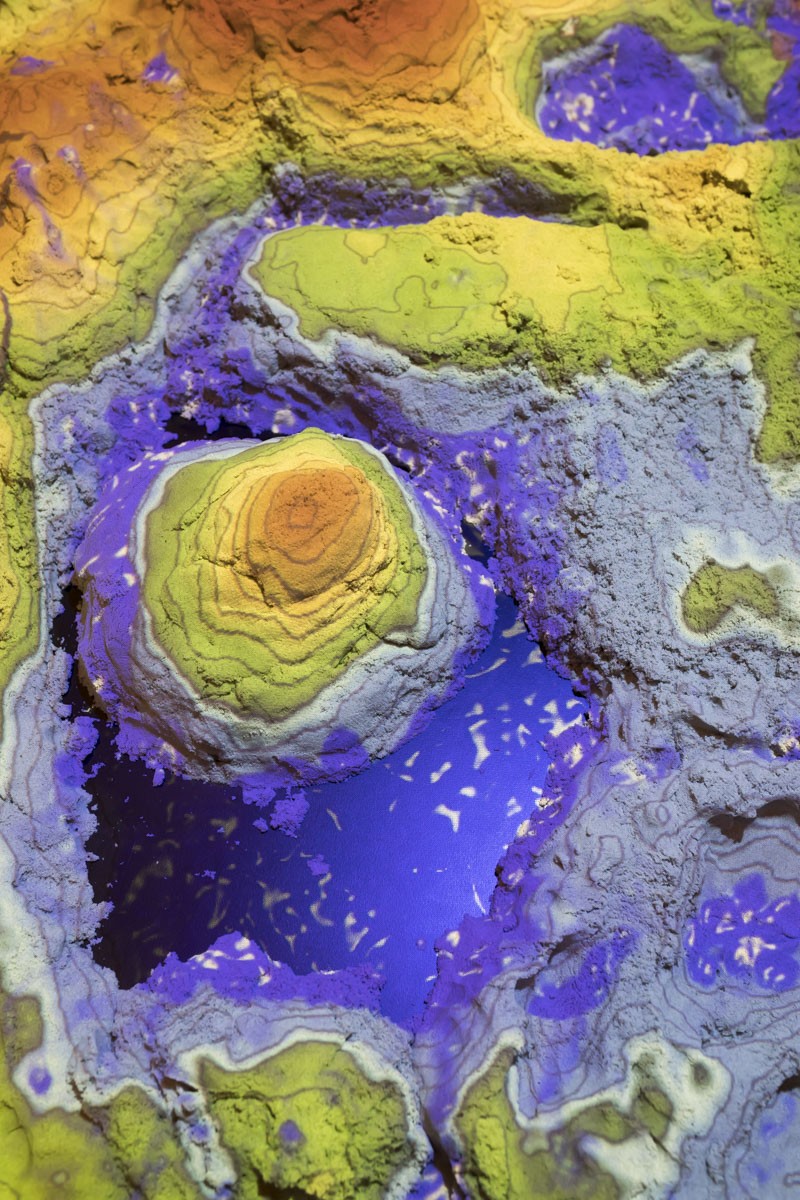 SEQWater's Augmented Reality Sandpit
SEQWater's Augmented Reality Sandpit
This has been a popular experience - who doesn't enjoy playing in sand? The sand box uses a responsive projector and kinetic sand to create an interactive, 3D map complete with contour lines and a gradient of colours to differentiate mountains, rivers, and even snow. The sand can be moulded to form different shapes, and each time it is changed, the colours and line change in response.
In Senior Geography in the early '60's we only knew contour lines as black lines on paper. From a contour map on an exam paper we would have to identify all the land forms present on a cross section of the map, and then represent it as a vertical projection with landforms named. The concept of contour lines is a tricky one, and can be difficult for young people – who have not had the formal teaching in topography that older generations have had – to understand.
SEQWater's Sandpit makes it exceedingly easy to explain the significance and importance of map contour lines to visitors. This digital cartography provides a simple way to see how data can be represented visually. Weather patterns are easily explained, and interacting with the Sandpit helps visitors understand that contour lines are used to represent the 'shape' of a landform. Young visitors especially enjoy making mountains, valleys and ridges. Two young boys that come regularly on a Tuesday and make a beeline for this unique and colourful experience. From the reaction of the people who have visited, the Augmented Reality Sandpit has had a significant and positive impact on all.
You can check out the Sandpit and more in the Digital Futures Lab. Free.
Runs 10:00am-5:00pm every day, until 21st Jan 2018.
More Information:
Digital Futures Lab: /whats-on/calevents/general/digital-futures/digital-futures/lab
Apple 2C: https://apple2history.org/history/ah08/
Augmented Reality Sandpit: http://www.seqwater.com.au/get-involved
Comments
Your email address will not be published.
We welcome relevant, respectful comments.