Artistic Endeavour
By Kath Kerswell, Exhibition Coordinator, Botanical Artists' Society of Queensland | 9 July 2020
Anne Hayes, Banksia serrata, old man banksia, gabiirr (Guugu Yimithirr), 2017, watercolour on paper, 63 x 45 cm. Courtesy of the artist.
Catherin Bull, Eucalyptus platyphylla, poplar gum, 2019, watercolour and graphite on paper, 75.5 x 57 cm. Courtesy of the artist.
Specialist Librarian Christene Drewe with artist Kay Sullivan and other artists at the State Library of Queensland.
Three original specimens from the Queensland Herbarium, collected by Joseph Banks and Daniel Solander in 1770, are displayed alongside facsimiles of Sydney Parkinson's field sketches. Parkinson passed away before reaching England, and it was the task of other artists to create the detailed illustrations from the dried plant specimens and Parkinson's notes which were then interpreted by master engravers onto copper plates.

Sir Joseph Banks intended to publish the natural history records made during the Endeavour voyage as a Florilegium. From 1773 to 1784, he employed five watercolourists to complete 595 new artworks based on Parkinson's unfinished work, and 18 engravers to produce a total of 738 copper printing plates. Botanist Daniel Solander provided ongoing support until his sudden death in 1782. However, the scientific publication did not eventuate and only select proofs were made from the copper plates in Banks' lifetime. Much later in 1973, a selection of 30 of the copper plate engravings was printed in black only and published in a bound volume entitled Captain Cook's Florilegium in a limited edition of 100. It was not until the 1980s that the British Museum, in association with the publisher Editions Alecto, decided to restore the copper printing plates and print the complete set of images for the first time in colour, using the à la poupée method to apply each colour separately to the plate. The limited edition of 100, under the title of Banks' Florilegium, was published between 1984 and 1987.
"
"[The copper plates] were prepared in the most highly elaborated style of line engraving, each one a virtuoso display of burin craft, with deep perspective and the minutest attention to every detail of the structure. … The vivid modelling and dramatic lighting of these prints are produced by densely laid nets of parallel and cross-hatched lines, all of which create a rich tonal spectrum of blacks and greys. Great attention was paid to the values of tones so that … they would accurately convey monochrome distinctions of depth of color."
Bridson, G. and Wendel, D. (1986). Printmaking in the Service of Botany. Exhibition catalogue. Pittsburgh: Hunt Institute for Botanical Documentation, Carnegie-Mellon University. 55.
The Fryer Library's Captain Cook's 'Florilegium' and three prints from the State Library's Bank's Florilegium draw comparisons between the requirement for botanical illustration to document the plants for science alongside our artists' contemporary plant portraits.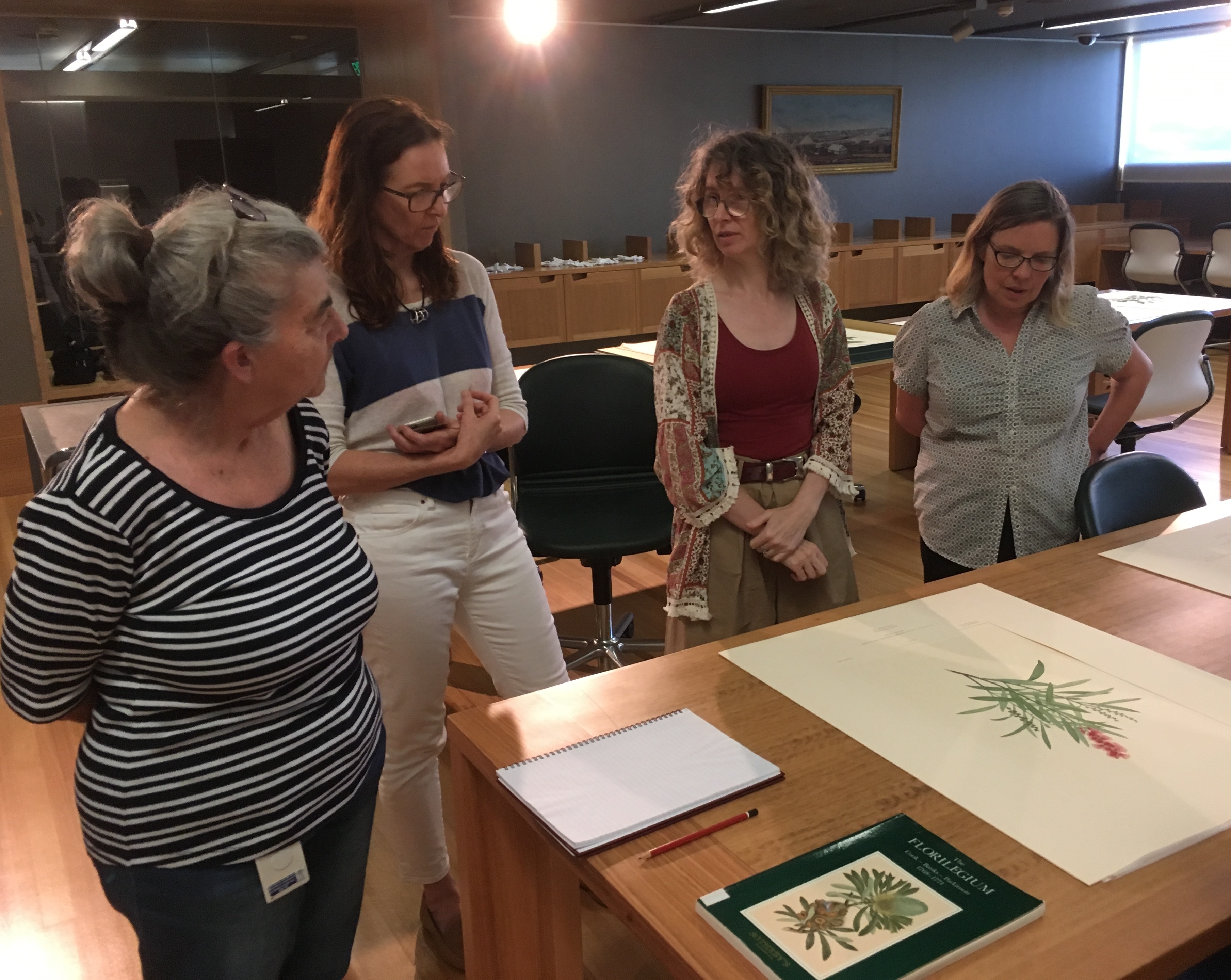 Specialist Librarian Joan Bruce, exhibition co-curator Beth Jackson and artists Florence Joly and Naomi Florence at State Library of Queensland.
The exhibition is on display at Redcliffe Museumopen_in_new, 75 Anzac Avenue, Redcliffe. Check Museums and Galleries Queensland online for the itinerary to other Queensland regions.
Comments
Your email address will not be published.
We welcome relevant, respectful comments.