Arthur Walter HARWARD #17209
By Marg Powel & Des Crump | 2 November 2017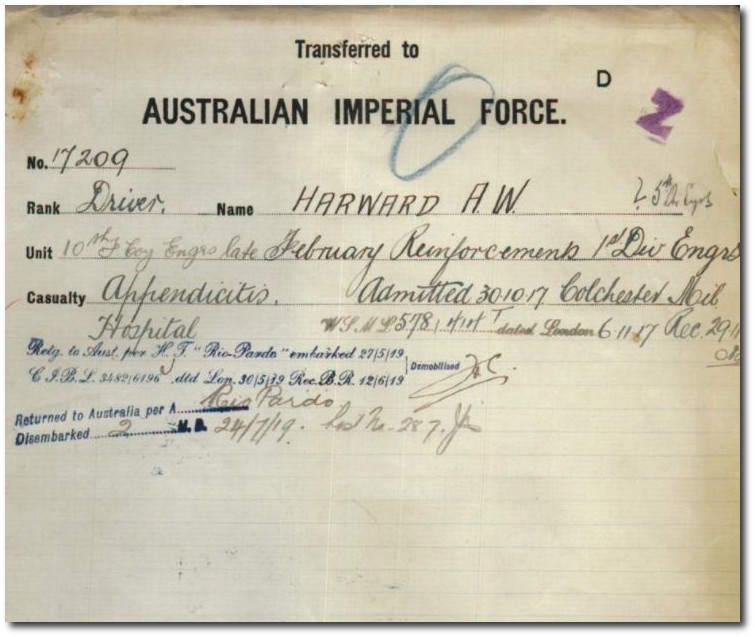 Extract from AIF service record for Arthur Harward, page 32
Indigenous Australian, Arthur HARWARD, 10th Field Company Engineers
Arthur Walter HARWARD was born on North Stradbroke Island in 1894 to Walter Harward and Charlotte (Lotti, nee Campbell). One of eight children, his brother Robert Percy Harward served with the 41st Infantry Battalion.
There continued a strong line of family members who served in subsequent conflicts - his sister Silvia Harward joined the Women's Auxiliary Australian Air Force during WW2, as a telephone operator; brother Reginald Charles, 2/13th Field Company, and his son John Arthur Harward, was with the Royal Australian Navy.
When Arthur enlisted with the first AIF in June 1916 he was working as a baker at the Wacol Asylum, just outside Brisbane, as was his father Walter. Assigned to reinforce the 10th Field Company Engineers, he trained at the Engineers Depot at Moore Park, Sydney where he was mustered as a Driver.
Arthur embarked from Melbourne on board HMT Clan McGillivray in May 1917 but was caught 'breaking ship' while in port at Fremantle - that is - he went ashore without leave. For his 'crime' he was awarded 72 hours detention.
While undertaking further training in England, Arthur was admitted to hospital in November 1917 with appendicitis, but recovered well enough to proceed to the Australian General Base Depot at Rouelles, France in April 1918.
Arthur Harward remained with his unit overseas until he was repatriated home on board HMT Rio Padre in May 1919, disembarking in Melbourne in July 1919. Soon after his return he married Annie Lilian May Quinn, and he returned to his trade as a baker, he died in 1976 age 81.
Read more ...
The information in this blog post has been researched by State Library staff and volunteers, it is based on available information at this time. If you have more information that you would like to share or further research uncovers new findings, this post will be updated.
Comments
Your email address will not be published.
We welcome relevant, respectful comments.