ArchitectureAP Symposium with Marra + Yeh
By Anita Lewis | 24 February 2016
Marra + Yeh
Carol Marra, Director of Marra + Yeh, will offer her perspective on architecture in the Asia Pacific when she speaks at ArchitectureAP Symposium on Friday 4 March.
Specialising in environmentally responsive buildings, Carol's vast experience spans a broad range of project types including residential, commercial and interiors undertaken during stints in Australia, Malaysia and the United States. Her designs are described as functional and invigorating.
"To me architecture is the method of inquiry, the process of resolution and the manifestation of a physical reality," said Carol.
Read a little more about Carol, what led her to architecture and her favourite design books.
Tell us a little about your background, and what originally led you to architecture?
I was born under a military dictatorship in Buenos Aires, spent part of my childhood among the rainforest of northern Brazil, then the flat plains of Texas, moving on to the hippie heartland of Austin for my studies, practising under the overcast skies of Seattle before decamping to the antipodes and a return to the southern hemisphere. This nomadic life has led me to question the notion of identity and the meaning of place.
Can you give us a little insight into what a normal work day looks like for you?
In a small practice one is a jack-of-all-trades and there is nothing normal about each day. Some days are spent on construction sites, meeting clients and consultants, dealing with councils. The best days are spent at my drawing board.
What are some daily office rituals or habits you employ to enhance your productivity and creativity?
Afternoon tea, everyday at 5pm.
What principles inform your work?
Care, Crafted, Contemplated
Where do you go for design inspiration?
Imagination
What has been a career highlight for you so far?
Working together with my husband.
What are your top 5 favourite design books?
Thermal Delight in Architecture by Lisa Heschong
For An Architecture of Reality by Michael Benedikt
The Eyes of the Skin by Juhani Pallasmaa
In Praise of Shadows by Junichiro Tanizaki
Chambers for a Memory Palace by Donlyn Lyndon and Charles Moore
Which Australian or international architecture people, practices, designers or similar do you admire?
Bill Lucas, Carlo Mollino, Juan O'Gorman, Shin Takamatsu
What can attendees to APAF expect to hear and see?
Entertainment of the highest order.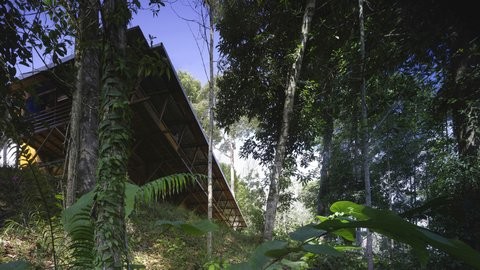 Shelter @ Rainforest in Malaysia by Marra+Yeh Architects. Photography: Brett Boardman.
Shelter @ Rainforest in Malaysia by Marra+Yeh Architects. Photography: Brett Boardman.
There are limited tickets available for ArchitectureAP Symposium, so please book as soon as possible.
When: Friday 4 March
Where: SLQ Auditorium 1, level 2, State Library of Queensland
Cost: $450 (price includes morning tea, lunch and afternoon tea)
*Attendees also receive 10% off at the State Library of Queensland bookshop and pop-up bookshop!
Program of all other APAF events here
Comments
Your email address will not be published.
We welcome relevant, respectful comments.