Anzac Day 1916 Plaque in Brisbane
By JOL Admin | 27 April 2016
Guest blogger: Mark Clayton, Senior Curator, Social History, Queensland Museum Network
In a land that literally bristles with Great War military commemorative forms, it seems odd that only one of these should record the genesis of Anzac Day.
Most every Queensland community has at least one memorial and several honour rolls, many also boasting Anzac parks, roads, rotundas, swimming pools and memorial halls. Although many of these commemorative places, spaces and things were officially dedicated on Anzac Day, there is only the one reminder – so it seems - to the events of Wednesday, 25th April 1916 which have so comprehensively affected our national conduct, and character.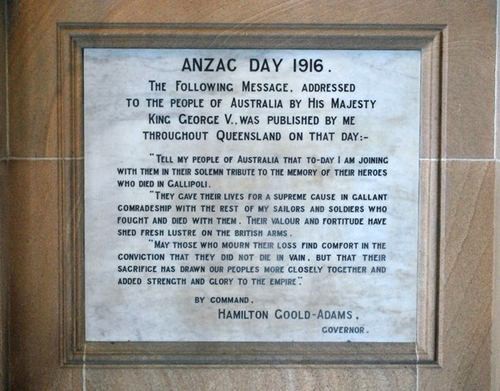 Anzac Day plaque in George Street, Brisbane
Anzac Day plaque in George Street, Brisbane
With a little effort you'll find that lone monument on Brisbane's George Street, in the north-eastern side entrance to the former Executive Building (known now as Ryans on the Park). Newspapers reported back then that it had been "erected at the expense of his Excellency the Governor and bears inscribed upon it the stirring message which King George cabled out to Australia, and which was read at the commemoration gatherings throughout the State on April 25th last."
Whereas the King's stirring words were published then in many of the state's newspapers, it was only later that they were set in stone:
Anzac Day 1916.
The following message, addressed to the people of Australia by His Majesty King George V., was published by me throughout Queensland on that day:-
"Tell my people of Australia that to-day I am joining with them in their solemn tribute to the memory of their heroes who died in Gallipoli.
"They gave their lives for a supreme cause in gallant comradeship with the best of my sailors and soldiers who fought and died with them. Their valour and fortitude have shed fresh lustre on the British arms.
"May those who mourn their loss find comfort in the conviction that they did not die in vain, but that their sacrifice has drawn our peoples more closely together and added strength and glory to the Empire."
By command,
Hamilton Goold-Adams, Governor.
Comments
Your email address will not be published.
We welcome relevant, respectful comments.