Annie Wheeler's red index boxes of stories by Ursula Cleary
By JOL Admin | 1 December 2016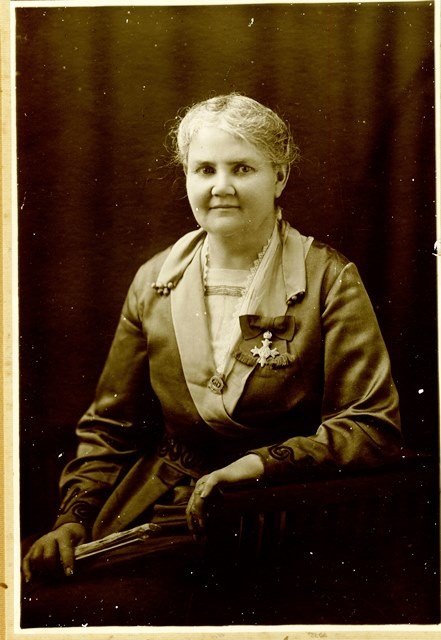 Mrs Annie Wheeler c 1920. Image courtesy of Capricornia Coast Historical Society
Mrs Annie Wheeler c 1920. Image courtesy of Capricornia Coast Historical Society
I am a fiction writer, not an historian. My background is television drama, feature film and recently a novel but everything I have written started with a true story. I am intrigued by the lives of real people; especially the lives of women. I stumbled on Annie Wheeler while searching the SLQ catalogue and found her story fascinating. A woman with nursing experience stranded in England at the out-break of the First World War initially volunteers her services as a nurse but after coming across injured boys from home - central Queensland - many of them not yet twenty, she decides that what these boys really need is a mother. So she uproots herself and her daughter, Portia and moves to London to be as close to AIF HQ and her boys as she can. To keep track of each soldier she uses index cards; one card for each soldier. On the front, details of the soldier and on the back, information about their families. The cards are kept in red-cloth-covered wooden boxes and by the end of the war there are almost three thousand cards crammed into three red boxes. Each of these cards tells a story and I am using Annie's story and these cards to build my next story.
Because I didn't know what I would find, I was never sure if the story would take the shape of a feature film or novel but now, after three months reading Annie's letters, fiction and non-fiction about the war, war diaries and the war records of the soldiers in Annie's red boxes, all digitised by the National Archives of Australia, I have started writing a novel. It is based on Annie's and Portia's lives in London during the war. It is set in 1917 – 1918 and contains flashbacks to earlier times. While it draws on original material, I am also creating parts of the story from what I imagine, from 'reading between the lines' of their letters. I am discovering connections with other Queenslanders and imagining their relationships and weaving a story about these Queenslanders or 'Bananalanders' in London.
Further reading:
Mrs Wheeler's correspondence 1914-1919
'Mother Queensland' blog story
Ursula Cleary, 2016 Q ANZAC 100: Memories for a new generation Fellow
Comments
Your email address will not be published.
We welcome relevant, respectful comments.