All Aboard for Healthy, Exhilarating Cleanliness! – The Sunday Bathers' Train to Sandgate
By Administrator | 23 August 2017
In the first two decades of the twentieth century, in an age of emerging public health measures, a new phenomenon called the Bathers' Train ran on Sundays to Sandgate. Bathers' trains were not just a Queensland invention and also operated in seaside locations near Sydney and Melbourne and Adelaide.
Bathers' Train Advertisement - 1913
Bathers' Train Advertisement - 1913
Leaving Central Railway Station in Brisbane at 6:30am, the train arrived at Sandgate at 7:10 am, leaving just enough time for a dip in the briny before returning to Brisbane by 9:15am – the passengers were then ready for Sunday church, Sunday lunch with the family, or for the working week ahead.
Sandgate Railway Station c1910 - First stop on the way to dip in the briny.John Oxley Library, State LibraryImage number 164309
Sandgate Railway Station c1910 - First stop on the way to dip in the briny.
John Oxley Library, State Library
Image number 164309
The cost of cleanliness was 1/- shilling first class and 9d second class. Bathers' trains in Melbourne also included the cost of the towel and soap! Sadly, I could not find any evidence of these additional items included in the fare to Sandgate.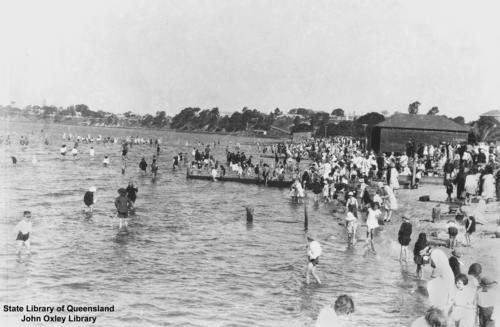 Bathers at Sandgate c1925. John Oxley Library, State Library of Qld.Image number: 60888
Bathers at Sandgate c1925. John Oxley Library, State Library of Qld.
Image number: 60888
Newspapers of the day gave advice on swimming in the sea and explained how to make the most of the experience. Bathing in the sea was considered a tonic – with the benefits only being accrued if the time in the seawater was brief and if the bather dried off immediately and drank hot milk if they were feeling cold. This advice from the Chronicle (Adelaide), 10 November 1906 (p.57) summarises the best approach for healthy sea bathing –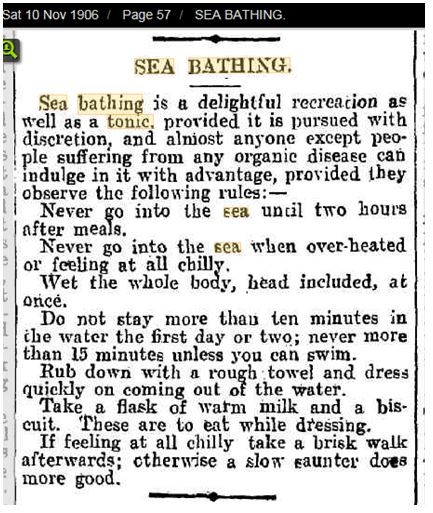 It was reported in the Maryborough Chronicle in 1903 that those with weakness had to be aware of the "renewing and increasing of the volume of blood to the system" and that "not all hearts are physically constituted for the exhilarating effects of bathing in the open sea."
In addition to the health benefits or consequences of bathing, there was of course the question of what one should wear whilst swimming. Mixed bathing did not come in until around 1910 informally and was not formally practiced until the 1920s. This was due to considerable social debate about its appropriateness which ensured that bathers must fully cover the torso.
Each council appeared to make rules with regard to attire and mixed bathing, although the Sandgate Progress Association discussed the idea of mixed bathing as early as 1909. Australian swimmer Annette Kellerman, famous for the freestyle stroke, advocated for liberating costumes for women as early as 1907.
Mixed bathing at nearby Redcliffe in 1910John Oxley Library, State Library of QueenslandImage number 62795
Mixed bathing at nearby Redcliffe in 1910
John Oxley Library, State Library of Queensland
Image number 62795
An amusing letter to the Brisbane Courier, 21 December 1909 (p.4) reiterated the need for full coverage, such as the University swimming suit. Another letter in the Brisbane Courier, 8 April 1915 (p.6), registered "disgust" that a resident could not enjoy bathing with his wife in the open sea at Sandgate as a result of an "unimaginative wowser ridden party of parish pump alderman." In Sydney, he noted, he had been able to swim with his wife.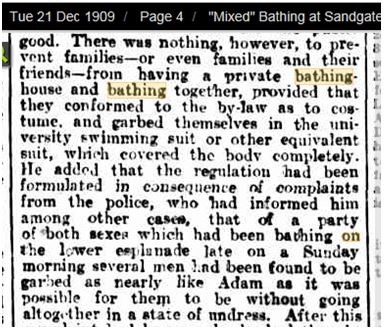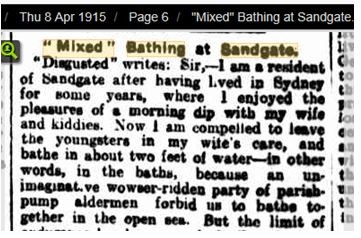 In December 1911, it was reported in the Brisbane Courier that 160 passengers had used the Bathers' train on the Sunday of that week. This resulted in insufficient bathing box accommodation, creating a situation where "up to four men had to share a bathing box." By 1920, the Sunday Bathers' trains had ceased to operate, although people still flocked to Sandgate by train and car for a picnic day out, fishing, building sand castles and swimming at the baths.
Christina Ealing-Godbold
Senior Librarian Information Services
---
For further information and images like those featured above you can search our OneSearch catalogue or fill out an Ask Us form online.
You might also be interested in searching the Trove collection of digitised newspapers provided by the National Library of Australia.
Comments
Your email address will not be published.
We welcome relevant, respectful comments.