Alfred ROBERTS #3758
By Marg Powel & Des Crump | 19 February 2018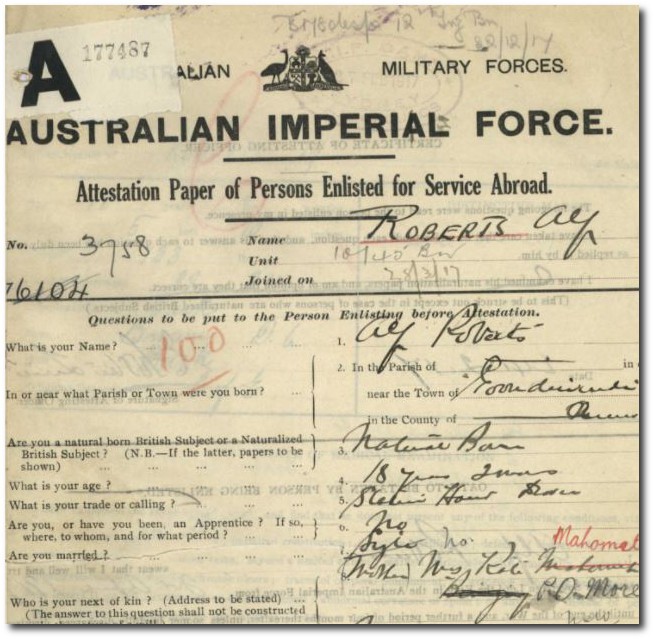 Indigenous Australian, Alfred 'Bertie' ROBERTS, 45th Infantry Battalion
'Bertie' ROBERTS was born in 1899 to Matthew Mansfield Roberts and Kate Doctor at Goondiwindi, Queensland. Just 18 years of age and working as a stockman, Roberts volunteered to serve with the first AIF in February 1917 in Moree where his family was then living.
Roberts left Sydney on board HMAT Marathon with the 10th Reinforcements for the 45th Infantry Battalion in May 1917, arriving in England 6 weeks later. He was punished for swearing whilst in the training camp at Codford, before they proceeded to France in February 1918.
They joined their Battalion in northern France where the troops had just come out of the front line and were being rested at Parret Camp, near Kemmel. In March 1918 the 45th Battalion were occupying the front lines at Dernancourt when Alfred Roberts was seriously wounded by shrapnel in the left leg, and was evacuated to the Graylingwell War Hospital, at Chichester in England.
After being discharged from Hospital and sent to No.3 Command Depot at Hurdcott, Roberts went AWOL for 7 days. He was later apprehended and punished by being confined to camp for two weeks, and shortly after was returned to France rejoining his unit in August 1918 when they were engaged in operations near Villers Bretonneux.
Roberts remained with the Battalion throughout the remainder of the war, being appointed temporary Driver in February 1919 when the Battalion was disbanded, and they waited their turn to return home.
Roberts arrived back in Sydney in August 1919 and returned to his family in Moree, he married Dolly Swan in 1920, later raising five children.
Undeterred by his first experience as a soldier, Roberts served during the Second World War with the 11th Garrison Battalion from 1941 to 1944.
Alf Roberts records indicate that his WW1 service medals were sent to an address at Gurley Siding, NSW in 1923. He wrote in 1952 via the RSL Moree to Base Records enquiring about the medals, as he had never taken receipt of them. It is not known if he did, indeed receive his medals of service.
Note: After his fathers death in 1911 Roberts mother Kate remarried, Abraham Mahomet, who had been born in Bombay, India. Mahomet also enlisted in the first AIF in April 1918 but was discharged in August for having no substantial European Heritage.
Read more ...
Watch ...
The information in this blog post has been researched by State Library staff and volunteers, it is based on available information at this time. If you have more information that you would like to share or further research uncovers new findings, this post will be updated.
Comments
Your email address will not be published.
We welcome relevant, respectful comments.