Alexander Gordon And His Six Soldier Sons Digitised @ SLQ
By JOL Admin | 11 September 2015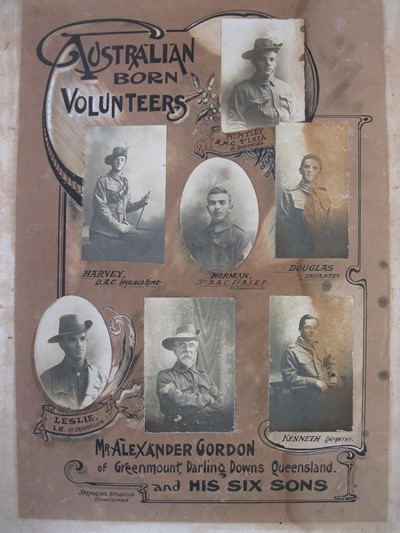 Alexander Gordon and His Six Soldier Sons, John Oxley Library, State Library of Queensland
A wonderful addition to our World War I collections is the recent donation of a photographic collage featuring individual portraits of Mr Alexander Gordon of Greenmount on the Darling Downs, and his six soldier sons.
Alexander Gordon joined the army as a recruiting sergeant at Wellcamp in 1915, six of his sons already having enlisted. Two of the boys, Huntley and Kenneth were under age at the time. Miraculously all six brothers survived the war and returned to Queensland.
Their mother, Letitia Isabel Gordon (nee Ireland), had died in 1912, after having twelve children between the years 1884 and 1903. There were two girls, Ethel and Muriel, and ten boys in the Gordon family. Two of the boys, Alexander and Ronald, died in infancy, while the two youngest, Finlay and Neil, were only 13 and 11 respectively at the outbreak of war. One can only imagine the struggle Alexander would have faced to raise the younger children.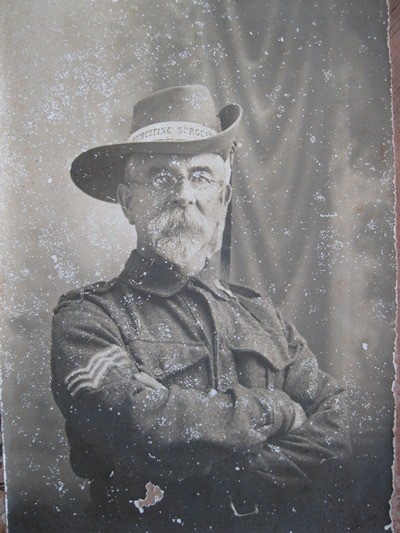 Recruiting Sergeant Alexander Gordon, John Oxley Library, State Library of Queensland
The following obituary for Alexander Gordon was published in the Brisbane Courier, 27th June 1932, p.8.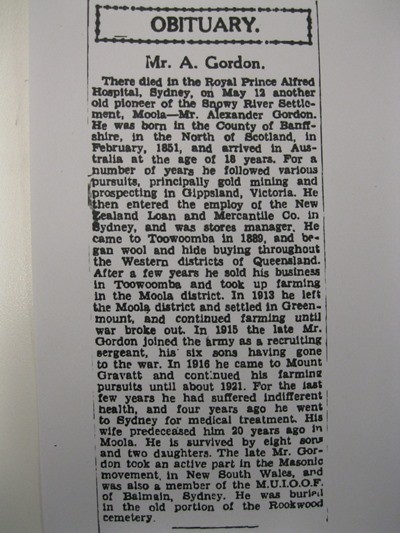 Brisbane Courier, 27 June 1932, p.8
The collage, which was created by the Stephens Photographic Studio in Toowoomba, was published in the Queenslander newspaper on the 23 October 1915, p.22. It is interesting that the Queenslander features an image of Alexander Gordon in a business suit, whereas in the original collage he is wearing his military uniform.
Page 22 of the Queenslander Pictorial, supplement to The Queenslander, 23 October, 1915, John Oxley library, State Library of Queensland
Huntley Gordon
Private Huntley Gordon served as a mounted bearer with the 4th Light Horse Field Ambulance. At the time of his enlistment on the 2nd April 1915 he was only 17, although he gave his age as 18 years and one month. His occupation is listed as baker. The 4th Light Horse Field Ambulance served at Gallipoli and also participated in the famous Battle of Beersheba on 31st October 1917. This is remembered as the last great cavalry charge, as the 4th Light Horse galloped over the Turkish trenches with bayonets drawn. They captured the town and took over 1000 Turkish prisoners. Huntley returned to Australia in December 1918, married Gwendoline Hannah Elizabeth Slaughter in 1922 and worked for the Brisbane Tramways. He died in 1959.
Harvey Gordon
Harvey Gordon enlisted on the 31st August 1914 at the age of 26. He was a driver with the Divisional Ammunition Column, No. 2 Section, and embarked from Brisbane on the 25th September 1914 on the HMAT Rangatira. Harvey's military career was short-lived. He suffered an injury to his left knee and was invalided back to Australia in early February 1915. He died in October 1965.
His 19 year old brother, Norman, enlisted a few days after Harvey on the 1st September 1914 in the Divisional Ammunition Column and travelled with Harvey on the Rangatira. He served at Gallipoli and in France and Belgium with the 3rd Brigade Ammunition Column. From his service record it would appear that Norman was in and out of hospital many times suffering from a range of illnesses including dental caries, influenza and septic sores. After the armistice he married an English woman, Laelitia Grace Nightingale, a 33 year old spinster from Escot, Devon, in February 1919. Norman returned to Australia in August of that year and presumably his new bride followed shortly after. In 1922 the couple appear in the Queensland Electoral Roll living at Mount Gravatt, Brisbane. Norman's occupation is listed as farmer.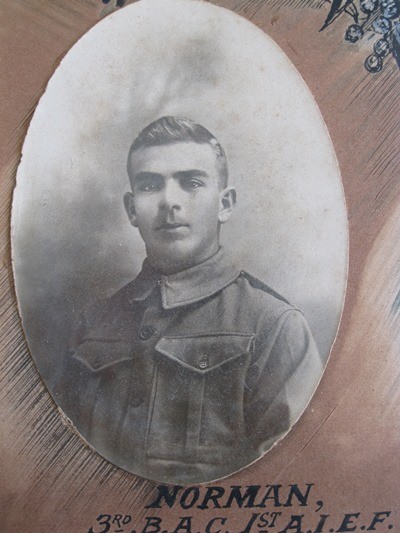 Private Norman Gordon
Leslie Gordon enlisted on the 15th August 1914 at the age of 22 in the 2nd Light Horse Brigade. He trained at Enoggera military camp before embarking for Egypt on the HMAT Star of England on the 24th September. Leslie saw active service in Egypt and Gallipoli before ill health led to his being sent back to Australia for a 3 month rest. He suffered arthritis, rheumatism and dysentery. Once back in Australia he was discharged as medically unfit. Leslie was not to be deterred, however, and re-enlisted on the 18th November 1916. He embarked on the ship Wiltshire and arrived in Devonport, England, on the 11th April 1917, to join the 7/42nd Battalion. He served in France and was transferred to the 5th Machine Gun Battery. His service record reveals that he was still plagued by ill health, primarily rheumatism and arthritis, and was eventually invalided back to England. He was admitted, in October 1918, to the Norfolk War Hospital and returned to Australia in February 1919.
Leslie Gordon
Privates Douglas and Kenneth Gordon both joined the 5th Light Horse Regiment in late September 1915. Douglas was 19 and Kenneth was only 16 at the time of enlistment, although he gave his age as 18. They embarked on the 11th March 1916 from Sydney on the troopship HMAT Orsova. According to his service record Douglas was transferred to the 2nd Field Squadron Engineers in September 1917. He was hospitalised many times suffering from various illnesses, including mumps and malaria. At the end of the war he travelled to England before returning to Australia in July 1919. After the war he returned to his work as a railway porter and married Eileen Slaughter in 1923. Douglas died in 1964.
Kenneth Gordon also served with the 5th Light Horse Regiment. In the publication Memories March On: recollections of the Greenmount Returned Soldiers Memorial Hall (2009) a descendant of Kenneth Gordon, Andrew Todd, writes that one of the officers serving with Kenneth in the 5th Light Horse Regiment was Captain Charles William Henry Rollo Somerset, son of Henry Plantagenet Somerset, the owner of Caboonbah Station at Toogoolawah. After returning to Australia Kenneth Gordon became a sharefarmer at the Somerset property, Caboonbah. In 1921 Kenneth married Evelyn Foster Powell in Toowoomba. He served in the Second World War as a sergeant with the 101 Australian Convalescent Depot, enlisting in April 1940. Kenneth died in March 1969.
Douglas Gordon, one of the soldiers photographed in The Queenslander Pictorial, supplement to The Queenslander, 1915.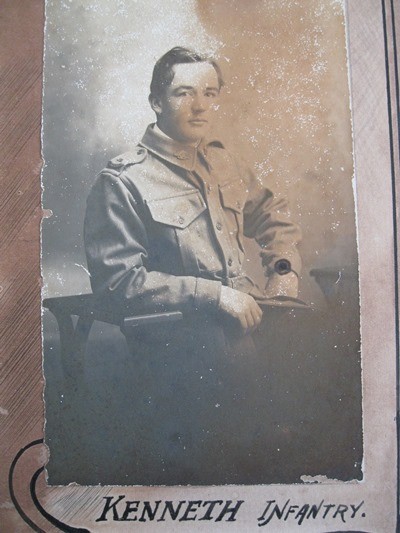 16 year old Kenneth Gordon
The library is very fortunate to have received this wonderful item which tells such a poignant and intimate story about the remarkable Gordon family from Greenmount, Queensland.
The collection is available at the John Oxley Library, Accession No. 29912, and online here
Lynn Meyers, QANZAC 100 Content Curator.
Comments
Your email address will not be published.
We welcome relevant, respectful comments.