Albert ROBINSON #6509
By Marg Powel & Des Crump | 7 June 2018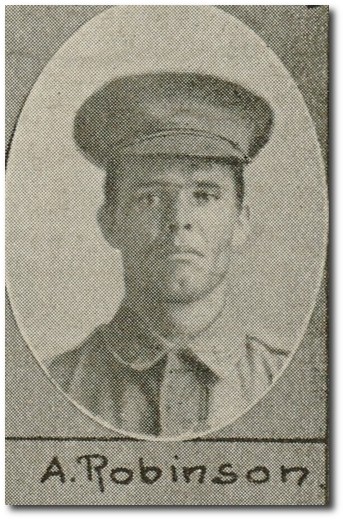 Albert Robinson, The Queenslander Pictorial, 7 October 1916
Indigenous Australian, Albert Robinson, 9th & 49th Infantry Battalions
Albert Robinson was born in Tenterfield, NSW to Michael (Bucky) Robinson and Kate Gaton in 1883. Robinson a talented horseman was working as a station hand when he volunteered to serve with the First AIF in June 1916. Although he enlisted in Lismore, like many recruits from the Northern Rivers region he trained in Brisbane and was assigned to the 21st Reinforcements for the 9th Infantry Battalion.
He embarked from Brisbane on board the troopship Boonah in October 1916 arriving in England in January 1917. In March he was admitted to hospital at Parkhouse, having contracted mumps and returned to the training Battalion two weeks later.
The reinforcements sailed for France in May 1917 and at this time Robinson was transferred to the 49th Infantry Battalion, joining them while they were in reserve at Neuve Eglise. Robinson was evacuated to hospital from the field suffering from trench fever in August 1917.
This infectious disease characterised by fever, headache, sore muscles, bones, and joints and skin lesions was transmitted by a body louse harboured in the soldiers clothing. Recovery usually took about two months, but there are often time relapses, and the condition could become chronic for some sufferers.
After several months recuperation and two weeks leave, Robinson rejoined the battalion in April 1918 but was readmitted to hospital twice more before the end of the war. When he did rejoin his unit he was appointed Driver before returning to Australia in August 1919.
Albert Robinson married Eugene Jackson in 1919 and return to his work as the head stockman at Yulgilbar Station in the Clarence River valley. Eugene died in 1937, Albert died in 1970 age 87. Albert's brother Thomas (Tom) also served overseas with the 18th Infantry Battalion.
Read more ...
Watch ...
The information in this blog post has been researched by State Library staff and volunteers, it is based on available information at this time. If you have more information that you would like to share or further research uncovers new findings, this post will be updated.
Comments
Your email address will not be published.
We welcome relevant, respectful comments.