Albert POWELL #3440
By Marg Powel & Des Crump | 25 January 2018
Indigenous Australian, Albert POWELL, Australian Army Veterinary Corps
Albert Edward William Powell was born in 1880 at Blackall, Queensland to unknown parents. He was working as a horse breaker at Myall Downs Station, Warialda, NSW when he volunteered to serve with the first AIF in November 1916. He mis-stated his age on his enlistment papers by six years, he was in fact 36 years old.
Albert Powell was well known as a world-class 'rough rider' who regularly competed in 'buckjumping' competitions that travelled the country. At one such exhibition although he did not reach first place, he was gifted several guineas for his outstanding horse riding skills.
Initially assigned to the 9th Reinforcements for the 54th Infantry Battalion, when he reached camp in England his considerable horse handling skills were recognised and he was transferred to the Australian Army Veterinary Corps .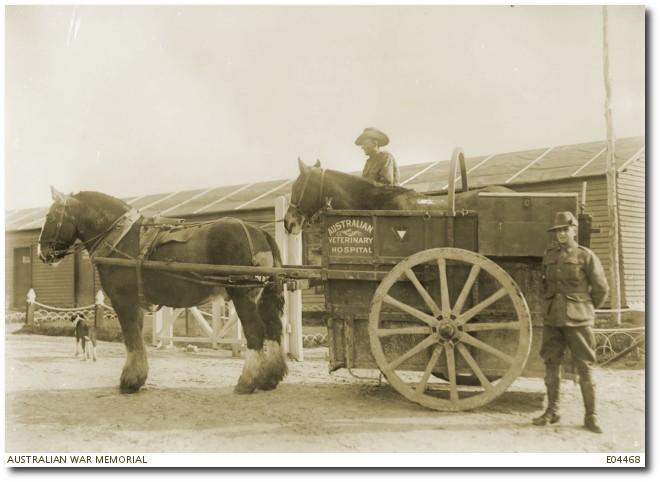 When they arrived in France in May 1917 he was transferred to the Australian Army Veterinary Hospital in Calais. He spent a brief period in hospital himself, having contracted mumps, before rejoining his company. Albert Powell remained with the Veterinary Hospital until the end of the war, falling foul of the authorities several times when found to be absent from camp without permission. Norman Baird, another Queensland indigenous soldier, was assigned to the AAVH at the same time as Albert Powell, they returned home on the same troop ship, the Sardinia, in June 1919.
Little is known of Albert's life after the war; in 1941 he wrote via the RSL, Toowoomba, Queensland requesting a copy of his discharge certificate which he thought he had lost in a fire at Moree; it had in fact been returned to Base Records from Inverell in NSW in 1936.
Albert Powell died in Toowoomba in August 1959 and is buried at the Drayton and Toowoomba Cemetery, located at the corner of South Street and Anzac Avenue, Harristown, Queensland.
Read more ...
Watch ...
The information in this blog post has been researched by State Library staff and volunteers, it is based on available information at this time. If you have more information that you would like to share or further research uncovers new findings, this post will be updated.
Comments
Your email address will not be published.
We welcome relevant, respectful comments.