Albert BURKE #3620
By Marg Powel & Des Crump | 3 September 2018
Indigenous Australian, Albert BURKE, 49th Infantry Battalion
Albert BURKE, was 23 years of age when he enlisted in Roma in June 1917. Born in Mitchell in 1894, Burke was employed as a labourer before joining the first AIF and named his sister Alice as his next of kin.
Albert left Sydney on board HMAT Medic 1 August 1917 with several other Indigenous enlistments: George Foster, Charlie Morgan, William Perrott, Tom Smith, Gale Simpson, and Edward Walker, all members of the 10th Reinforcements for the 49th Infantry Battalion, bound for England and the Western Front. Their journey took them via Halifax, Nova Scotia to avoid enemy vessels known to be patrolling regular troopship routes.
They arrived at Codford Army Camp, in Wiltshire early in October, for further training with the 13th Training Battalion, but it wasn't until March 1918 that Albert Burke left England for France having been hospitalised with mumps soon after arrival.
Albert Burke joined his battalion in the field on 17 April 1918, where they were undertaking operations near La Neuville, north of Villers-Bretonneux. Just over a week later during heavy enemy shelling, Albert Burke was severely wounded, receiving a gun shot to his right foot.
He was evacuated for medical treatment, first to Camiers, then several weeks later he was invalided to England on board the hospital ship Ville de Liege and admitted to the 1st Eastern General Hospital, Cambridge.
Six months later Burke was transferred to the Auxiliary Hospital at Harfield, a convalescent home for wounded soldiers. He was granted two weeks leave in November with orders to report to HQ on his return but he overstayed his leave by four days and was considered AWOL. He was fined for his misdemeanor upon his return.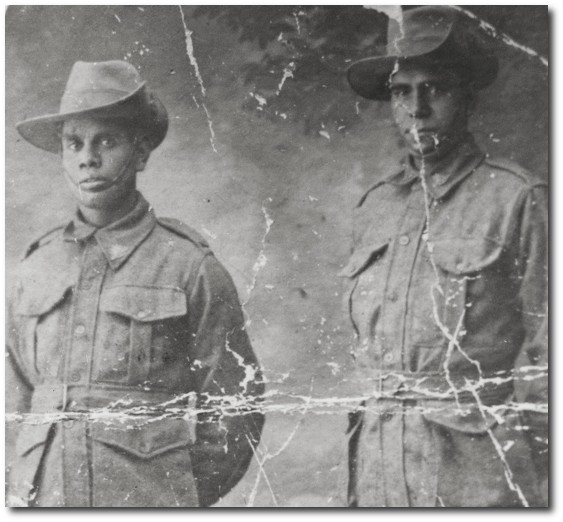 Albert Burke (left) and Harry Doyle, 1917, 29395, Harry Doyle and Albert Burke Photograph (State Library of Queensland collection)
Albert Burke was repatriated home onboard HMAT Karmala in January 1919 and eventually returned to his life in North Queensland. In 1927 he was granted an exemption from the Protection of Aborigines Act, which allowed him to live and work freely among the greater community.
Burke and Doyle did not serve in the same units but were together at the training depot at Enoggera in July of that year.
Read more ...
SERVICE RECORD: BURKE, Albert
EMBARKATION ROLL: 10th Reinf. 49th Infantry Battalion
Unit Diaries: 49th Infantry Battalion
Scarlett, Philippa. Aboriginal and Torres Strait Islander volunteers for the AIF: the Indigenous response to World War One. Fourth edition, Indigenous Histories, Macquarie, ACT, 2018
'Many served: AIF Aborigines', Reveille, 30 November 1931, p.22
'Funds sought for Indigenous digger's headstone', ABC News 25 April 2008 <http://www.abc.net.au/news/stories/2008/04/25/2227234.htm>
One of the soldiers featured in SLQ's HistoryPin Collection
The information in this blog post has been researched by State Library staff and volunteers, it is based on available information at this time. If you have more information that you would like to share or further research uncovers new findings, this post will be updated.
Comments
Your email address will not be published.
We welcome relevant, respectful comments.