Aboriginal Medal Recipients of WW1
By JOL Admin | 31 July 2014
Following on from an earlier post on Maitland Madge, believed to be one of the first Aboriginal recipient of a war medal during WW1, my curiosity was stirred as to how many other Aboriginal soldiers received medals during the First World War. Ongoing research by Philippa Scarlett, AWM and others have identified several Aboriginal soldiers who were medal recipients - Maitland Madge was certainly one of the earliest; however it appears that Frederick Prentice may have been the first recipient as he was awarded the Military Medal at Pozieres in July 1916.
I found a handful of references or lists which have identified eleven Aboriginal soldiers recognised for bravery in WW1, notably on the Western Front. Maitland Madge is the only Queensland Aboriginal; however I thought it was important to acknowledge the recipients from other parts of Australia.
Frederick John Briggs from Manilla in the New England region of NSW, enlisted on 3 December 1915. Following basic training, Briggs was assigned to the 33rd Battalion, A Company which consisted of a large number of enlistments from the New England and surrounding regions. The 33rd Battalion was engaged in some of the fiercest fighting on the Western Front along the Ypres salient, where 350,000 men of the British Empire fought. The Menin Gate Memorial lists the names of 56,000 men, including 6,178 Australians, who served in the Ypres campaign and have no known grave.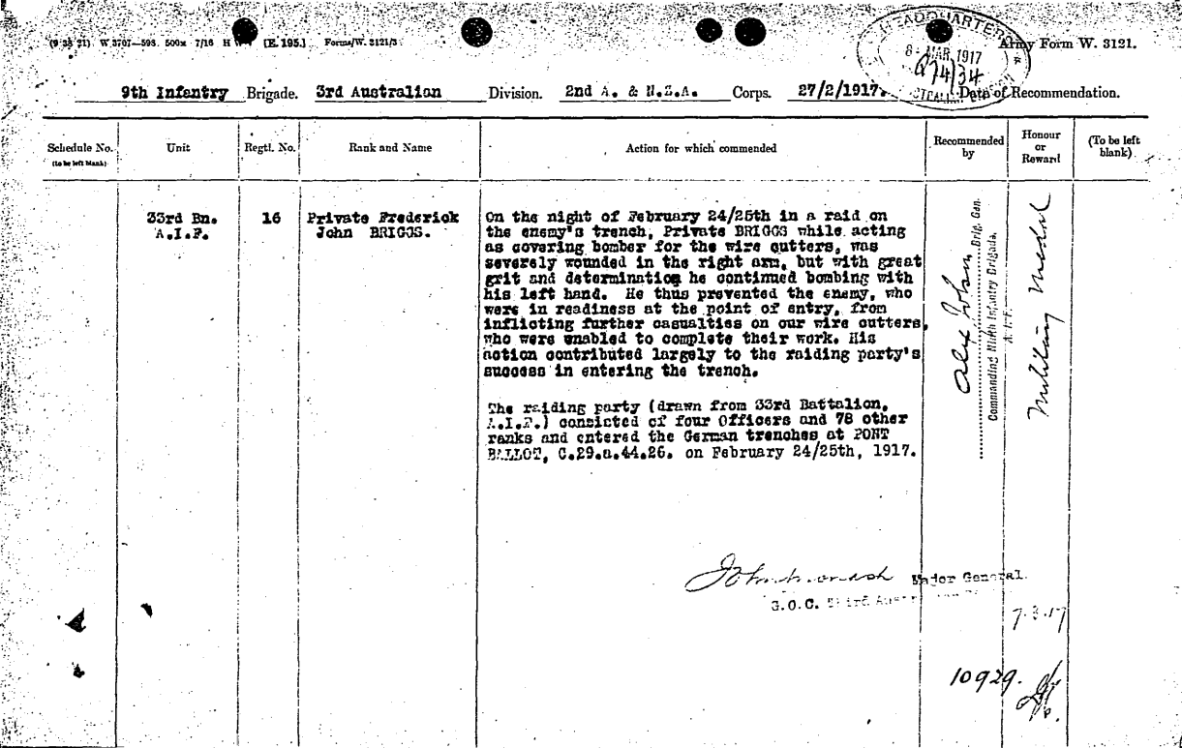 Pte Briggs, Citation.
'On the night of 24th/25th February, 1917, in a raid on the enemy's trench, Private BRIGGS while acting as covering bomber for the wire cutters, was severely wounded in the right arm, but with great grit and determination he continued bombing with his left hand. He thus prevented the enemy, who were in readiness at the point of entry, from inflicting further casualties on our wire cutters, who were enabled to complete their work. His action contributed largely to the raiding party's success in entering the trench. The raiding party (drawn from 33rd Battalion) consisted of four Officers and 78 other ranks and entered the German trenches at PONT BALLOT, C.29.a.44.26 on 24th/25th February, 1917.'

Source: 'Commonwealth Gazette' No. 133.
William Reginald Rawlings was one of many Aboriginal men from the Framlingham Aboriginal Station in the Western Districts of Victoria who enlisted in WW1. Rawlings enlisted on 20 March 1916 and embarked on 1 August from Melbourne aboard the HMAT Orsova and joined the 29th Battalion on the Western Front. Rawlings was awarded the Military Medal for bravery during the heavy fighting along the Morlancourt Ridge on the night 28 - 29 July 1918.
'At MORLANCOURT on night 28/29th July 1918. During the attack on enemy system this soldier had the responsible position of first bayonet man in a bombing team which worked down the enemy C.T., routed the enemy established a block in the trenches. Private Rawlings displayed rare bravery in the performance of his duty killing many of the enemy, rushing aside all opposition and cleared the way effectively for the bombers of his team. His irresistible dash and courage set a wonderful example to the remainder of the team.'

Source: 'Commonwealth Gazette' No. 36
L/Cpl Harry Thorpe AWM Negative P01695.002.
L/Cpl Harry Thorpe AWM Negative P01695.002.
Lance Corporal Harry Thorpe (Service No. 5459) was from Lakes Entrance in Victoria when he enlisted on 12 February 1916. Thorpe was assigned to the 7th Battalion, 17th Reinforcements and embarked on the HMAT Euripedes. Thorpe saw active duty on the Western Front in France and Belgium where he was wounded at Pozieres and again at Bullecourt. He rejoined his regiment for the Third Battle of Ypres and it was here at the capture of Broodseinde Ridge that Thorpe distinguished himself.
'Near YPRES on 4/5th October, 1917, L/Cpl. THORPE displayed great courage and initiative in mopping up enemy dugouts and pill boxes. In the capture of Battalion objective, he was conspicuous for his courage and leadership, handling his men with skill and materially assisting his Company Commander. By his splendid example and disregard of all danger he inspired those under him.'

Source: 'Commonwealth Gazette' No. 31.
Pte Farmer, MM Citation.
Augustus Pegg Farmer was a timber worker from Bridgetown in Western Australia, when he enlisted on 9 December 1915. His three younger brothers also enlisted and saw action on the Western Front. Following basic training, Augustus Farmer embarked from Fremantle on 1 April 1916 aboard HMAT Uylsses. Farmer joined the 16th Battalion on the Western Front and was killed in action on 8th August 1918 and is buried at the Australian National Memorial, Villers-Bretonneux, France. Farmer was awarded the MM for 'bravery on the field'.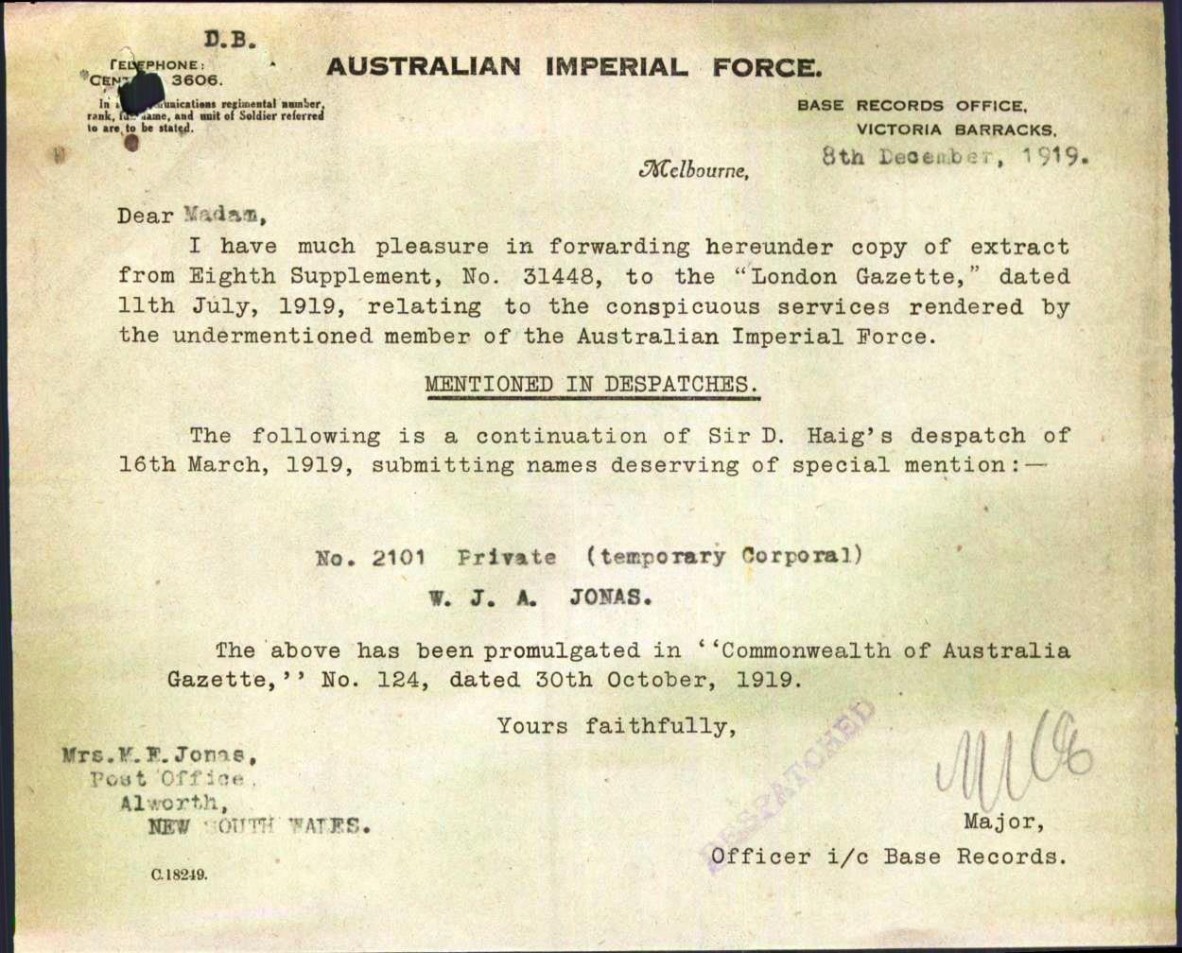 T/Cpl Jonas, AIF Citation for Mentioned in Despatches.
T/Cpl Jonas, AIF Citation for Mentioned in Despatches.
William James Albert Jonas (Service No 2101) was a horse breaker from Booral in New South Wales who enlisted in WW1 on 12 April 1916. Jonas was assigned to the 34th Battalion, 3rd Reinforcements which was mostly made up of men from the Hunter Valley, Newcastle and Central Coast regions. On the Western Front, when Jonas took on the role of Temporary Corporal, he was 'mentioned in despatches' by Sir Douglas Haig on 16 September 1919.
Specimen Distinguished Conduct Medal. AWM: RELAWM06315.004
Specimen Distinguished Conduct Medal. AWM: RELAWM06315.004
On 30 September, 1918, during an attack on the village of Bony as part of the Flanders campaign, several bombing parties were being held up by machine gun and trench mortar fire.
Corporal Albert Knight "handled his Lewis Gun section with great skill and worked forward to a suitable position and handed over to No. 1. and proceeded with another N.C.O. to push forward and reconnoiter the enemy position. This necessitated moving over country which afforded no cover other than shell holes, for a distance of 300 yards. This was carried out in broad daylight and in full view of enemy lines and under heavy machine gun trench mortar and artillery fire. In spite of difficulties he succeeded in reaching a position which he located several machine guns and trench mortars which were at times playing on our position. He then returned to our lines with the valuable information which he had obtained and artillery assistance was brought to bear with success on the positions indicated."
Pte Irwin, Daours Communal Cemetery Extension, France.
Pte Irwin, Daours Communal Cemetery Extension, France.
L/Cpl William Albert Knight (Service No. 105) a brother of Albert, also served in the 43rd Battalion. William was a labourer from Wilcannia in NSW, however enlisted in Adelaide on 21 January 1916. William was also acknowledged for his bravery on the Western Front during the 4th Battle of Ypres, receiving the Military Medal in January 1918. The Bourke RSL later supported William in obtaining a re-issue of his Military Medal which was lost.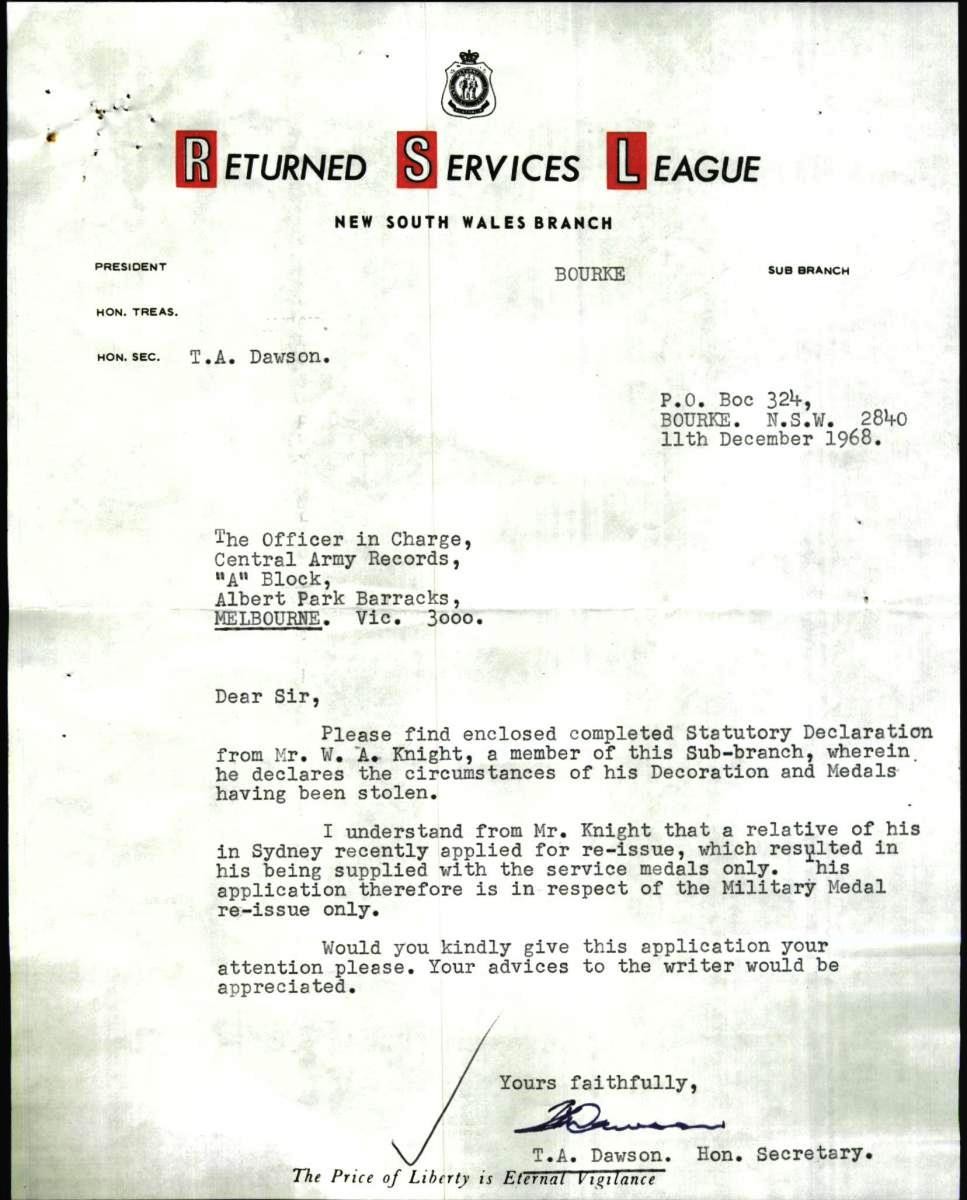 L/Cpl William Knight - RSL Letter.
L/Cpl William Knight - RSL Letter.
William Allan Irwin, a shearer from the Aboriginal mission at Caroona near Tamworth enlisted in the 33rd Battalion, C Company on 3 January 1916. Pte Irwin was another recipient of the Distinguished Conduct Medal on the Western Front. In eerily similar circumstances for Cpl Albert Knight, only 1 month earlier on 31 August 1918, "single handed and in the face of extremely heavy Pte Irwin rushed three separate machine gun posts and captured the three guns and crews. It was while rushing a fourth machine gun that he was severely wounded. On his irresistible dash and magnificent gallantry, this man materially assisted our advance through this strongly held and defended wood; and by his daring actions he greatly inspired his whole company."
Maxim Machine Gun: AWM RELAWM00981.001
Maxim Machine Gun: AWM RELAWM00981.001
At the same time when Pte Irwin made his 'irresistible dash', so too did Pte George Cartwright. It is not recorded if both men acted independently or as a joint decision, but the records show that both men stormed the machine gun nests on that fateful day at Road Wood. As Pte Irwin was felled by enemy fire, Pte Cartwright stood bolt upright and fired on the fourth machine gun nest, before clearing it with a grenade. Pte Cartwright went on to receive the Victoria Cross for his deeds that day. One of the Maxim Machine Guns captured that day is now on display in the Australian War Memorial - this is shown in the above photo.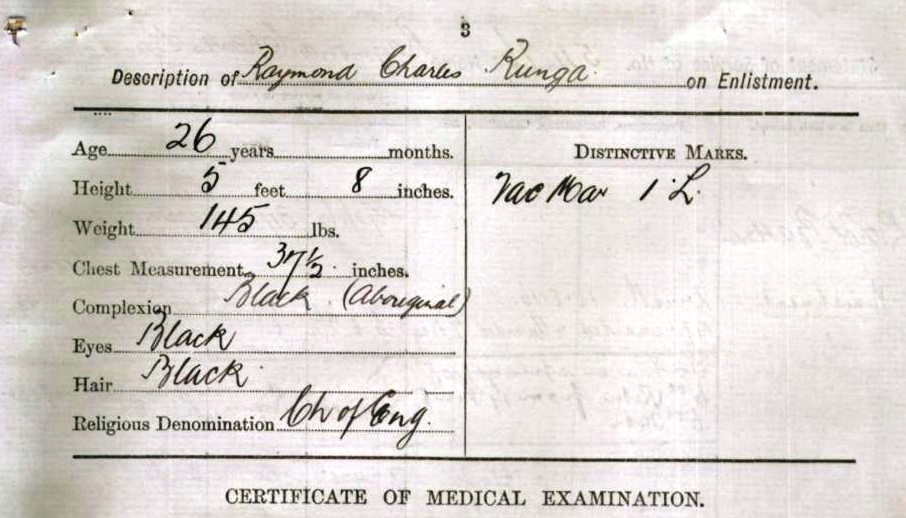 Raymond Charles Runga, Enlistment Form.
Raymond Charles Runga, Enlistment Form.
Raymond Charles Runga (aka 'Charlie') enlisted at Ouyen, Victoria on 28 February 1916. However, Charlie was originally from Narracoote, South Australia. His enlistment papers identify him as "black (Aboriginal)" for complexion when he was assigned to the 6th Battalion. Pte Runga (Service No 5476) joined his unit in France in mid-winter and saw action in the Battle of Pozieres and later Passchendaele, where he was seriously wounded. Following a six-month stint in London where he received medical treatment for his arms and hands, Charlie returned to the Front Line in May 1918. At Herleville Wood, Charlie performed the following act of gallantry:
"When the left portion of his company came under exceptionally heavy machine gun fire from a wood in front, Pte Runga, taking charge of a small party, dashed to the wood and succeeded in capturing two hostile machine guns and their crew of 16 men. On another occasion he rushed forward alone over 70 yards of ground without cover and despite point-blank machine gun fire, succeeded in bombing the enemy from the communication trench … this latter feat was a heroic example of utter disregard for personal safety and the desire, at all costs, to worst the enemy, any of whom with one shot calmly aimed could have killed him."

National Archives of Australia, Official Records: Citation page 21.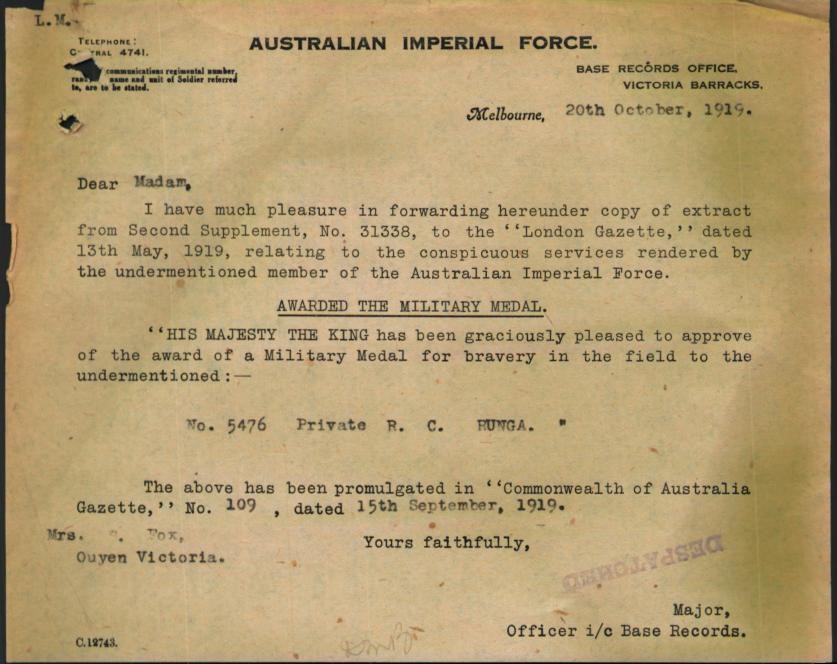 Pte Runga MM Citation.
Pte Frank Stewart, MID Citation.
Pte Frank Stewart, MID Citation.
Frank Stewart was from Tilba Tilba on the NSW South Coast when he enlisted on 29 November 1915. Pte Stewart (Service No 4911) was another Aboriginal soldier who was 'mentioned in despatches' by Sir Douglas Haig. Frank saw action in Egypt and France before returning to Australia on 2 June 1919.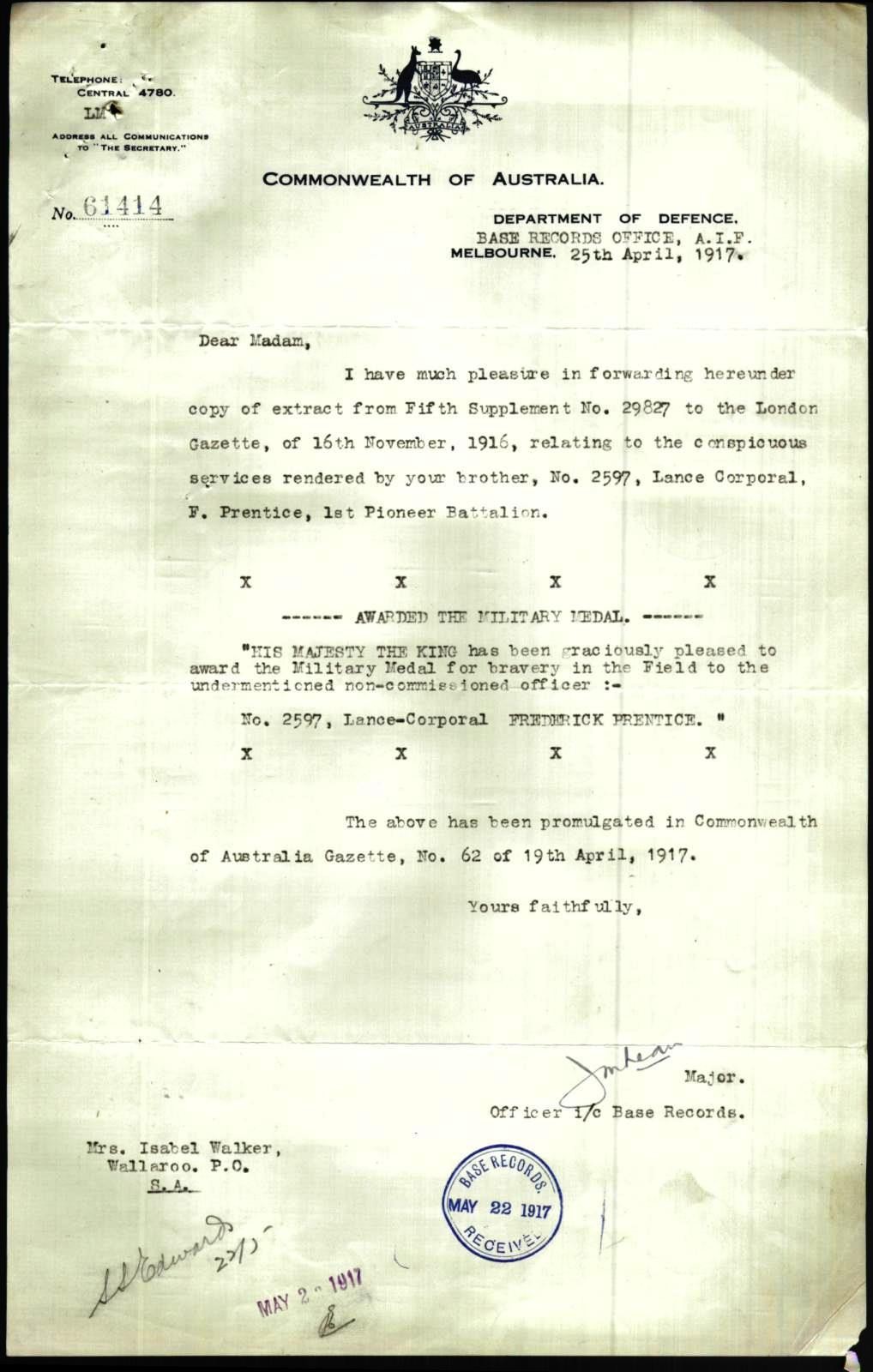 Citation for Military Medal, L/Cpl Frederick Prentice.
Citation for Military Medal, L/Cpl Frederick Prentice.
Recent research by Philippa Scarlett and family descendants has identified a further recipient of the Military Medal. Lance Corporal Frederick Prentice (Service No 2597) from the Northern Territory also displayed bravery in his actions on the Western Front with the 1st Pioneer Battalion. Prentice's citation reads:
"At Pozieres, France, on 19th July 1916, L/Cpl Prentice showed great courage, resources and ability in bringing machine guns and ammunition through the enemy barrage in the dark and across broken ground. he was one of Cpl William's party and assisted that NCO in every way."
Full List of Medal Recipients
The following list is a collation of several articles and attempts to identify all of the known Indigenous soldiers who received citations and /or awards during WW1. There may be others who are not known or their identity is not clear; for example the recently added Frederick Prentice was identified in several documents as being of Maori heritage.
Distinguished Conduct Medal
Private William A Irwin, (Service No. 792) 33rd Battalion
Corporal Albert Knight, (Service No. 5709) 43rd Battalion
Lance Corporal Richard Norman Kirby, (Service No. 2305) 20 Infantry Battalion
Military Medal
Sergeant Vivian Augustus Andrews, (Service No. 262) 3rd Machine Gun Battalion
Private Frederick J Briggs, (Service No. 16) 33rd Battalion
Corporal Augustus P Farmer, (Service No. 4808) 16th Battalion
Charles Hearps, (Service No. 207) 40th Battalion
Jack Roy Johnson, (Service No. ) ** Battalion
Lance Corporal William A Knight, (Service No. 105) 43rd Battalion
Private Maitland Madge, (Service No. 3483) 15th Battalion
Private William Reginald Rawlings, (Service No. 3603) 29th Battalion
Lance Corporal Frederick Prentice, (Service No. 2597) 1st Pioneer Battalion
Private Raymond C Runga, (Service No. 5476) 6th Battalion
Corporal Harry Thorpe, (Service No. 5459) 7th Battalion
Mentioned in Despatches
Corporal William J Jonas, (Service No. 2101) 34th Battalion, 1914–18.
Private Frank Stewart, (Service No. 4911) 5th Pioneer Battalion, 1914–18.
Note: this list may have discrepancies due to lack of identifying materials to confirm Aboriginality; any input or further information would be appreciated.
The above stories are mostly untold and not part of the documented history of Australia's involvement in WW1. Contemporary researchers such as Philippa Scarlett, David Huggonson and others have taken the time to painstakingly research their contributions to the war efforts.
The State Library would love to hear from descendants who have stories of family members who served in WW1.
Desmond Crump
Indigenous Languages Coordinator, Queensland Memory
State Library of Queensland Aboriginal and Torres Strait Islander Participation in WW1 webpages
References and Further Reading
Barton, L. (1984) For distinguished conduct and meritorious service : being a roll of all Australians awarded the Distinguished Conduct Medal, from 1899 to 1920 : to which is added all awards of the Meritorious Service Medal to the A.I.F. during the Great War. CHG 355.1342 1984
Bean, C. E. W. (1921) Official History of Australia in the war 1914-1918. J 940.40994 OFF
Colliver, E. J. and Richardson, B. H. (1920) The forty-third: The story and official history of the 43rd Battalion, AIF. CAG 940.4129423 1920
Commonwealth of Australia Gazette. OSREF 328.94
Coulthard-Clark, C. D. (1977) "Aborigine Medal Winners of the first AIF" in Sabretache: the journal of the Military Collectors Society of Australia. 1977, 18, 4. MAG 355.05
Huggonson, D. (1987) "Too dark for the Light Horse", in Education 1987 13 April p.24.
Huggonson, D. (1989) "Dark Diggers of the AIF" in The Australian Quarterly, 1989, Vol.61(3), pp.352-357.
Jackimos, A. (1993) Forgotten heroes: aborigines at war from the Somme to Vietnam. Q 940.403 JAC
Moremon, J. (2002) "Indigenous Australians at War", in History Teacher, v.40, no.2, Aug 2002: 4-8.
Newbury, G. (1988) Mentioned in despatches: Australians World War 1. Q940.40994 NEW
Pederson, P. A. (2012) ANZACS on the Western Front: the Australian War Memorial battlefield guide. 940.4144 2012
Returned Sailors', Soldiers' and Airmen's League of Australia. Reveille. 30 November 1931, p.22. SQ 355 005
Scarlett, P. (2011) Aboriginal and Torres Strait Islander Volunteers for the AIF: The Indigenous response to World War One. 940.40994 SCA
Winegard, T. C. (2012) Indigenous peoples of the British dominions and the first world war. 940.341 2012
Online Sources
Australian War Memorial: AWM Negative P01695.001; AWM Negative P01695.002.; AWM RELAWM06315.004; AWM RELAWM00981.001.
Indigenous Histories Blog: Philippa Scarlett's Blog.
National Archives of Australia: Service Records.
State Library of Queensland: WW1 Resources webpage
Tracker Magazine: 'An irresistible dash'.
Comments
Your email address will not be published.
We welcome relevant, respectful comments.