2014 UQ Architecture lecture series–Penny Collins & Huw Turner
By Administrator | 27 March 2014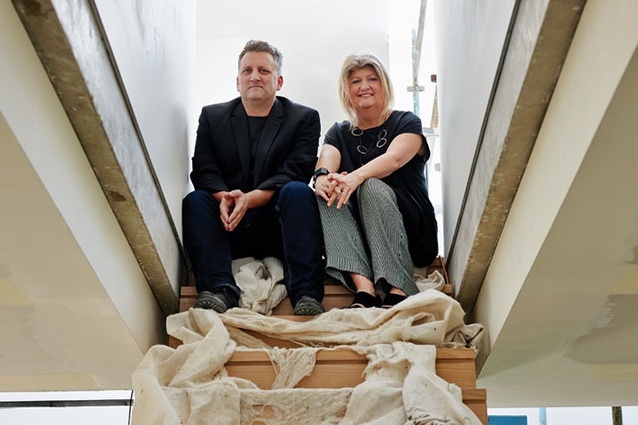 What does a typical day look like for you?
We have vastly diverse projects on, at various stages from design through to construction. This week has seen us working on Pre -DA drawings for a 20 storey apartment tower, design details for a 1400sqm bar in Brisbane, with weekly site visits now it is under construction. Council meeting to get DA approved for a $2m house. Construction completions of a $4m house. Revised DA drawings for an $8m house - to make it larger! Endless meetings with Lend Lease, the Barangaroo Dvevelopment Authority and a myriad of consultants on our restaurant building, heading for planning permission.
A typical day can involve 3-4 client or consultant meetings with staff briefings and project reviews fitted in between.
What can attendees to your UQ Architecture lecture expect to hear?
About the recent and ongoing adventures in architecture of two people from opposite sides of the world, who met working in Germany for Norman Foster.
Where do you go to get design inspiration?
We find inspiration in everything, but perhaps least of all in architecture itself.
With each project we try to distill the brief into a singular conceptual gesture - a simple strong idea. We then work hard to try to carry that through into the finished project, battling courageously against dark forces of budget, statutory controls, and construction restraints, to try to realise the original vision.
The place that we go to think is our getaway at Pittwater on Sydney's northern beaches - it's our chill-out space, a bit like a river island, and we go there to clear our heads, think, and draw. Between that we swim, cook, read, and sleep. Things that we don't do enough of in the city.
What are your top 5 favourite design books?
Penny:
Modern Architecture A Critical History by Kenneth Frampton
Art in the Electronic Age by Frank Popper
Architecture Without Architects by Berthold Rudolfsky
The Death and Life of Great American Cities by Jane Jacobs
Programs and Manifestoes on 20th-Century Architecture by Ulrich Conrads
Huw:
Theory and Design in the first machine age by Rayner Banham
Archigram by Peter Cook
In praise of Shadows by Jun'ichirō Tanizaki
Architecture by Donald Judd
Blade Runner sketchbook by Syd Mead
If you weren't a designer, what would you do?
Penny: Property Developer, so that I could still shape the built environment
Huw: My father was a filmmaker, and as a teenager living on a cold, wet, mountain in rural Wales, I dreamt of living by the beach in California and doing movie special effects for a living.
I still think that getting paid to make spacecraft and blow things up would be an incredible day job.
We have somebody working for us whose sister works for Weta digital in Wellington, designing the textures of aliens skin for the Avatar sequels. I'm very jealous.
What has been your greatest achievement?
The positive feedback for the Waterloo Youth Centre, has been fantastic. Staying in business feels like a result also.
Outside of Design, what inspires your work?
Travel, play of light, landscape, cinema...
Who is your double doppelgänger?
We often get mistaken for Phil Collins and Tina Turner...
Comments
Your email address will not be published.
We welcome relevant, respectful comments.