2014 artists' books series sponsored by the Siganto Foundation
By Christene Drewe | 7 April 2014
Sunday saw the commencement of the 2014 artists' books series sponsored by the Siganto Foundation at the State Library of Queensland.
Dr Marie Siganto AM launched two Siganto Foundation fellowships with the cutting of a cake in the Boardroom of the State Library following the lecture by visiting American artist Susan King.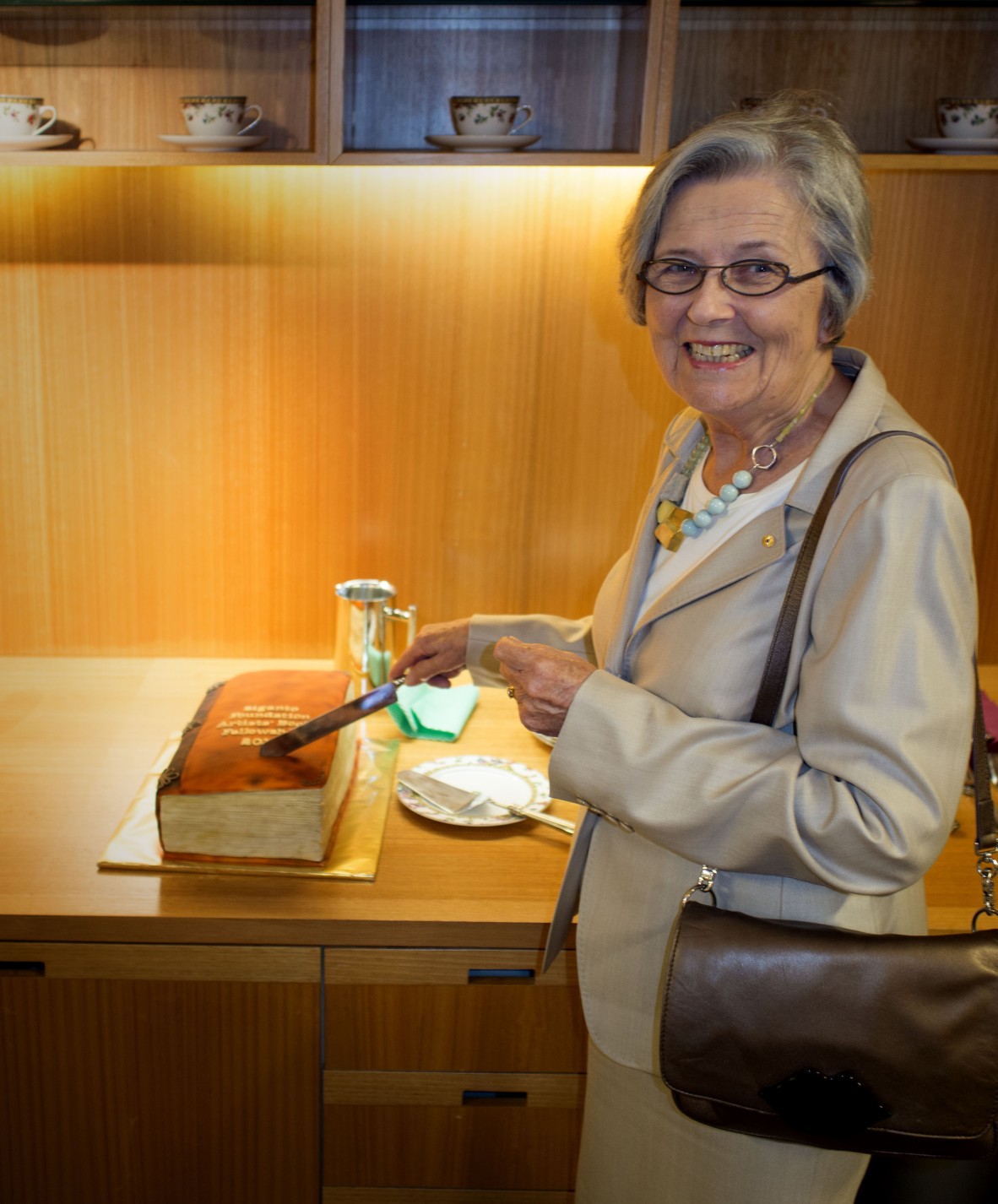 One Fellowship is available to artists' books makers to create a new work based on SLQ collections. The other Fellowship is for researchers interested in generating new knowledge about artist' books from SLQ's extensive and nationally significant collection.
Susan King's lecture, 'This other Southland (what Kentucky taught me): a native daughter's book odyssey' was delivered to an enthusiastic audience in Auditorium 2 on Sunday afternoon.
Susan spoke of the significance of storytelling in her life and work and the importance of her family in moulding the desire for stories long before she began to write. Of her work Susan wrote:
There is always more than one story, about place, about ancestry, about our culture. Much of my artist's book work concerns expressing this multiple narrative we all live.
After college her interest in the history of women and art led her to join the Feminist Studio Workshop in Los Angeles founded by Judy Chicago, Sheila de Bretteville and Arlene Raven. It was during this time that she started making artist's books. Susan later became the director of the Women's Graphic Center at the Woman's Building in Los Angeles.
Her lecture was illustrated with family photographs, ephemeral items from her childhood, photographs that documented significant life events, photographs of the printing presses that were so important in providing her freedom to document stories (Chandler & Price, Vandercook) and of course images of her artist's books.
We are fortunate to have 2 of Susan's books in the collection:
• I spent the summer in Paris : a view of life in Paris, France & Paris, Kentucky, 1983
• Treading the maze : an artist's book of daze
Sunday's activities also included a 'white gloves' tour, 'Light readings: the photograph in books' which examined photo-based artists' books from the Australian Library of Art Artists' Books collection. It was presented by Dr. Doug Spowart, photobook commentator and Helen Cole Co-ordinator of the Australian Library of Art.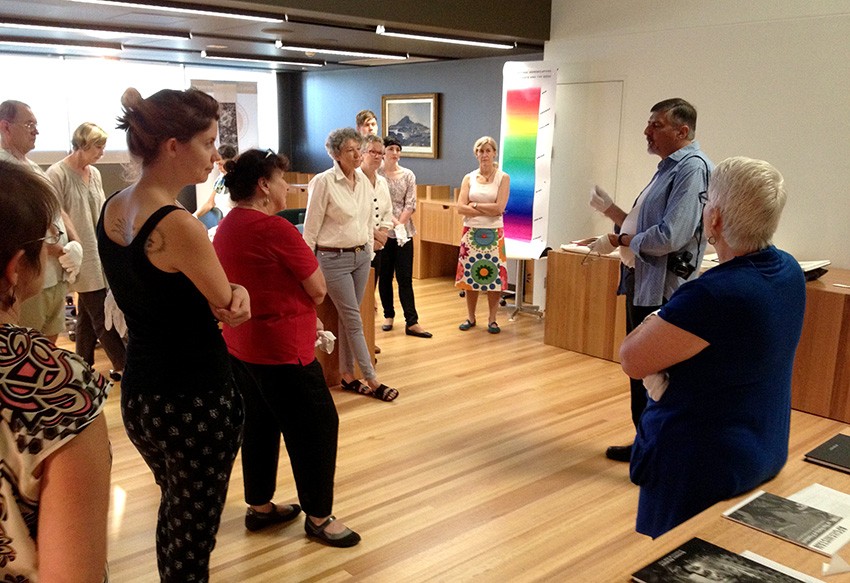 Doug proposed a nomenclature based on the seven colours of the rainbow as a means of characterising books by photographer-artists and artist-photographers that reside in collections of artists' books. The selection of books from the ALA collection and several from Doug's personal collection were displayed on seven tables according to the nomenclature. Despite Helen & Doug not agreeing on the placement of books within the proposed categories a very successful presentation was received by an appreciative audience.
Here is Doug's proposed nomenclature.
Red - The 'Classic' trade photobook
Orange - Print on demand trade-like photobook
Yellow - Emergent 'Free form' photobook
Green - 'Photozine'/ broadsheet / newspaper
Blue - Experimental' or 'Freestyle' artists book
Indigo - Artists book (gravure - photopolymer - screenprint)
Violet - 'Classic' 'Book Arts' Livre d'artiste book
During this week Susan King is presenting an Artists' books master class which focuses on generating form and content for books. There are 12 participants taking advantage of this opportunity sponsored by the Siganto Foundation.
On Saturday 12th & Sunday 13th April Susan is presenting Artists' books for beginners. Again the workshop is being sponsored by the Siganto Foundation and all 12 places have been taken by eager artists keen to set out on their artists' book adventure.
We look forward to reporting on the workshops.
Comments
Your email address will not be published.
We welcome relevant, respectful comments.