1st Light Horse Brigade Train 1914
By Marg Powell, Specialist Library Technician, Metadata Services | 17 November 2016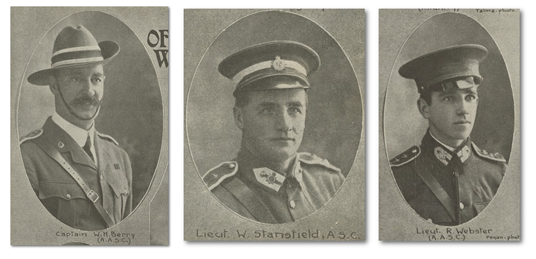 William Henry BERRY, DSO.
William STANSFIELD, DSO, CMG. Lieutenant Stansfield, like Berry was an employee of Queensland Railways, and had already served with the Moreton Regiment in 1900. After the Gallipoli campaign, Stansfield was transferred to the Anzac Mounted Division HQ and later as Lieut. Colonel with the Desert Mounted Corps. Stansfield was awarded the DSO, Mentioned in Despatches and appointed C.M.G. for his logistical acumen. A fall from his horse in April 1918 did not deter him, but an attack of Malaria saw him repatriated home in June 1919.
Sir Robert Joseph WEBSTER, CMG, CBE, MC. Educated in Charters Towers, Webster became a telephone mechanic in 1914. Age 23 he was commissioned 2nd Lieutenant and accompanied his comrades in the Army Services Corps to Gallipoli and France. His recommendation for the Military Cross describes him as "an example of courage, resourcefulness and devotion to duty". Webster returned from service in 1918 and made for himself a distinguished career in politics, business, industry and services to education, becoming University NSW Chancellor in 1970.
William Isaac ROGERS.
Harold Arthur MAUNDER, DSO, MB, B.Sc. Maunder was a mechanical engineer when he enlisted age 23 and served with distinction in the Gallipoli, Sinai and Palestine campaigns. He was awarded the DSO for services as the C.O. Australian Mounted Divisional Train, & Mentioned in Despatches twice. Lieut. Col. Maunder returned to Brisbane and gained entry to the School of Medicine, University of Sydney. After graduating he practiced in Victoria, before moving to England in 1936.
James Fred ANDREWS. Quarter Master Sergeant Andrews had 12 years prior service with the Army before enlisting, age 42. While in the Middle East he was promoted to Warrant Officer, and when he reached France in June 1916 he was then Lieutenant. Andrews took leave to marry Letitia Allison in January 1919, they returned to Australia, with their infant child in 1920.
August Alfred Joachim HOLZ. A farrier for the Central Fire Station, Brisbane, he served in Gallipoli and France, falling ill with mumps late in 1917. He was given Anzac leave in October 1918 and returned home to Australia by which time hostilities had ceased.
Charles Percival AUSTIN. With 3 years service as a telephonist and the army reserve, Sergeant Austin quickly proved his worth during his service in Gallipoli. Egypt and France. Appointed Warrant Officer in 1915 he was commissioned and rose to the rank of Captain by 1917. Austin was severely injured after accidentally falling 16 feet from a window, and repatriated home in 1918. He died of his injuries at the 17th Australian General Hospital, Enoggera in July 1919.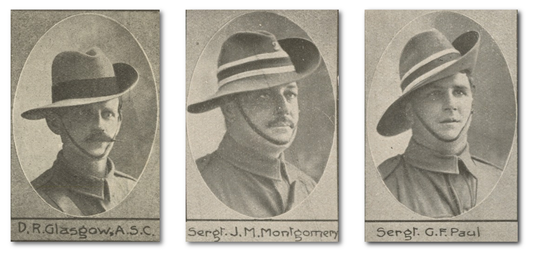 Daniel Robert GLASGOW, MC.
John Francis MONTGOMERY. Also an employee of the Queensland Railways, with almost 10 years prior service with Army Montgomery would have been a valued member of any Company. He was promoted Company Sergeant Major, in the field in France in 1916 and temporary Warrant Officer in April 1917. He suffered shell concussion after a near miss in 1918 for which he was hospitalised and treated, however soon after he contracted influenza. On the hospital ship returning him home, he deteriorated and died of bronchial pneumonia, and was buried at sea.
George Francis PAUL. Paul was one of three brothers who enlisted, he had seen previous service with the Army Service Corps. He served with his comrades on Gallipoli but on returning to Egypt became ill and later died of Small Pox in April 1916.
Frederick Harold KERR.
Back row: Derek Sellars, Thomas Ware, unknown, Leslie Alroe, Denis McKeegan.
Derek Peter SELLARS. Also one of three sons to serve, Sellars was just 19 when he signed up with the AIF. He was quickly promoted and earned his commission as Lieutenant in 1916. Serving in Gallipoli and the Middle East he was promoted to Captain and Supply Officer for the 4th Light Horse Brigade in 1917. At the end of the war, he returned home to Brisbane in 1918.
Thomas Sefton WARE, MC. A clerk with Dalegety's when he enlisted age 20, Sergeant-major Ware served with his company on Gallipoli, contracting influenza in July 1915. He recovered, to serve in France where he rose to the rank of Captain and was awarded the Military Cross. He returned to Australia in 1919.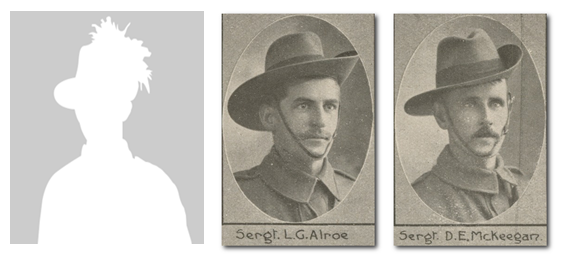 Leslie Gladstone ALROE
Dennis Edward MCKEEGAN. Sergeant McKeegan, a carpenter was promoted to Wheeler Sergeant in September 1914 before embarking for Egypt & Gallipoli, he stayed on in Egypt in 1916 to recover from a bought of influenza. McKeegan served in France and he was given leave in 1918 to return to Australia on transport duty, as submarine guard duty for the voyage. He wasn't required to return to service.
Further reading:
Brisbane and Ipswich portrait photographs
Individual portraits sourced from The Queenslander Pictorial, 1914
Marg Powell | QANZAC 100 Content Technician State Library of Queensland
Comments
Your email address will not be published.
We welcome relevant, respectful comments.