150th Australian South Sea Island Anniversary Gala Dinner
By JOL Admin | 17 May 2013
Guest blogger: Randall Warkill, Australian South Sea Islander Police Liaison Officer, Rockhampton
To mark an incredible milestone we have a calendar of events planned throughout the year including a Gala Dinner in Yeppoon Central Queensland. It will be our opportunity to look back at the people who shaped our future and embraced our heritage, so we may continue to evolve in the decades to come.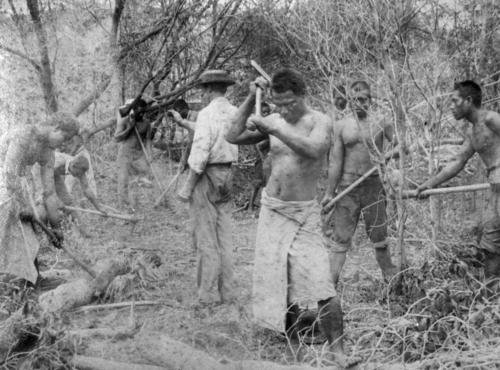 South Sea Islander labourers clearing land at Farnborough, Queensland, ca. 1895. John Oxley Library. State Library of Queensland. Negative number: 60914
The Gala evening will include a welcome and a magnificent three course meal to some highly anticipated entertainment. To complete the night guests will be able to chat with new and old friends in a relaxing social setting while humming along or dancing to a favourite tune or two.
The Gala night is to recognise the accomplishments and adversities of the Australian South Sea Islanders and honour and celebrate the best in human spirit. It is our intention to showcase a unique cultural heritage in Central Queensland to the rest of the State and Australia by inviting a diverse mix of people from all walks of life.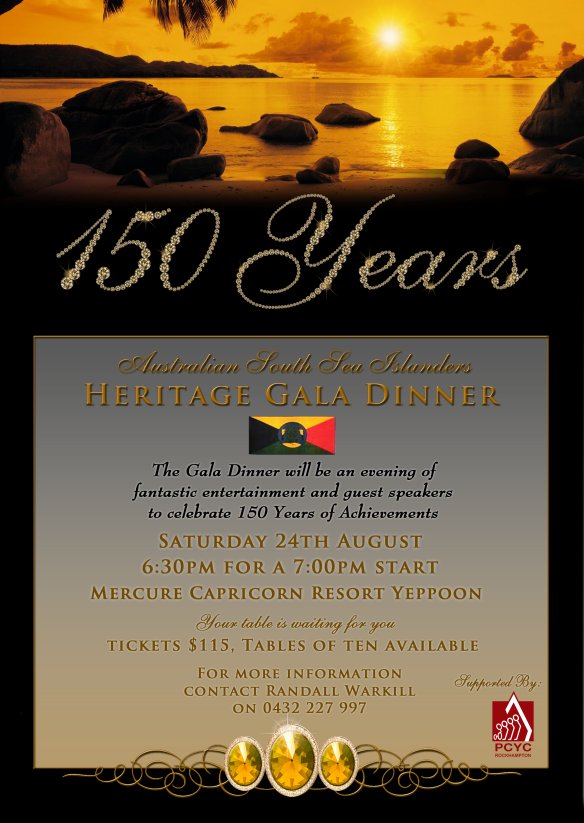 150 years Anniversary Gala Dinner, Yeppoon
Our auspice body for this event is the Rockhampton Australian South Sea Island United Council (ASSIUC). Led by Chairperson Mr Warren (Joe) Leo and with its core business in Culture, Education and History of Australian South Sea Islanders, ASSIUC was a major player in the fight for recognition by the Federal and State Governments.
Our gala night is on the 24th August 2013 commencing at 7.00pm with pre- dinner at 6.00pm. The venue for the event is the Mercure Capricorn Resort Yeppoon set on 20km of secluded coral reef coastline similar to our island homes of Vanuatu and the Solomon Islands.
For further information contact Randall Warkill on Ph: 07 49277899 or email: randall.warkill@pcyc.org.au
Comments
Your email address will not be published.
We welcome relevant, respectful comments.