Spoken
Spoken
Celebrating Queensland languages
This exhibition is in the past.
21 November 2019 - 19 April 2020
slq Gallery, Level 2
Journey through Aboriginal and Torres Strait Islander Languages in Queensland
Imagine a future where Aboriginal and Torres Strait Islander languages are part of our everyday lives. Experience the diversity and richness of Queensland's Aboriginal and Torres Strait Islander languages. Understand the impact of colonisation, and learn how language, culture and country are connected today.
Indigenous languages map of Queensland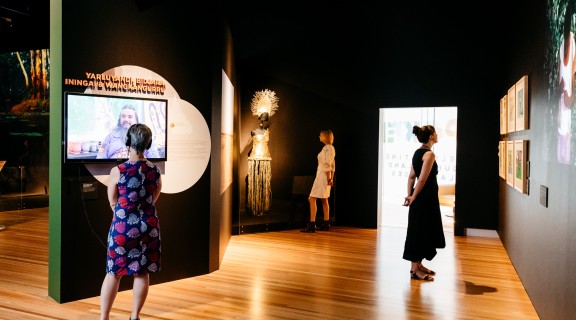 Spoken virtual tour
We invite you to experience the Spoken exhibition from home with our interactive self-guided tour.
Take the tour
Learn
Aboriginal and Torres Strait Islander languages learning resources.
Stories
Gangurru – Guugu Yimithirr's contact with Cook
Harold Ludwick tells the 'shore to ship' account of events during repairs to the Endeavour in 1770. Harold is from the Guugu Yimithirr language group and works at the James Cook Museum.
Yugambeh
Yugambeh Museum is an inspirational story that begun with a group of community members sitting around a kitchen table in 1984.
Guugu Yimithirr
Over 250 years ago, on Waalumbaal Birri (Endeavour River), a meeting of cultures changed the lives of Aboriginal people forever.
Wik
Wik Mungkan is the strongest language on the Queensland mainland, being one of only two languages considered to be 'living, thriving' languages.
Kala Lagaw Ya, Miriam Mir and Creole
Kala Lagaw Ya and Meriam are the main languages of the Torres Strait with their respective dialects.
Bidjara, Iningai, Wangkangurru and Yarluyandi
Central West Queensland is 'big sky' country where the land stretches out before you and the night sky is filled with stars.
Reawakening
State Library has focused on language diversity and the resilience of community to maintain, revive and speak their language.
Statement
State Library is a respected cultural institution, and we aim to provide a safe and welcoming space for everyone. Aboriginal and Torres Strait Islander peoples should be aware that this exhibition may contain images, voices or names of people who have since passed away and contains histories that may cause sadness. This exhibition also contains a wide range of views that have come from Queenslanders from diverse backgrounds.
We hope that you can join us to honour the strength and resilience of Queensland Aboriginal and Torres Strait Islander communities and celebrate their rights to their languages.
Acknowledgements
State Library would like to thank the following organisations for their contribution to the exhibition:
Lenders
National Library Australia, Queensland Museum, University of Queensland Art Museum, Queensland Art Gallery & Gallery of Modern Art, Queensland State Archives and Fireworks Gallery.
Participating communities/organisations
Nunukul Yuggera Aboriginal Dance Company, Yugambeh Museum, Language and Heritage Research Centre, Hope Vale Indigenous Knowledge Centre (Guugu Yimithirr and related languages), Hope Vale Arts & Cultural Centre, Aurukun Indigenous Knowledge Centre (Wik-Mungkan and related languages), Wik & Kugu Arts Centre, Mackay Regional Council Libraries/ Yuwi Language Council, Central West Aboriginal Corporation, Barcaldine, Red Ridge Interior Queensland, Blackall.
State Library Indigenous Languages Project is funded through the Indigenous Languages and Arts Program — an Australian Government initiative.