/

Community Heritage Digitisation Offer
Community Heritage Digitisation Offer
Contribute your publication to Queensland's digital heritage.
Have you published a book relating to Queensland's community history or culture?
Would you like your publication to reach a wider audience?
Do you hold the copyright?
If your answer to these questions is yes, State Library of Queensland's Community Heritage Digitisation Offer may be of interest.
We are looking to digitise published histories or studies with a strong Queensland connection.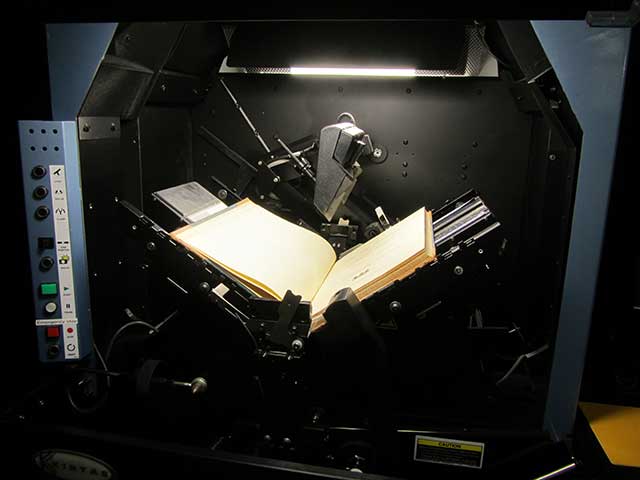 Automated scanner at State Library of Queensland. Staff photograph. Photograph by Grant Collins
What sort of publications are we seeking?
The Community Heritage Digitisation Offer is about building the documentary heritage of Queensland. We are interested in publications which relate substantially to the history of our state - and to its cultural, social, economic, political and scientific development.
The focus of this offer is on those publications which are of interest to the wider community.
Some examples of suitable topics or subject areas are histories of studies of:
a locality or suburb
an environmental or cultural landmark
a school
a church
a significant building or landscape (eg bridge, park)
ethnic contribution and experience
a community event or celebration
a Queensland based organisation
an established community group
natural history/ecology of a specific locality
local walking trails.
The range of interest is not limited to histories. For example, an ecological study of a river catchment or other area of environmental interest would be an ideal candidate for digitisation.
The following categories are out of scope for this initiative:
family histories
works of fiction
unpublished documents.
All of the above are collected by the John Oxley Library but are not being targeted for the Community Heritage Digitisation Offer.
Read the Community Heritage Digitisation Offer FAQs to find out more.
Still interested? Nominate your book(s) via the EOI form.