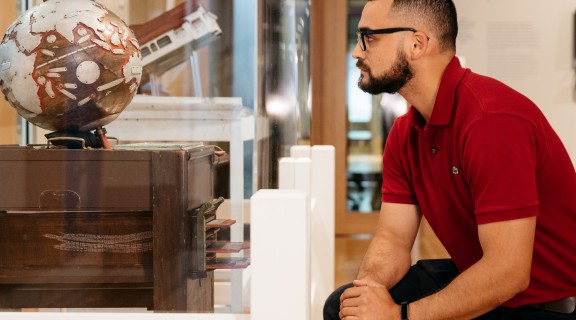 /

Tunley Globe digitisation project
Tunley Globe digitisation project
The Queensland Library Foundation (QLF) funding of the Tunley Globe digitisation project at State Library of Queensland has opened up a window into the exciting possibilities of photogrammetry and 3D printing technologies for this unique piece.
About the Braille Globe
R.F Tunley's Braille Globe is an intricate Braille globe invented in Queensland in the 1950s. The globe was originally created for vision-impaired children by Queenslander Richard Frank Tunley, known as the 'Fairy Godfather of Blind Children', who dedicated his life to improving outcomes for vision-impaired children and adults, producing Braille globes and maps. You can learn more about Tunley and a selection of his works that are in the State Library collections.
State Library has used 3D capture techniques to create an SLS Nylon printed replica of the globe that is able to be touched as the original was intended to be experienced. The model is accompanied by open access resources including digital 3D models and 3D printable files.
3D model
The project involved creating 3D models of the globe using scanning techniques and photogrammetry to capture the finite details of it.
User testing at Braille House indicated that the Braille markings in the reproduction print were difficult to discern as the Braille on the original had been worn down. It was decided to enhance the Braille marks in the 3D printed version. This work was undertaken by an industrial designer to create even and legible Braille.