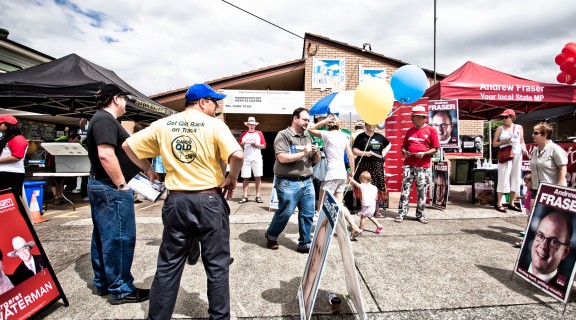 Politics in Queensland is topical and sometimes controversial. Explore the unique collections reflecting the contemporary influences on Queensland. The content has a distinctly Queensland focus.
Adani Coal Mine Protest Photographs
The collection of images by photographer Hamish Cairns capture the demonstration held in Brisbane, November 2017 against the Adani Carmichael Coal Mine planned for Central Queensland. It was part of a coordinated National Day of Action during which participants around Australia signalled to the government to 'Stop Adani'. [Acc 31419]
Digital stories
State Library of Queensland collects digital stories that capture and reflect the social history of the time. This small selection gives us an insight into decisions that impacted on Queenslanders and the decisions to recognise the rights of people in society.
Politics and Law in Queensland
Since the Fitzgerald Report on corruption and misconduct in Queensland was handed down academics, authors and commentators have contributed to ongoing discussion and debate. The Tony Fitzgerald Lecture is a partnership between Griffith Criminology Institute and the State Library of Queensland. Others in the series include: Professor Gillian Triggs shares her unique insights into the decline of human rights in an Australian democracy (2016); Professor Emeritus David Bayley reviews police accountability internationally since the Fitzgerald report in 1989, locating Queensland's activities within that history (2014).
Richard Lancaster interviews former Queensland Premier Sir Joh Bjelke-Petersen
In 1988 Sir Joh Bjelke-Petersen talked with producer Richard Lancaster about his style of government and the factors that had helped shape that style. The first 6 tapes were recorded in two sittings during August 1988, three months before he appeared before the Fitzgerald Inquiry. The 7th interview shows a more serious and sombre Sir Joh. Recorded in December 1988 and before the Inquiry's findings were made public, Sir Joh emphasised that although he was responsible for everything his government initiated, he was not responsible for the corrupt actions of individuals within his government. [Acc 31398]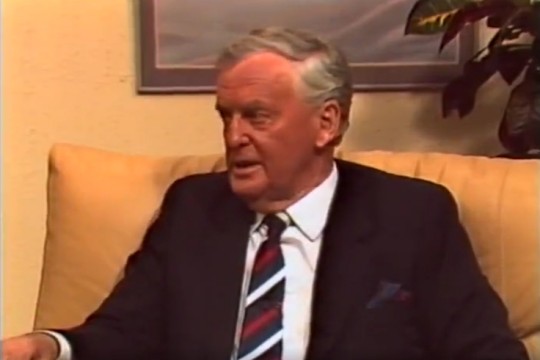 Alan Moir Cartoons
The John Oxley Library holds significant collections relating to political cartoons and art works. The Alan Moir collection comprises 149 editorial cartoons which were published in the Courier-Mail, Brisbane; the Sydney Morning Herald and the Sun newspapers. Alan worked with the Brisbane Courier Mail from 1979 to 1984. [Acc 3190]