Using directories and almanacs for house and local history
By Christina Ealing-Godbold, Research Librarian, Information Services | 8 October 2020
Neighbours, businesses, storekeepers – Who lived in that neighbourhood in 1895, and who was still there in 1923? Exactly where was the house on Petrie Terrace where your great grandfather lived? Did the family friends live next door or across the street? Was there always a house on that block of land at the end of the street, or was it built on later? My grandfather was not naturalised and I can't find him on the electoral roll. Can I find him in another directory? Can I find a list of the printing firms in Brisbane in 1911? What about carriage builders? What were the important dates for 1911?
All these questions and more can be answered by postal and commercial directories and almanacs.
Directories of all kinds have been published for many hundreds of years. Among these are street directories, business directories, farmers directories (or almanacs), travel directories and postal directories.
Almanacs had been published for hundreds of years prior to postal directories. Mini encyclopedias in many ways, almanacs were filled with statistics, calendars, tide and moon information, seasonal agricultural advice and the names of important people and heads of organisations in that jurisdiction. There were even specialist almanacs such as Wisden Cricketers' Almanackopen_in_new, Crockford's Clerical Directory and Bradshaw's Railway Postal and Road Guide.
Directories and almanacs were also filled with advertisements and were, after all, aimed at commercial travellers and companies wishing to be easily located by all in the business community. This advertisement from Slater's Queensland Almanac was for a tea importer in Brisbane and Sydney in 1883, and the Steam Biscuit Factory advertisement is from Slater's Queensland Almanac of 1876.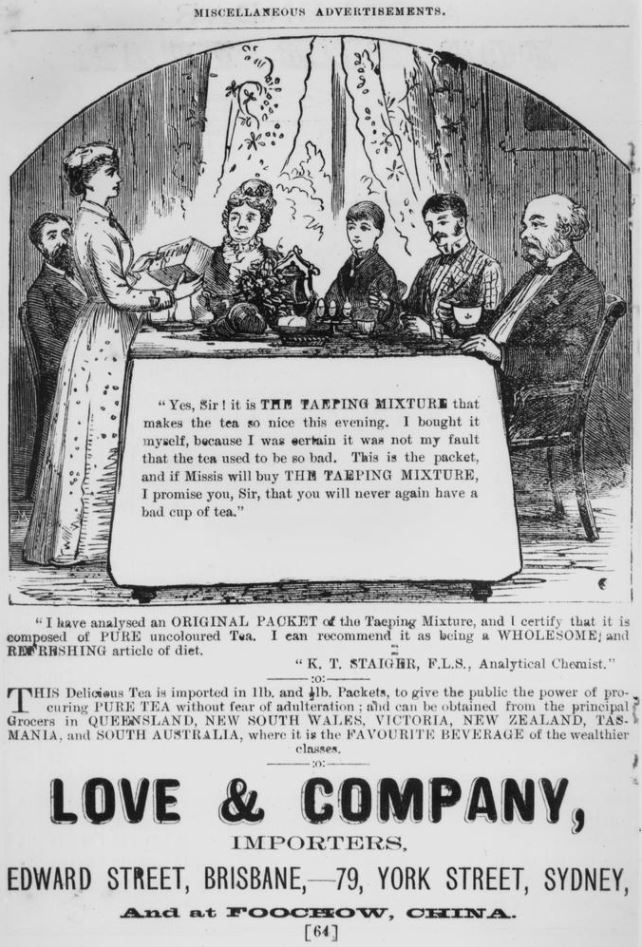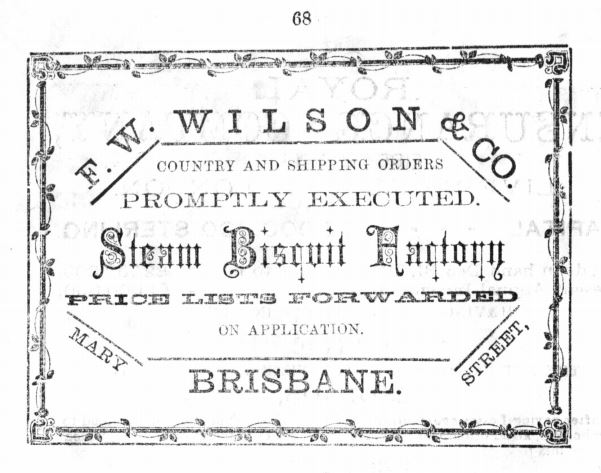 Advertisement for F.W.Wilson & Co biscuit factory. Slater's Queensland Almanac 1876, p 68. John Oxley Library.
Directory publishing was an expanding industry in Victorian Britain and in all major urban areas in the western world – even in Calcutta. Directories were used to advertise to your business competitors, allow others to locate you and to enable your mail to be delivered to your home.
The role of postal directories was taken over by the telephone directory after World War Two. The University of Leicester in the UK has a digital collection of online directoriesopen_in_new (principally trade and commercial directories) for major British cities in the 19th century.
Australian colonies followed the lead of their British sister cities. After all, a town or city had not made the civilised list unless it had a newspaper and a directory. In Queensland, Pugh's Almanac (named after the editor and publisher, Theophilus Pugh) was the most important 19th century companion for the desk of the businessman, farmer, pastoralist or urban citizen. The almanac included other useful sources of information such as historical information about Queensland, notable events in chronological order from the previous year (floods, droughts, deaths of well-known persons and sinking of ships among the many topics), expected events in the coming year, as well as notable people in the community. Pugh's Almanac was first published from 1859 and is available on microfilm at State Library of Queensland, with annual editions up until 1927. Printed copies are also available in storage. The University of Queensland has digitised Pugh's Alamac as part of the Text Queensland platform. The almanac can be viewed by selecting a year of interest, between 1859 and 1927.
Pughs Almanac 1859 First Issue was priced at half a crown and printed in Albert Street, Brisbane at Pugh's own printing works.
Such was the appetite for directories of information that most urban centres in the western world had several publications at once, as did Queensland. Slater's Queensland Almanac was published from 1868 to 1918, in a similar format to Pugh's Almanac. Slater's Almanac is available at State Library of Queensland in hard copy (John Oxley Library), on microfiche on level 3, and has also been digitised and made available via our One Search catalogueopen_in_new (with some gaps between years.)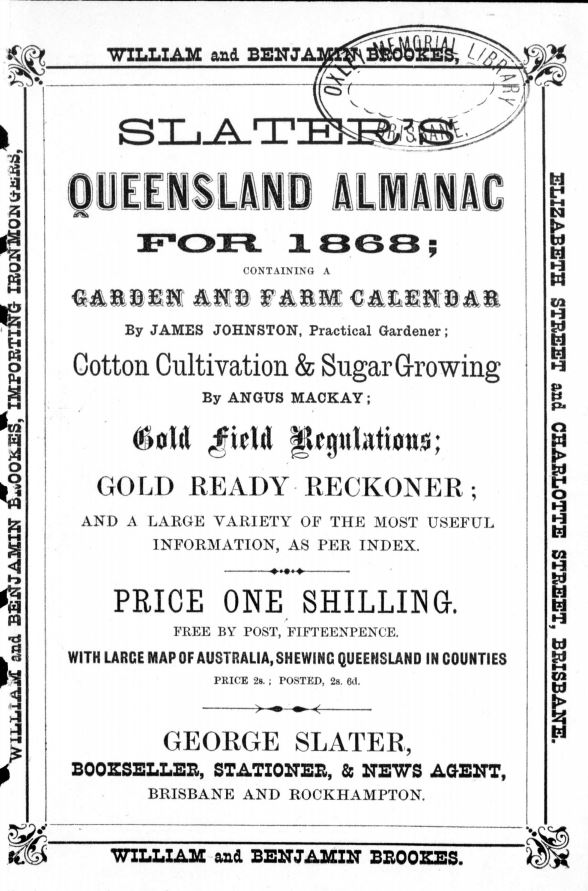 Slater's Queensland Almanac 1868. John Oxley Library.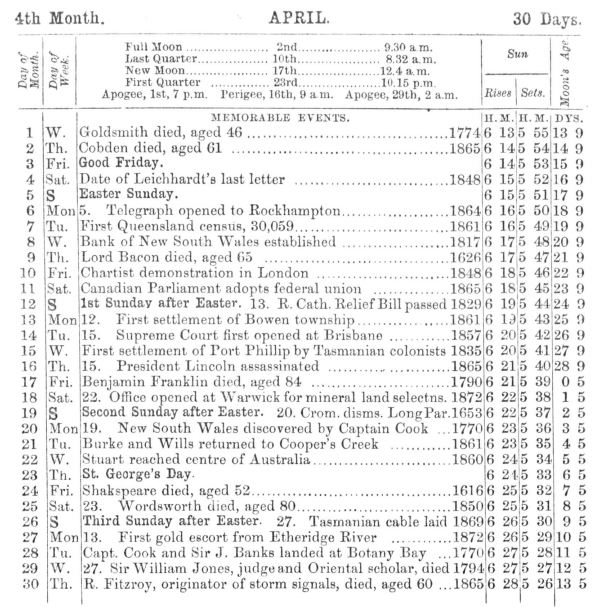 Calendar for the month of April in Slater's Almanac, 1874. John Oxley Library.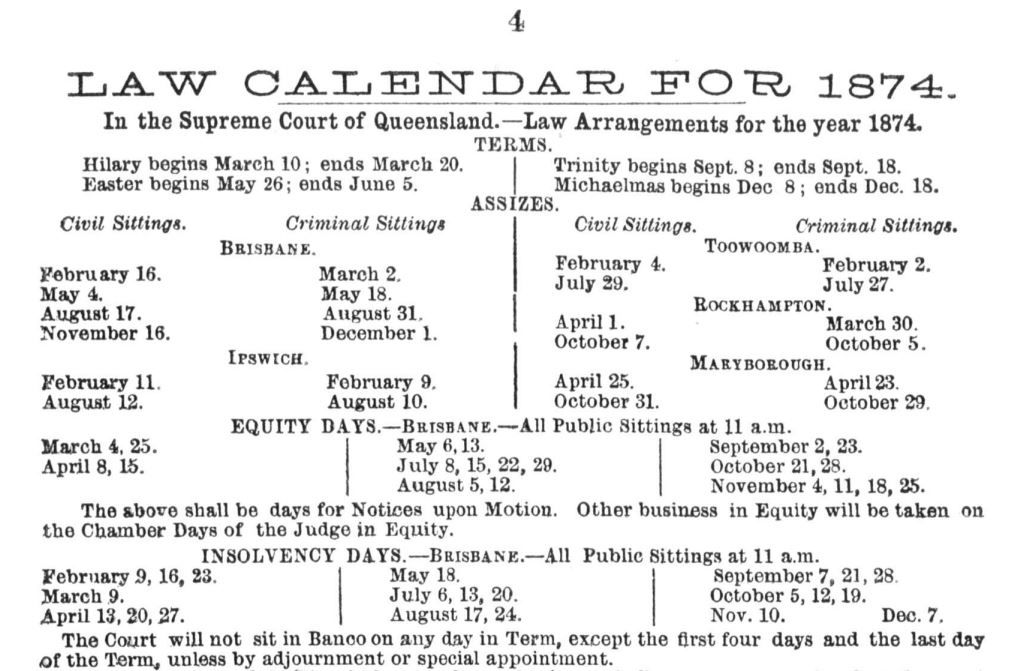 Law Calendar in Slater's Almanac, 1874. John Oxley Library.
The development of the postal directory brought a new addition to the publishing industry – a street by street listing of residences. Electoral rolls in the 19th century only listed those who owned land or a home. Many working-class citizens rented their homes and were therefore not eligible to vote. Postal directories, on the other hand, listed those who were prepared to pay a small sum to be included in the directories. Numbering of houses was slow to develop, so most early directories simply listed those who lived in the street by name, in order of houses from the nearest cross street. Many owners chose to give their home a name (even when renting), so you may be fortunate to find the name of your house listed in the directory.
There were several brands publishing post office directories in Brisbane. The most complete set available is the Wise's Directories.
Wise's Directories, Queensland Post Office Directory 1923-24. John Oxley Library.
Other publishers' names included Shaw and also Holland. At State Library, all Queensland post office directories have now been amalgamated into one chronological resource, regardless of the publisher. Post office directories are available in hard copy, in microfiche and on the Ancestry database under the heading of City Directories. The Queensland directories cover the years 1868 to 1949, with some gaps. The final years of the publication of postal directories was limited to commercial and occupational listings, as the war years made paper scarce and publishing had to be reduced. Below is an example of a Wise Directory 1937 listing for the Brisbane suburb of Wynnum – street by street.
Street by street listing for Wynnum, Ancestry, City Directories,1937.
Later directories used street numbers, making the historian's job easier. Earlier directories used house names or just simply the names of the householders, making it necessary to count how many houses existed between the two cross streets and comparing that with plans, maps and photographs.
List of residents in Harding St, Auchenflower in 1921, Ancestry, City Directories.
List of numbered houses and residents, Queensland Post Office Directory (Wise) 1936, Ancestry, City Directories.
How to use a Post Office Directory to find your people
Directories were divided into a number of sections, and knowing the order of the sections will assist you to use the directory most effectively. The sections are
A. Brisbane Directory
Brisbane
South Brisbane
Bayside suburbs- Sandgate, Wynnum, Lota
B. Queensland Towns Directory
Larger towns such as Ipswich, Toowoomba, Rockhampton and Townsville have street listings in the same way as the Brisbane Directory. Other towns just listed all residents alphabetically.
C. Alphabetical Directory, including all Queenslanders listed, regardless of place or trade.
D. Trade and Occupation Directories, including legal and church listings, and also pastoral and station directories.
Strategies for finding householders and homes
Whether using a directory in hard copy, in fiche, or online, the four sections will be present in post office directories.
If you need to know where a house was located in a particular street, then Section A is most suitable. Remember that street names may have changed, so check the nearest cross streets on a current map. State Library also has indexes to street name changes.
If you need to know when a house first appeared in the street, use Section A to compare a number of directories over several years, counting the number of homes from the nearest cross street. It may show a vacant block or an easement or change in street direction, and you may be able to date the house by its appearance in the directories.
If you have a person's name but you don't know where they lived in Queensland, then Section C, the alphabetical directory, is an ideal starting point. From there, you can look at the suburb, town or street and see where the house was located in that street.
If your ancestor was a carriage builder or plumber, but you are not sure where they lived or worked, Section D, the trades directory, might be your first choice.
Searching using online databases (eg Ancestry), you will need to search city and state directories, chose Australia and then the state. For this search you will need to have a family name to search. Alternatively, you can make your way through the numbered pages (approximately 1,400 pages per issue of the Wise directories) and patiently find the street by checking page numbers. It is useful to know the structure of a post office directory (as outlined above) before attempting this search.
Are you looking for shops and businesses in a suburb? Find the main street of the town or suburb and follow the shops – the butcher, the fruiterer, the bank, the Post Office and the Cash and Carry store. This listing for Toowong High Street around 1890 provides an excellent example. The John Oxley Library photograph collection has an image of the same shops on the High Street in the 1890s.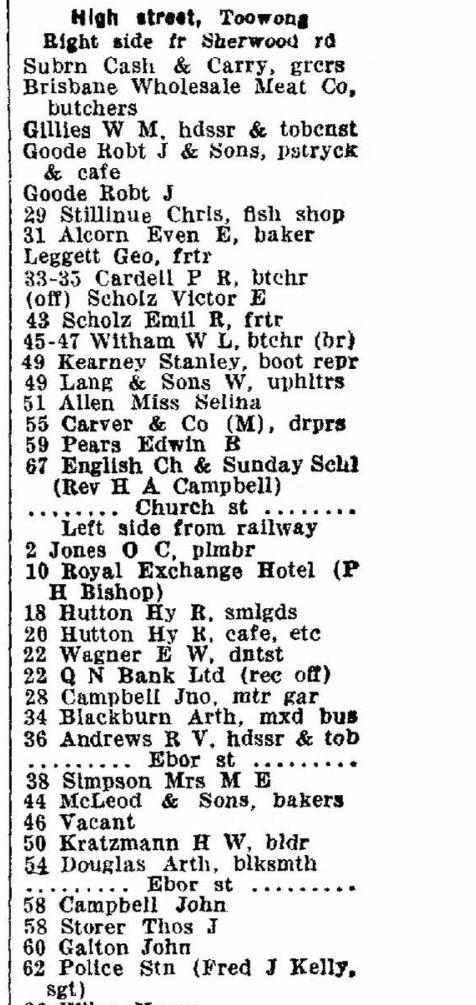 List of numbered properties and businesses, High Street, Toowong, Queensland Post Office Directory (Wise) 1936, Ancestry, City Directories.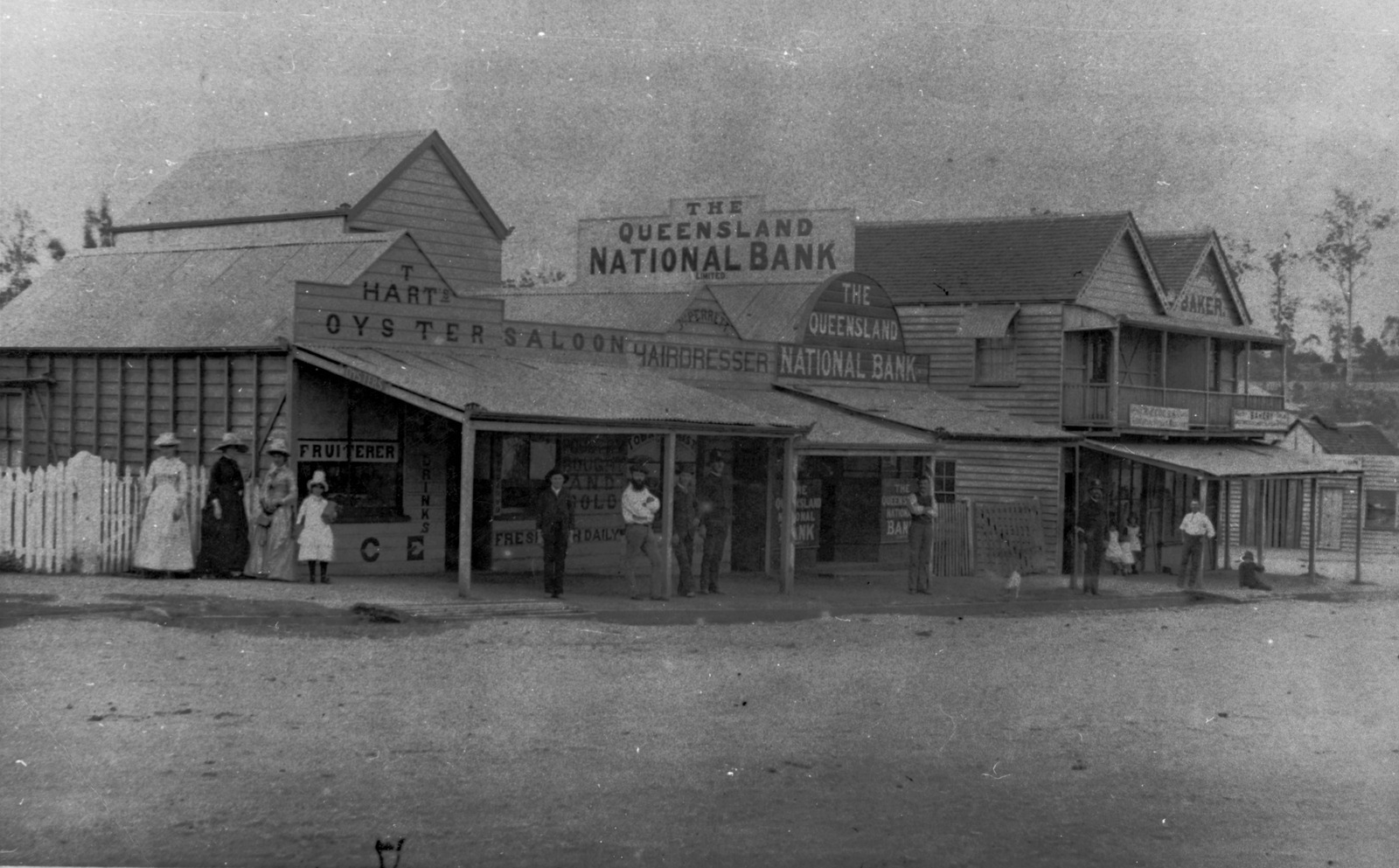 What you need to know about the directories
Householders and business owners had to pay a yearly subscription to have their name in the directory. If the subscription was missed, the name did not appear.
The head of the household was listed. Generally other householders were not listed.
Prior to street numbering, houses were listed by householder name and a name for the house was often listed.
There are occasionally errors in the order of houses within the street, or in the direction of the street listing – from Boundary Street, right hand side can sometimes be reversed.
Directories were compiled for the beginning of the year, so could be out of date within months.
Ensure you understand the abbreviations used – "bdng hse" meant a boarding house rather than the building of a house
Placing people in a specific location, street and house is an important step in undertaking a house history and for researching your family history. The house or building may still be standing, even though your ancestor left that address one hundred years ago.
State Library of Queensland has post office and commercial directories as well as almanacs to assist in your search. Even if your ancestors were not resident in Queensland, there are numerous directories in our collections for other Australian capital cities, providing the same street by street residential listings. The most well-known of these is the Sands & McDougall directories. There are also research tools to assist in finding businesses and residences in overseas cities and towns.
Despite the drawbacks of paid commercial directories (such as data collection inaccuracies and the fact that only the head of the household was listed), there are enormous advantages in having another listing against which to compare names in electoral rolls and newspaper information. Excellence in historical research results from finding several forms of evidence, and the post office directories provide a useful, contemporaneous source of evidence for you to use in your search.
Post office directories, commercial directories and almanacs provide an insight into the working tools of another generation and the kind of information that was valued at that time. These resources provide an excellent way of understanding the environment in which your ancestor lived and worked, and may indeed assist in dating the construction of your home or understanding the history of your suburb or town.
Comments
Your email address will not be published.
We welcome relevant, respectful comments.