Digitised@SLQ - Rev George Green diaries
By Simon Miller, Library Technician, State Library of Queensland | 16 May 2014
ABC Classic FM are advertising a competition to set authentic Gallipoli texts to music.
ABC Classic FM and Radio New Zealand Concert extend an invitation to Australian and New Zealand composers to submit a new vocal composition that sets words from texts written by participants in the Gallipoli campaign. The words might be from any personal writings related to the Gallipoli campaign. Texts that communicate the individual experiences of the original Anzacs and their loved ones - in their own words.
I do a bit of composing myself and the collection here in the John Oxley Library is the perfect place to look for authentic texts. One such text can be found in the 2nd Light Horse Association records. This collection includes the diaries and journals of Reverend George Green, a number of which were written at Gallipoli in 1915. The following biographical information is from the catalogue record.
The 2nd/14th Australian Light Horse has its origins in the Queensland Volunteer Defence Forces. The units as part of the Queensland Mounted Infantry saw service in South Africa 1899-1902, and were absorbed into the Australian Defence Forces. The 2nd/14th Light Horse Regiment is an alliance of the 2nd Light Horse and the 14th Light Horse regiments. These regiments were raised during World War I and saw service as separate units. The 2nd Light Horse saw service at Gallipoli and in the Middle Eastern campaigns, including Jerusalem and Beersheba. The 14th Light Horse served mainly in the Middle East and Palestine.
The Reverend Captain George Green was a clergyman from Emerald and Rockhampton in Central Queensland when he enlisted in the Australian Army in September 1914. He served as a chaplain with the 2nd Light Horse Regiment at Gallipoli and Middle Eastern campaigns. Reverend Green was born in London in 1881 and was educated at Oxford University before becoming an Anglican Minister in 1910. He migrated to Australia and worked in the North Rockhampton parish before becoming the vicar of Emerald and then serving at St Paul's Cathedral in Rockhampton. After the war he served in Melbourne before returning to England where he died in 1956.
The following extracts are from the 4th Gallipoli diary, 21 May 1915 - 29 June 1915.
Volume 4 - Opens in the trenches at the spot which is likely to become historic at the foot of 'Popes' & 'Quinns' Hill in Monash Valley - under fire Anzac Cove Gallipoli Peninsula.
Saturday May 22nd 1915
Rain during the early morning. Our dugout puddles & the whole a mass of sticky clay & slush. Quinn - one of the bright lads I prepared for Confirmation was shot in the night - also another of 2nd Regiment McGowan. To the Burial site with Wray and Gillison - marked out sites for units. Met Boyd & Fraser of the 5th Regt. Long talk with the Colonel this morning. Activity in the firing line has slackened. Sound sleep.
Monday May 24th brought a harrowing and grisly experience.
Armistice declared for burial of dead from 7.30 to 4.30 I was among burial party to go over into territory between trenches. There I beheld a sight I never shall forget & struck a smell awful beyond anything I've ever experienced. There weren't so many of our men although I said Committal over about 15 bodies most of whom were decayed beyond recognition. I won't fill in gruesome details. There was a line of demarcation equidistant between the trenches. At one point they are only 8 yards distant. There were literary hundreds of dead Turks - like a battalion in bivouac. They have suffered heavily but O the stench!
The Rev. Green often jumps from one mood to another, occasionally waxing lyrical, as in this extract from Tuesday May 25th.
I filled in a communicating trench (which was a menace to us & which ran between the T & our fighting line) yesterday with dead. The tucker here is exceptionally good & since the first two days I've been feeding like a giant. Wish I could get some up to date letters or pcs or newspapers from home. Feeling fairly merry - When 4 of our fellows Ballinger, Chambers, Hawke, Deane got hit by shrapnel in our Regt 'bivvy'. Then comes the news that the "Triumph": is sunk just opposite our position. Many here saw her struck & sink. Number of lives lost is at present unofficial. Rain. Tea with Major ONeill N.Z. AMC. Talk with Capt. Downey who has been at Cape Hellas from the start- his news is none too rosy.
This would be a beautiful place if it wasn't for the war. An ideal place for a picnic - this valley winding down to the sea - scrubby slopes - beautiful cove lovely air. This evening's operation seems to have been successful we filled in their tunnel without making a gap above so that there was no rush. Beautiful moonlight. Nature - a wayside flower, a trill of a bird, seems trebly sweet in contrast to the horrors around.
Thursday May 27th. Rev. Green has some remarks about the language and spirit of the Queenslanders.
Firing line very quiet, few casualties. The 15th Inf Battn camped just by me are a wonderful lot. Mostly Queenslanders with bad language. There are not so many of the original lot left. Still they have borne the brunt of Quinns Post & go daily to the trenches & dangerous fatigues cheerfully & bravely. They have a wonderful spirit.
Saturday May 29th brought fierce fighting and many casualties.
Luther awakened me & from them until now 10 a.m. I have been through a time which will never be obliterated from my memory. For courage I can imagine nothing finer for horrible sights nothing could be more awful. It has been a continual procession of wounded men. There has been mining and counter mining this past few days & this morning the - Turks got in first. Perhaps they had been mining under our saps for some days. At 3 this morning there was a terrific explosion which blew up our front trenches - head cover falling in & our mines collapsing.
Then the Ts rushed throwing bombs by the hundred, Our men stuck it. All glory to them. It was fearful. Turkish bombs falling all around dust fumes & smoke & flame still our men held in passing bombs up lighting them throwing them. To get our front trench & bring a machine gun up to infiltrate it. Cruel for a time. Then our men drive the beggars off and hold our position. One wouldn't mind dying to serve such men as these. You could imagine nothing finer. Simultaneously the Turks pelted shrapnel into this valley. The hour of dawn was a piteous plight here below. Men wounded dying dead with bodies shattered. No complaints. Dr Macgregor & Dr Luther heroes. Our Regiment on Popes Hill didn't suffer much - though I fear for some men we had mining on Quinns Post. There must have been a 120 go by here this morning & about 40 more be around me as I write.
Colin Morgan Reade - a taking boy one of the youngest in our regiment was shot dead. He was shot thro the head I was with him to the last although thank God he was quite unconscious. His people are big station owners Winton way. Major Glasgow the finest man & soldier we have slightly wounded in the leg. Lieut Trotter more seriously thro the chest. Seddon in the eye. Winterton & McCready (M.G.S) slightly wounded. The Turks suffered worse. 17 prisoners just come down.
No Imperial men could be better than these infantry. Major Quinn killed. Lieut King Little wounded also Captn Forsyth. Oh its awful awful. The worst or the best can never be told. If one doesnt check oneself you get longing & dreaming of a quiet nook in an English Village away from the sound of these guns & rifles & where all is peace again. It should would be heavenly. I cant stomach reading about pleasures & amusements at home. An hour of this would make slackers recruit. Sad to think of some large families which havent given one man. We shall need all we can get & much sacrifice to win through. If I get killed (& one doesnt know - any minute you can get hit - no place safe - although I feel God means to spare me through this) let no one grieve.
11 a.m. Things quieter now. Major Glasgow when I was sympathizing with him this morning said 'This! why One would do anything - its an honour to be blown to bits to support such fellows as these". The 15th & 13th have suffered most. Our burial work this night will be heavy. There are some hundreds of dead Turks within & without our lines. T. prisoners say that we smashed a battalion to pieces. The cheerful unselfishness of the wounded was absolutely magnificent. Were I allowed I wd put my soul into writing an account of these Australians for L'dn newspapers. Dr McG. tells me of a young fellow whose face was shot away asking for a piece of paper writing a piece of information for his Brigadier & them falling back dead. Such stories are typical. There are many other stories I want to remember but this is enough of the gruesome for one day.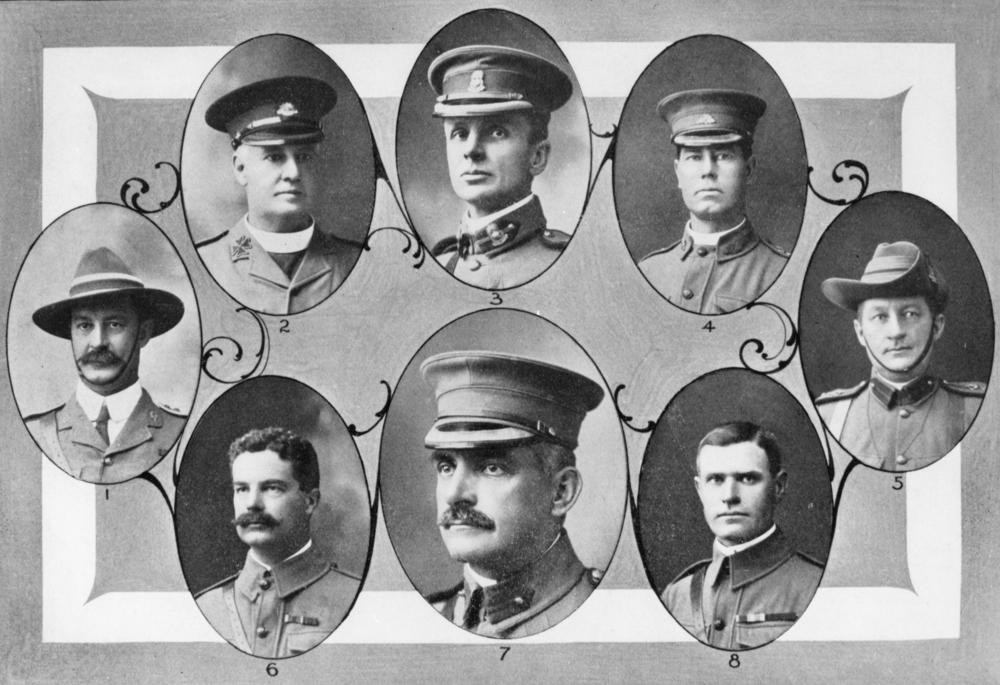 On Thursday 24th of June the Reverend found time for some relaxation at the beach, although this was not without danger.
Artillery at it again this morning Perfect weather. How fortunate - with rain this place would be a mass of clay intolerable for movement & sickness. In many ways we are like a besieged place. Lines of communication are not open & unthreatened as in Flanders. Water difficulty. From dugout to dugout,. Monty & I went down to beach for bathe. General Birdwood asked me how I enjoyed it - He is a fine gentleman with a friendly word for all. While we were hanging about after dressing a shrapnel hit among a huge crowd of bathers on barges 16 wounded 2 killed. Was unable to get a talk with any. Evening then have a try at store ships. Returned. Woods of N.Z. Eng. a Theol Student at Kelham comes to tea. With Bourne & Franklin. This is indeed a strange sight. The beach what there is of it covered with stores & cliff around a mass of dugouts. The e. put tons of shrapnel over here - yet thousands are bathing there. Stark naked of course & there & here when not bathing the costume is most scant -many with just a towel some not that others with a pair of underpants only -cooking digging all over the ship. From beach to here is approached now by a long sap which is safer. The whole place is a mess of dugouts.
Monday June 28th and Rev. Green describes the garb he has adopted to cope with the heat.
Tis very hot here nowadays. My garb appears thus short knickers well above knee, shirt with bare arms & neck, socks & boots my hair is cropped close & there doesn't appear much hope of a subsequent crop on the region of the temples. I carry my necessities in a haversack.
Tuesday June 29th. The Reverend finds a little peace and quiet but later the war intrudes again.
I'm on a good thing today. Col Chauvel has gone for trip on Hosp. ship, & his Aide Capt Hindhaugh went off yesterday. I concluded that their cool roomy & bullet proof dugout would be vacant so I crept in & have had a quiet 2-3 hours of comparative peace. There are only about 200 flies in here whereas my crib has some 10.000!
Found on return that things had been lively up gully. With much regret I record the death of an excellent man & soldier Major Nash. He had just received his majority & had been given command of C. Squadron. He the Colonel & Capt Birkbeck were talking together giving instructions at the stand to arms. A shot hit the Major straight thro the temple & he fell dead. Birkbeck only got a splinter Turks came down gully near our bivvy. Much stir. Tremendous firing Glasgow & Bourne come to talk. Mac. goes out. A restless night for me.
Simon Miller - Library Technician, State Library of Queensland
Comments
Your email address will not be published.
We welcome relevant, respectful comments.