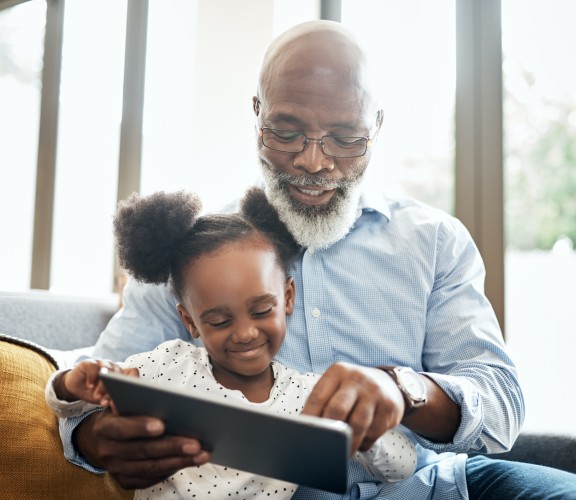 Your child was born ready to learn. Every second their brain forms over a million new connections. Simple, everyday activities with you, help to make these connections strong. Talk, sing, play and read together everyday to give them the best start.
Language is a bridge to culture so by sharing your home language, you can help your child form a strong sense of identity and belonging. Learning multiple languages at the same time does not delay a child's speech development. In fact, it can help children learn English faster and more easily through enhanced concentration, memory, creativity and an understanding of how language works.
For more ideas on supporting your child's language development, sign up for free customised tips via email (in English) or join a First 5 Forever session at your local library.
Mtoto wako alizaliwa akiwa tayari kujifunza. Kila sekunde ubongo wao huunda miunganisho mipya zaidi ya milioni moja. Shughuli rahisi za kila siku pamoja nawe, husaidia kufanya miunganisho hii kuwa thabiti. Zungumza, imba, cheza na soma pamoja kila siku ili kuwapa mwanzo bora.
Lugha ni daraja la tamaduni kwa hivyo kwa kushiriki lugha yako ya nyumbani, unaweza kumsaidia mtoto wako ajitambue na kuwa mtu. Kujifunza lugha nyingi kwa wakati mmoja hakuchelewesha ukuaji wa hotuba ya mtoto. Kwa kweli, inaweza kuwasaidia watoto kujifunza Kiingereza haraka na kwa urahisi zaidi kupitia umakinifu ulioimarishwa, kumbukumbu, ubunifu na uelewa wa jinsi lugha inavyofanya kazi.
Kwa maoni zaidi juu ya kusaidia ukuaji wa lugha ya mtoto wako, jiandikishe kwa vidokezo vilivyobinafsishwa bila malipo kupitia barua pepe (kwa Kiingereza) au jiunge na kipindi cha First 5 Forever cha Kwanza kwenye maktaba ya mahali pako .
Watch / Tazama
Wakati wa Hadithi ya Lugha Mahususi: Watu Wangu
In-Language Story Time: My People
Kucheza ni jinsi watoto wanavyojifunza
Kucheza pamoja huongeza kujifunza
Kuzungumza kwa sauti husaidia watoto kujifunza