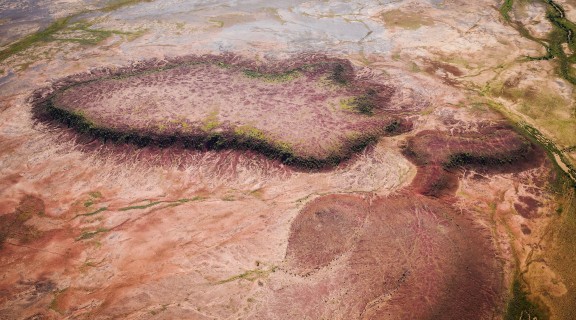 /

Yuuingan Dhilla Yari 2023
Yuuingan Dhilla Yari 2023
Friends, basket, talk in Yuggera Language
[YOO-IN-gan DIL-ah YAR-ee]
QUEENSLAND INDIGENOUS LANGUAGES SYMPOSIUM
This year's symposium brings together Aboriginal and Torres Strait Islander languages speakers, language workers, organisations, cultural leaders and youth for a full day of keynote presentations, panel discussions and workshops.
Join Rhianna Patrick as MC alongside keynote speaker Beau Williams, CEO of First Languages Australia, and drivers of community-led language projects on a journey that celebrates the survival and revival of Queensland's first languages as part of the International Decade of Indigenous Languages with a focus on empowering youth leadership and embedding language in the education sectors.
The symposium will provide a platform to look towards the future and share strategies, initiatives and best practice models, to ensure the ongoing revival of Queensland Indigenous languages in the 21st century for and by our next generations.
This free, one-day event can be experienced in-person at State Library or virtually, with the morning sessions available via livestream.
Register now to secure your seat.
Community voices
Master of ceremonies
Rhianna Patrick
Rhianna Patrick is a freelance Torres Strait Islander journalist, broadcaster and audio content creator with 25 years media experience. She's worked across news, tv documentaries, national radio programming and podcasts. She's written for Kill Your Darlings, NME Australia, The Australian Music Vault, Rotten Tomatoes and IndigenousX. Rhianna also curates one of Spotify's Aboriginal and Torres Strait Islander playlists, 'Original Storytellers'.
Keynote speaker
Beau Williams
CEO, First Languages Australia
Beau Williams is a Murrawarri man and the Chief Executive Officer of First Languages Australia, the national peak body working to ensure the strength of all Aboriginal and Torres Strait Islander languages.
First Languages Australia connects language communities, which are often isolated by vast distances, to share their knowledge, experiences, resources, and skills. The organisation takes a leading role in targeting issues that impact our languages. It shares critical communication from language communities with government and key non-government agencies to bring about change.
Welcome to Country
Tribal Experiences
Followed by a performance from Kutaw Zoeru Torres Strait Island Dance Troupe
Welcome address
Minister for the Arts, The Honourable Leeanne Enoch MP
State Librarian and Chief Executive Officer, Vicki McDonald AM FALIA
Workshop facilitators
Georgia Llewellyn and Matthew Burns, State Library Applied Creativity team
Maff Priestley and Toby Finlayson, Desert Pea Media
Kahli Dawkins, Cleveland Districts State High School
Lala Gutchen, Australian Literacy and Numeracy Foundation (ALNF)
Jackie Bennett and Cecilia Wright
Joyce Bonner-Schultz
Attendance options
Please choose one option per person
Morning only: 8:00 - 11:30 am
Do you have an interest in the future of Queensland Indigenous languages but are limited on time? Attend the morning keynotes, panel discussion, Q&A, and enjoy networking and morning tea on the Queensland Terrace.
Full day: 8:00 am - 5 pm
A full day with morning tea, lunch and afternoon tea provided.
Experience the full-day program with keynote presentations, panel session, Q&A, optional exhibition tours and interactive afternoon workshops.
The full day option is ideal for:
school and university students interested in creative exploration and language revival

community language workers and individuals interested in reviving, promoting and maintaining language in their communities, and educators looking for practical examples of how to introduce and embed language in educational settings.
Virtual ticket: 9:00 - 10:45 am
Can't make it to Brisbane or limited on time? Watch the morning keynotes, panel discussion and Q&A from your home or office, on your own or with your team and colleagues.
Workshops
For those attending the full day, there are two workshop streams:
Youth stream, for school and university students interested in creative exploration and language revival

Open stream, for language workers, community, educators and academics

Morning workshops

Engaging youth with language – Maff Priestley and Toby Finlayson, Desert Pea Media OR

Feed the monster – Lala Gutchen, Australian Literacy and Numeracy Foundation (ALNF)

Afternoon workshop:

Languages and early years' development – connecting the dots through culture - Jacki Bennett and Cecilia Wright OR

Development of language resources (Digital and physical) – Joyce Bonner-Schultz
During event registration in Eventbrite, please select your workshop stream.
For those who select the open stream, you will have an opportunity to select your workshop preferences and will be allocated. We will confirm your workshop allocation on the day of the event at welcome and
Event overview
8:00 am Registration, networking and light refreshments
9:00 am Welcome to Country, Keynotes, Panel discussion
(Event concludes virtual ticket holders)
11.00 am Morning Tea on Queensland Terrace
(Event concluded form morning only ticket holders)
11:30 am Workshop Session 1
1:00 pm Lunch and exhibition tours
1.45 pm Workshop Session 2
3:30 pm Afternoon tea
4:00 pm Final discussion – Auditorium 1
5:00 pm Event concludes
Yuuingan Dhilla Yari 2023 is proudly supported by funding from the Australian Government's Indigenous Languages and Arts Program.
0
Price

Free

Bookings required

Location

kuril dhagun

Auditorium 1

Queensland Terrace

View map

Share
Contact the organiser
First Nations Engagement