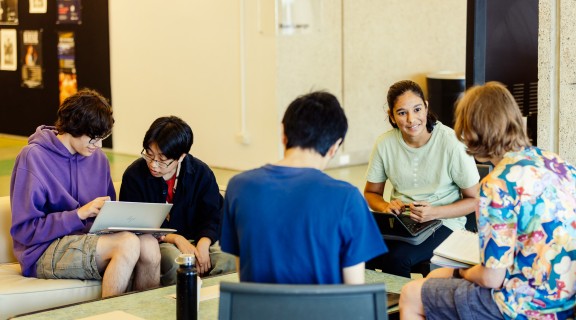 /

Made Today: Hack the evening
Made Today: Hack the evening
During Asia Pacific Architecture Festivalopen_in_new we will showcase the potency and potential of these maker meet ups and the creative resources available to the public at The Edge.
Experience community members riffing on their current projects and aspirations, and join in to collaborate on a new project, get hands-on with new technologies and hear from our guest speakers about creative outputs in the realm of making and design.
Thursday 15 June: Creative electronics
Featuring local maker and creative technologist Steph Piper. Here we'll work with community members to brainstorm and collaborate on an interactive project idea.
About Steph Piper
GlowStitch LEDs are a new way of adding lights to crafting and sewing projects. They are fully machine sewable and are easy to use for beginners with no coding or soldering required. Hear the story from Steph Piper about product development and crowd funding, and pick up a free sample pack to play with on the evening. Based in Toowoomba, Steph is the community engagement coordinator at University of Southern Queensland, running its library's maker space. She is a creative technologist and creates edutech products on weekends that are sold globally.
Thursday 22 June: New technologies and design
Focusing on the cutting edge of design, and chatting with the designers about some of the work on display that feature innovative and interactive experiences including artificial intelligence, virtual reality and augmented reality, and the role they play in place making and design.
About Waldemar Jenek
Waldemar's research explores how to teach architecture students about technologies such as augmented and virtual reality to design interactive media (architecture) structures in an urban environment.
Event is free to attend. No booking required, drop in.
When

Thu 15 Jun · 6–8pm + 1 more events

Price

Free

Location

Share