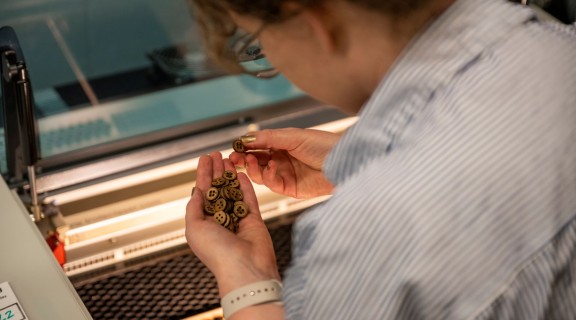 /

Laser cutter induction (16 May)
Laser cutter induction (16 May)
Our lasers can cut and etch wood, plastics, paper, cloth and some leather quickly and accurately. In this induction you will learn what software you can use, how to prepare design files and how to operate the machine safely.
Once you've completed the induction you can book and use the State Library of Queensland's laser cutters in the Fabrication Lab.
You only need to attend one session time for this induction. Please contact us if you have any specific questions.
MISSED OUT? JOIN THE WAIT LIST!
Our inductions are popular and will sell out quickly. If you miss out on a spot, add yourself to the waiting list and if a ticket becomes available, you will be contacted automatically with further instructions on how to book. Otherwise, sign up to The Edge eNews to find out when our next session will go on sale.
REQUIREMENTS TO VISIT THE EDGE
Participants must be over 16 years of age.
Enclosed, flat footwear must be worn at all times.
Please become a State Library member before you arrive. If you already have a State Library member account, make sure you know your login details as you may be required to login during the workshop to access State Library computers, and to make bookings for equipment.
BEFORE YOU BOOK
Please read The Edge Booking Terms and Conditions. You'll find answers to age restrictions, what to bring, what to do if you're running late, refunds and more.
Please contact us if you need support to participate in this event and consult State Library of Queensland's conditions of entry before making your booking.
To find out more about what else is on offer, read up on our Fabrication Lab and community makerspace. You can also subscribe to be the first to know about our future events.
Price

$35

Bookings required

Location

Share
Contact the organiser
Applied Creativity